Latin America
Russia Wants to Be Latin America's New BFF
Venezuela is not the only country in the hemisphere where Putin's Russia is seeking to insert itself.
by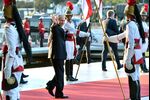 When Donald Trump dines with Latin American presidents at Trump Tower in New York tonight (Monday), the conversation could be strained. For one, Mexican President Enrique Pena Nieto, who's chafed at Trump's talk of walling the border and sending Mexico the bill, declined the invitation. Colombia's Juan Manuel Santos is still reeling from Washington's threat to decertify the country as a good actor in the war on drugs, while Pedro Pablo Kuczynski of Peru has pointedly called for "bridges," not walls.  
OK, so it's still an opportunity for the U.S. leader to hear about a patch of real estate that his government has all but redlined. And yet even as Trump tries to make nice with his not-so-distant neighbors, he's already behind the diplomatic game. It's not just because of China: The Asian powerhouse's two-decade run on New World resources and markets is part of the new normal in the Americas. Today, a resurgent Russia wants to become Latin America's new best friend.  
True, Russian trade and investment in the region are a fraction of China's. Except for some sepia-tinged Cold War memories, Moscow's exportable soft power is nugatory. Vladimir Putin's brand of autocracy went out in most Latin American nations with the epaulets and aviator glasses, and the nearest port in the region is half a world away from Moscow.
Of course, Russia has never let geography get in the way of destiny. And so in recent years, a growing group of nations in Central and South America has warmed to the Kremlin's overtures. If world customers once went for Russia's military hardware -- and some Latin American nations still do -- lately another sort of Russian largesse also beckons clients below the Florida Straits: cash, engineering and energy expertise.
Nicaragua is whispered to be building a satellite intelligence-gathering station with Russian technology. Russians are helping Bolivia set up a "peaceful nuclear research" facility, and Moscow has become debt-doubled Venezuela's "lender of last resort," as Moises Naim, distinguished fellow at the Carnegie Endowment for International Peace, told me. So eager was President Nicolas Maduro to accommodate Russian oil giant Rosneft, he had his ever-obliging Supreme Court override the opposition-controlled National Assembly, which until then had veto power over budgets and contracts. Venezuela is now Rosneft's biggest supplier of crude outside Russia, and has benefited from "prepayments" that have helped it to keep up on debt payments.
And it's not just the comrades from the left-wing "Bolivarian alliance" who have cozied up to Moscow. Rosneft is prospecting in Brazil and Mexico, both run by center-right governments; market-minded Argentine President Mauricio Macri has welcomed Gazprom's interest in Latin America's largest shale gas market.
The new bonds between Russia and Latin America may be not so much a reprise of the Cold War as a glimpse at a complicated new world order, where many rival powers elbow for influence and international cachet. While Putin's western reach has extended far from Russia's comfort zone, Latin America has also enabled Moscow's ambitions to return to the global stage.
Scorned and isolated for its annexation of Crimea, Russia played the developing world card -- it's a charter member of the BRICS, after all -- to garner support. Tellingly, with a few notable exceptions, most Latin American governments avoided the pile-on against Moscow, and following Putin's charm offensive in 2014, several stepped up bilateral trade to help Russia blunt international sanctions.
That indulgence drew criticism. "It goes against all the principles of respecting international law that Brazil has always stood for," Paulo Velasco, a senior fellow at the Brazilian Center for International Relations, told me.
Part of the explanation for such diffidence may be sentimental. "There's a fascination with Russia because of the way they stood up to the U.S. for so many years," said Oliver Stuenkel, who teaches international relations at the Getulio Vargas Foundation, in Sao Paulo. "It plays into the lingering anti-Americanism in the region, and assures Russia there will be no ideological barriers to its advances."
So what does Latin America get in exchange for its diplomatic firewall? "This is a strategic partnership," said Velasco. "It's a multipolar world, and Brazil and its neighbors don't want to be prisoners of one big partner." Just as Moscow appreciates the love, Latin American leaders also know that Russia is unlikely to fuss over human rights issues, shady politics or any other ethical impedimenta in their host countries.
That's not to say that doing business with resurgent Russia is a stroll on Ipanema. In a recent Bloomberg Intelligence survey, for instance, Rosneft had the highest reported number of fatalities among the energy and materials companies listed on the Financial Times Stock Exchange All World index.
"The problem is, many of these arrangements are very opaque, and details of deals with Russian businesses are often hidden from the public," said Naim. Consider Venezuela's ruse to help Syria elude international sanctions by shipping Syrian oil through Russia to the Caribbean.
That's the sort of problem that can turn partners of convenience into problematic pariahs.
(
Corrects reference to fatalities reported by Rosneft in 12th paragraph of article published Sept. 18.
)
To contact the editor responsible for this story:
James Gibney at jgibney5@bloomberg.net
Before it's here, it's on the Bloomberg Terminal.
LEARN MORE