Immigration
One Million Refugees Came. Here's What Happened Next.
Germany has done much to integrate the newcomers, but politics and bureaucracy have left too many without options.
by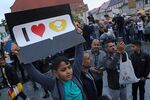 It wasn't so long ago that Germany's refugee crisis looked as though it might end Chancellor Angela Merkel's political career. It's clear now that it won't, and Merkel looks set to win her fourth election on Sept. 24. So has Germany really "managed it," as Merkel famously promised in 2015?
The honest answer to this question has to be "not yet." 
Though the influx of asylum seekers has subsided since 2015, when Merkel threw Germany's doors open to refugees and about a million people came in, 149,880 asylum applications were filed in January through August 2017 -- more than in all of 2013 -- and the full-year figure will probably be higher than in 2014.
There are no reliable statistics on how the newcomers are housed; the latest available official data are from the end of 2015, and they show that 61 percent of the asylum seekers lived in reception facilities or shared housing, not in normal one-family apartments. In May 2017, the weekly Der Spiegel tried to do its own count and found tens of thousands still living in initial reception facilities, such as container blocks, or in "emergency accommodations" such as the hangars of the former Tempelhof airport. Compared to this, shared housing -- crowded hostels -- is a big step up.
Though asylum seekers must attend integration courses, German is an exceedingly tough language to learn, so when the German Federal Office for Migration conducted a large-scale survey of the recent refugees in late 2016, only 18 percent reported their command of the language was "good," while 47 percent confessed it was "bad."
The job market situation is dismal: According to official data from August 2017, 497,000 refugees were registered as job-seekers with the country's job centers, and 196,000 of them -- 43,000 more than a year ago -- were currently unemployed. The rest of the refugees aren't even entitled to work because their applications were still pending or they were still in their initial three-month waiting period meant for integration courses, not work. While the average time it takes for an asylum applicant to get to an immigration decision has gone down -- about 40 percent get their papers within 10 months, compared with less than 20 percent in 2013 -- there is still a considerable application backlog of 129,000 at the end of July, according to the Federal Employment Office.
The situation is better than in 2015, when the new immigrants poured uncontrollably across the border: The German government machinery has risen to the challenge after the initial shock, and the refugees are now practically invisible to most Germans. But under this relatively smooth surface, the refugees' life still presents a stark contrast to the wealthy society around them. So what has gone right for Merkel, then? She certainly sounds more confident when discussing her handling of the refugee crisis than she did in 2016. Back then, she wished she could "turn back time" to correct mistakes. This year's message is that she would have done it all over again.
Popular Support
"There is a broad consensus among the elites and the German public that integrating immigrants is the way forward," says Petra Bendel, general manager of the Center for Area Studies in Erlangen and a member of the Expert Council of German Foundations on Integration and Migration, an influential group that unites leading German experts with interest in immigration. She cites a recent poll in which more than three-quarters of Germans condemn the refugee policy as "too unplanned" but almost as many say it is "morally necessary." In the same poll, 51 percent said the refugees were "urgently needed as workers for our economy." That's important, Bendel says: "After all, Merkel's strength in the election is about the economy."
Indeed, Germany, at nearly full employment, has a shortage of workers in a number of trades and professions -- from software engineers to hairdressers. The average vacancy for a plumber stays open for 156 days this year compared to 142 days in 2016. It takes 167 days to find an elder-care worker. So there's quite a bit of enthusiasm about the newcomers among German businesses. 
In 2015, Merkel held a meeting with the chief executive officers of large companies to discuss the refugees' integration into the labor market. Out of that meeting grew an organization called Wir Zusanmmen, or "We Together," which coordinates company integration projects. It started with 36 firms in February 2016, and it counts 202 members today, including 19 firms on Germany's DAX stock index. It's a who's-who of German industry, including Adidas, Bosch, Opel, Siemens, Volkswagen, Lufthansa, Deutsche Telekom and others.
The integration programs in these companies are mainly entry points into the famed German apprenticeship system, in which experienced workers train new ones parallel to their studies in a trade school. The 18,000 employees involved in the projects also help the refugees with their language training, their immigration paperwork and the intricacies of German daily life, which -- I know from personal experience -- can be confusing to a foreigner.
According to Wir Zusammen project leader Marlies Peine, many companies have found these integration programs to be an advantage in attracting qualified German staff who want to do good. Though the initial enthusiasm, which I witnessed in 2015, has died down somewhat, millions of Germans still volunteer to help the refugees, and they welcome the opportunity to do it in the workplace. There's a problem, however: The number of actual refugees involved in the programs, around 7,000, is tiny compared to the total workforces of the companies involved.
Peine says many more of the refugees want to work, but it's just hard for the companies to locate people whose immigration status is solid enough to make their long-term integration worthwhile. Though 90 percent of the refugees covered by the Migration Office's survey say they'd like to stay long-term, Merkel and other politicians from her Christian Democratic party say that once the war in Syria ends, many of the refugees will have to go home.
On Thursday night, Merkel made this point to a Syrian man in the audience of a TV show who thanked her for allowing his family in and complained that he "didn't want to say goodbye." According to Peine, sometimes a company will accept a refugee into an integration program only to find a few months later that he has been deported: Merkel's government has stepped up deportations to appease conservative voters.
State-owned Deutsche Bahn, the giant railroad company with some 200,000 employees in Germany, has only 200 places in its integration program, and they're not all filled yet, Ulrike Stodt, who set up the program, told me. The company finds motivated refugees through job centers and fairs, but it takes a strong motivation indeed to go through with what's being offered.
Deutsche Bahn has adapted for refugees its existing program of "pre-vocational training" for people under 25 without a professional qualification. For a year, participants can learn about the company and get on-the-job training in its different services, finding out what jobs best suit them. The refugees also receive language and culture training to bring them up to the level required so they can start an apprenticeship, though learning technical vocabulary is a further step. According to Stodt, there are few difficult cultural issues with the refugees: Though some at the company worried at first that Muslim trainees would have difficulty accepting the authority of female supervisors, this turned out not to be an issue. Similarly, the refugees -- from Syria, Iraq, Iran, Afghanistan, Somalia, Eritrea -- accepted that they could only pray when work allowed it -- "just like Christians who can't always go to church on Sunday when they have to work," Stodt says.
Mostly, the refugees are just like any other apprentices -- except for the glaring language deficiency. For those who make it through the initial year into the traditional apprenticeship system, with its grueling theory classes in addition to on-the-job training, language is a major hurdle. Another one is the low pay apprentices receive in Germany -- on average, 854 euros ($1,022) per month. Even with the limited social assistance refugees receive, it's hard to live on that for the three years an apprenticeship takes at Deutsche Bahn. Only the firm promise of a job -- at Deutsche Bahn, that practically means lifetime employment -- can keep people in the program; the first of them will only complete their apprenticeships in 2019. 
There are similar government programs in German states, and a 50 million euro federal grant to back them, but they don't hold out guaranteed jobs at the end. 
Deutsche Bahn also accepts refugees with qualifications from their home countries. They undergo further training while the government tries to verify their diplomas and certificates, a process that can take many months and end in failure.
To Stodt, all the effort Deutsche Bahn expends on integrating a small number of refugees is worthwhile: It's equal parts social responsibility and an effort to find much-needed workers, properly trained to German standards. When guest workers from Turkey and other poorer countries came to Germany in the 1950s and 1960s, their training wasn't as elaborate, which has led to their slow and often failed integration. Germany is anxious not to repeat the mistake.
Good Intentions Aren't Enough
The downside of such a thorough approach is inflexibility. "One of the most compelling challenges currently faced is the need to establish consistent procedures for recognizing qualifications and assessing skills that include informally and non-formally acquired skills," Jutta Altmueller wrote in a paper for the Bertelsmann Stiftung. Language training is another major bottleneck. The quality of the free courses now offered to refugees is abysmal, and the official proficiency standards are not up to the requirements of real jobs. 
Unless these problems are fixed, and unless the German government gets up the courage to tell both the immigrants and their potential employers that there are no plans to reconsider their status once Middle Eastern and African conflicts end, Germany will miss a massive opportunity to draw an estimated 600,000 people into its shrinking workforce. In that case, the refugees will merely swell the country's shadow economy, which has been on the decline in recent years because of falling unemployment.
Merkel is getting a free pass on the refugees this year despite the vast, unfinished job of integration Germany is facing with an inadequate legal framework and various resource deficiencies. "The democratic parties appear to have agreed not to polarize people about immigration," Bendel, the political scientist, says. In the 2021 election, the consensus may no longer be there -- and the anti-immigrant Alternative for Germany party, which is not part of it even now, may be poised for gains -- but Merkel may not run again. So she is likely to escape long-term responsibility for her bold decision in 2015. But the chancellor's famous phrase, "Wir schaffen das" -- "We'll manage it" -- is a binding promise to her party, to the refugees and, in the final analysis, to the German economy. One can only hope an almost-certain election victory won't prompt her to renege on it. 
To contact the editor responsible for this story:
Therese Raphael at traphael4@bloomberg.net
Before it's here, it's on the Bloomberg Terminal.
LEARN MORE