Transportation
Harvey Can Help Houston Rethink Its Car Culture
An opportunity to change the way people commute.
by and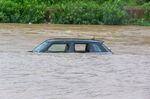 Hurricane Harvey destroyed 300,000 to 500,000 cars in Houston and the surrounding area, the largest event of its kind in history. As part of the post-disaster response, local leaders should push for widespread use of web-based car-sharing and ride-hailing services such as Uber and Lyft -- and kick-start rapid economic recovery in the region.
Houston is a city designed around personal car ownership. Yet the massive loss of vehicles is an opportunity to rethink that deeply rooted culture. Our research, which uses economic models to quantify all the costs of car ownership, shows that so-called mobility services could relieve the need to replace many of the destroyed cars and, in the process, save money and time while reducing congestion, parking space and pollution.
Hurricane or no hurricane, mobility services can be an economical choice for many people once the hidden costs of car ownership are accounted for, including the time we spend maintaining, fueling and driving our vehicles. Transportation network companies, including carpooling options like Chariot, may one day permanently replace many individually owned cars. Family cars may be relegated to weekend use, while transportation companies handle the commute.
Cascading effects of such a shift -- time savings, greater productivity, reduced traffic congestion and fewer deaths from crashes -- would significantly benefit the economy and air quality in the best of times. After hurricanes and other natural disasters, mobility services can play a critical role in getting people moving again.
People in Texas and Florida who are about to receive disaster-recovery checks from the Federal Emergency Management Agency and private insurance companies in the wake of Harvey and Irma may feel a need to replace their lost cars rather than fully invest in damaged homes. To give them better options, Houston and other municipalities in the two states should encourage transportation network companies to ramp up their offerings of on-demand carpooling and point-to-point transportation throughout areas damaged by the storms.
It's not mass transit, but "mass customized transit" or "micro-transit." We've found that if enough people take up the option, web-enabled carpooling could reduce costs further while amplifying the benefits. It would help people get to work faster. And it would employ tens of thousands of drivers, boosting economic recovery -- even as mass-transit systems undergo repair and rebuilding.
State and local governments could facilitate the shift by speeding up driver permits, streamlining approvals for transportation companies, and offering temporary subsidies to pay for carpooling services. These options might be cheaper and faster than spending billions of dollars to replace the lost cars one-for-one or to rapidly expand the mass transit system.
Harvey and Irma will hardly be the last major storms in the U.S. Other regions will have much to learn from how Houston and Florida recover. Their actions now could also be the start of lasting change in American's relationship with cars.
To contact the editor responsible for this story:
Mary Duenwald at mduenwald@bloomberg.net
Before it's here, it's on the Bloomberg Terminal.
LEARN MORE