Brazil
It's Too Soon for Brazil to Relent on Rate Cuts
Inflation isn't the biggest risk. Right now the priority is to keep consumers spending.
by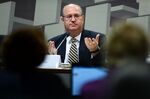 Brazil's central bank has been unrelenting in its interest-rate cuts. It's too soon to ease up. 
With inflation tumbling, the economy still struggling and the country's political class mired in one graft accusation after another, Central Bank of Brazil Governor Ilan Goldfajn looks like the adult in the room. It's a mantle he may not be entirely comfortable with, but one he is destined to wear until at least next year when presidential elections are scheduled. 
The BCB, as the central bank is known, has been aggressive. This week's full percentage-point cut in Brazil's benchmark rate was the fourth of that magnitude this year. They followed a series of reductions that began last year after Goldfajn took the helm. In all, borrowing costs have come down six percentage points since October. 
That's quite some doing. Most central bankers prefer to dabble in a quarter point here, a half point there. It's worth noting that even with those reductions, the rate still stands at a relatively high 8.25 percent. No zero rates or QE here.
A considerable fall in inflation, long the Achilles heel of Brazil, enabled Goldfajn's aggression. Just as well, because Latin America's largest economy can use the juice. It's growing again, but barely, having endured not just a grinding political crisis but also its worst recession ever. 
Timidity was the BCB's trademark prior to Goldfajn's arrival. Now the BCB is showing signs of easing up. The statement accompanying the latest move signaled the days of full percentage-point cuts might be over. "In addition," the statement said, the committee "foresees a gradual end to the cycle."
Let's hope this isn't a mistake. On the face of it, inflation is licked. Price increases are at an 18-month low of 2.46 percent, well under the 4.5 percent target. As many of Goldfajn's peers around the world are discovering to their frustration, inflation just isn't the animal it used to be. And with the interest rate at 8.25 percent, there's clearly still plenty of rate to cut.
Brazil's economy may be growing again, but barely. Gross domestic product expanded 0.2 percent in the second quarter, thanks to consumers egged on by receding inflation and lower interest rates.
Goldfajn has said, in what must be one of the all-time great understatements, that the recovery lacks much-needed government support. (The government has spent recent years preoccupied with corruption scandals….) So it rests on his shoulders.  
As the former chief economist at Itau Unibanco, he knows the country's history. It's entirely possible inflation could again get the better of Brazil. Right now, that looks like a secondary problem. Let's keep those consumers spending.
To contact the editor responsible for this story:
Philip Gray at philipgray@bloomberg.net
Before it's here, it's on the Bloomberg Terminal.
LEARN MORE