Culture
Here's Why Silicon Valley Loves Big Government
The tech industry assumes others will bear most of the costs.
by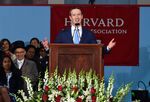 Silicon Valley titans, suggests Farhad Manjoo of the New York Times, are really quite liberal. But there is one major exception to their liberalism: They aren't very fond of regulation. Especially, one might add, regulation aimed at the tech industry.
This supposition is based on a single paper that is still under peer review. But I suspect that Manjoo was willing to write about it because it fits his anecdotal impression of these people, counterexamples like Peter Thiel notwithstanding. It certainly fits with mine.
The titans of American industry haven't always been so progressive.
At the turn of the 20th century, the people at the apex of America's capitalist peaks were the folks opposing the income tax and all of the rest of the progressive ideas about larger government; come 1933, they were the folks who damned Franklin Delano Roosevelt in round and luxuriant terms whenever the president's name was mentioned. Today the greatest wealth-generating dynamo in the American economy is Silicon Valley. That is also the place where support for a universal basic income seems to be highest, along with single-payer health care and various other progressive ideas.
Why is the tech-industry so government-friendly? And why, if they think that government would do such a splendid job at regulating the distribution of wealth in society, do they not think that it would do an equally splendid job regulating them?
One reason that Silicon Valley moguls may be more redistribution-friendly than the old robber-barons has to do with a fundamental difference between their industries. The Gilded Age tycoons had largely come up in businesses that had considerable variable cost to their operations. If you wanted to make more steel, you had to hire more workers, buy more iron ore and coal, and pay railroads to ship all those raw materials in, and your finished product out.
Heavy taxation would thus considerably cut into your production. You couldn't buy so many raw materials; you couldn't afford so many workers; you would not be able to ship as much finished product to your customers. Taxation, in other words, had very high costs, not just to your personal wealth, but to the means by which you produced more of it. It's true that if everyone had to pay the tax, your relative position among your fellow millionaires probably wouldn't slip much. But the absolute amount you could produce would fall.
Silicon Valley, on the other hand, is among a growing number of industries where the variable cost approaches zero. Once you've written the software, you can sell a thousand copies or a million with barely any difference in the amount of money you have to spend on operations. A friend recently pointed out the curious dilemma that Google has: it has a core business that throws off enormous sums of cash and needs relatively little investment to keep doing so, and at the same time, it's hard to imagine that anything they invested that cash in could generate a similarly massive income stream. The same could be said of Facebook.
(This is, of course, not true of every single tech firm. Apple has quite a lot of variable costs for producing an iPhone. But then, Apple outsources that production to foreign firms whose variable costs are not affected by U.S. tax rates.)
Silicon Valley is a strange world where you can invent a money machine that will churn out dollars, perhaps indefinitely, with a relatively small input of labor and raw materials. Enormous work and genius goes into creating those money machines, of course. But that initial investment can produce enormously outsized returns, and network effects can lock them in, so that many companies can in effect live off an investment made years or decades earlier. Moreover, because luck plays such a large role in who wins the race to a lucrative quasi-monopoly, you may be beset by the guilty feeling that all that money doesn't quite belong to you.
If you're in that position, redistribution may sound only fair. The folks who were unlucky get their needs taken care of; the folks who won the race get to keep running the money machine that makes everyone richer. (And happily, at least some of the money you hand out will be redeposited in the money machine, so the taxation won't even cost you that much.)
Regulation, on the other hand, threatens to break the money machine, or at least, make it spit out fewer dollars. Also, it will require people in Silicon Valley to spend a lot of time and bother dealing with regulators. No wonder they're less liberal on this point.
This is how all people evaluate policy, whether consciously or not. When substantial costs will be borne by themselves, or by the industry in which they have made a major investment of time, money and emotional capital … well, probably that's not such a good idea. Costs that fall most heavily on other people, on the other hand, tend to slip out of our consciousness. It is a less than ideal way to go about evaluating policy, but it is human, and inevitable, and we should remember that before we accuse people of basing their politics on their self-regard, or worse.
Take the recent disputes over racial disparities in policing. When Black Lives Matter and similar groups complain about the heavy and disproportionate burden that policing puts on minority communities, conservatives have often answered that differences in incarceration mostly reflect differences in crime rates among these various groups. Which is true. But that data is no comfort to folks who are terrified every time a police officer looks at them, or have to abase themselves to those police officers in the hope of surviving a random (quite likely unconstitutional) stop. So those who chant "black lives matter" are speaking from their own experience. They are bearing the costs of intensive policing, just as Silicon Valley would bear the costs of regulation. Their positions are understandable.
On the same topic: I have heard some quite callous comments about the risk that police officers face every day. "That's what they're paid for," these critics sniff. "If being less aggressive in arrests means more police officers are killed, too bad." Once again folks are quite fine with a practice whose costs are borne by others. If being shot became a regular risk in the jobs of these critics, I'm quite sure they wouldn't just say "Well, that's what I'm paid for." They would be avid to reduce the risk of getting shot, and if some of the ways they discovered happened to be costly for other people … well, I'm not really sure they'd demur. The costs borne by others just aren't big motivators.
It is always hard to see the costs to other people you don't know so well. That's human nature, and not going to change. But political dialogues will probably go more smoothly if we strive to at least recognize this bias in ourselves -- and to forgive it in others.
To contact the editor responsible for this story:
Philip Gray at philipgray@bloomberg.net
Before it's here, it's on the Bloomberg Terminal.
LEARN MORE