Health Care
Why the Biosimilar Drug Revolution Hasn't Arrived
by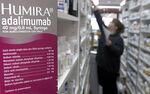 The Biologics Price Competition and Innovation Act was signed by President Barack Obama in 2010 as part of the Affordable Care Act. Its essential goal was to infuse competition and lower the prices of drugs that were made from living cells -- so-called biologics -- in much the same way the Hatch-Waxman Act of 1984 made it possible for less expensive generic drugs to compete with, and often replace, so-called small molecule drugs.
Biologics are not completely new -- insulin is a biologic -- but they are the vanguard of modern medicine, with the ability to better target particular diseases, especially those with small patient populations. They are more complex than traditional drugs, and usually more expensive. To take just one example: Soliris, which is made by Alexion Pharmaceuticals Inc. and treats two extremely rare diseases, 1  costs over $500,000 a year for a U.S. patient.
Until the 2010 law, biologics had no fear of competition -- there was no legal way to introduce generic versions into the market -- so they were able to maintain their monopoly price even after their patents expired. The BPCIA (as everyone in the industry calls the law) was intended to establish mechanisms within the Food and Drug Administration, the Patent and Trademark Office, and the courts that would allow the introduction of "biosimilars." These drugs weren't exact replicas of biologics, but were similar enough, and safe enough, to be used instead of the brand-name drugs.
A biosimilar industry soon developed, with new biosimilar-only companies, and pharmaceutical companies like Amgen Inc. and Novartis AG creating biosimilar divisions. There were giddy predictions that biosimilars would save the health-care system $250 billion in a decade.
Here we are seven years later.  Guess how many biosimilars have made it to market?
Two.
What brings this to mind is an eye-opening story in the new Bloomberg Businessweek about Humira, a biologic sold by AbbVie Inc. Humira isn't just any biologic -- the rheumatoid arthritis drug is the biggest seller in the world, with $16 billion in annual sales. Here are two additional facts: Humira accounts for an astounding 63 percent of AbbVie's revenue. And its core patent expired last year.
In other words, if the 2010 law worked the way it was intended, biosimilars, eager to get a piece of that $16 billion, would have flooded the market once Humira lost its patent protection, undercut the drug's price, and  inflicted a world of pain on AbbVie's bottom line. And, in fact, Humira biosimilars have been developed; two of them, made by Amgen and Boehringer Ingelheim GmbH, have even received FDA approval. Yet AbbVie continues to maintain its monopoly on Humira, and continues to charge that exorbitant price.
As Cynthia Koons explains in the Bloomberg Businessweek article, AbbVie has created a "seemingly impregnable fortress of patents … around its prized moneymaker" to keep the biosimilars at bay. Over the past few years, with the original patent deadline approaching, AbbVie began to make slight changes, which then allowed the company to apply for all kinds of new patents -- more than 100 in all.
"There is no end to the creativity of patent attorneys," Christine Simmon, the executive director of the Biosimilars Council, told me the other day. "They can patent the indications, and the mechanics of use. Some have even tried to patent the labeling -- with some success."
Although AbbVie is hardly the only company to apply this tactic -- add-on patents are a tried and true strategy for the pharmaceutical industry -- the company has been unusually aggressive in ensuring that its patent portfolio cannot be penetrated by any biosimilar manufacturer. As Koons reports, in one 2015 presentation, AbbVie included a slide showing that at least one of its new patents wouldn't expire until 2034. AbbVie contends that most of its patents won't expire until 2022.
And if competitors do decide to go ahead and develop biosimilars, AbbVie sues. It has accused Amgen of violating 61 Humira patents and Boehringer Ingelheim 74 patents. According to the website FiercePharma, AbbVie Chief Executive Officer Richard Gonzalez has said that any company that tries to put a biosimilar on the market "will have to contend with this extensive patent estate, which AbbVie intends to enforce vigorously."
In the early sparring, several of AbbVie's Humira patents have been overturned by the patent office's Patent Trial and Appeal Board. But AbbVie has vowed to appeal those decisions, and even if it ultimately loses, the biosimilar makers still have to litigate their way past dozens more patents. The litigation alone will ensure that Humira retains its monopoly for years.
In working so hard to keep competitors off the market, AbbVie is not violating any law. Neither is Alexion, which a few weeks ago won three new patents for Soliris that are valid until 2027. Or Amgen, whose autoimmune drug Enbrel has claimed patent protection until 2029. 2  Or any of the dozens of other biologic manufacturers employing the same strategy.
Rather, they are violating the spirit of the 2010 law, which gave biologics a (quite generous) 12-year window of exclusivity, after which biosimilars were supposed to be able to enter the market, and save the country tens of billions of dollars. Last year, Denny Lanfear, the chief executive of Coherus BioSciences, a dedicated biosimilars company that has also developed a Humira biosimilar, called AbbVie's patents "phony," "contrived" and "baked on."
He may well be right, but so long as companies are forced to fight through thickets of patents to get a biosimilar to market, a law that was supposed to save the U.S. billions will continue to do just the opposite: make it easy for biologic makers to maintain unwarranted monopolies.
As for Humira, it just hums along. By 2019, it is expected to generate over $19 billion in sales for AbbVie. Maybe someday the health-care system will get some relief from this onerous cost, the way the law intended. But clearly, not anytime soon.
The diseases are paroxysmal nocturnal hemoglobinuria (PNH)and atypical hemolytic uremic syndrome (aHUS).
To contact the editor responsible for this story:
Stacey Shick at sshick@bloomberg.net
Before it's here, it's on the Bloomberg Terminal.
LEARN MORE