U.S. Economy
Don't Look Now, But Productivity Is Finally Rising
The U.S. economy is accelerating its expansion without more workers or inflation. There's one long-awaited explanation.
by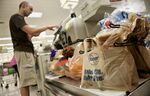 It's the puzzle perplexing central bankers, investors and financial writers: How has the U.S. economy accelerated its expansion in recent months without a big drop in unemployment and with core inflation falling?
The logical conclusion is that productivity growth has finally picked up, a development with big implications for the economy.

It's taken ages to get to this hard-won acceleration in productivity growth, which is perhaps why the experts are wary of diagnosing it, or are missing it altogether. But the road to this point began way back at the end of 2008. That's when market stress -- things like volatility and credit spreads -- peaked, and financial markets began to heal. Labor markets bottomed out nearly a year later, as the unemployment rate peaked in October 2009 at 10 percent. (By then financial markets and corporate profits had stabilized, giving businesses the confidence to hire.)
From here began the long march of subdued growth that frustrated nearly everyone, yet was effective in lowering the unemployment rate. For about six years, GDP growth averaged around 2 percent, and the Fed's preferred measure of inflation averaged around a plodding 1.5 percent. And yet the unemployment rate fell briskly: From October 2009 to September 2015, the unemployment rate fell from 10 percent to 5 percent. But productivity growth remained sluggish.
Now, perhaps, that's changing too. Accelerating growth with stable or falling inflation and employment implies that productivity growth is increasing, allowing the economy to do more with less. Companies that want to hire but can't find workers are simply forced to innovate and invest in labor-saving resources.
There's evidence of this productivity shift within the labor market. Since March, total employment has grown by 907,000 jobs. Of that, employment in the "goods-producing" sector -- think higher-paid, higher-productivity industries like construction and manufacturing -- and the "professional and business services" industry -- think knowledge workers -- has grown by 397,000 jobs. Lower-paid, lower-productivity industries like in the retail and leisure and hospitality industries have grown by only 174,000 jobs.
For businesses and investors, this would mean that investments can be made to grow profits without profit margins being gobbled up along the way by higher wages. For workers, it means that more people can move into higher-paid, more productive jobs as the composition of the economy shifts. And for the Fed, it means that this economic expansion could be durable, despite low inflation and low wage growth and low unemployment.
Every expansion ends, but this one may have more room to run than the formulas would predict. That's good news for all involved.
To contact the editor responsible for this story:
Philip Gray at philipgray@bloomberg.net
Before it's here, it's on the Bloomberg Terminal.
LEARN MORE