White House
John Kelly's Toughest Task Is Rebuilding Trump's Staff
He's cleaning up the White House, but still needs to seriously staff up.
by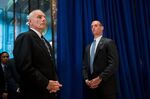 When John Kelly became chief of staff on the last day of July, I outlined the ways we'll know if he's really taking charge of President Trump's chaotic White House. It's been a little more than a month, which might seem like not much time at all. Then again, a presidential term only has 48 months, so each one wasted is sort of a big deal.
My gut-level impression is that he's off to a fairly promising start at avoiding a worst-possible Trump administration. At the same time, he's done little to build anything positive, and may not even be especially interested in doing so. It's a huge improvement from the January White House, but the nation still needs better.
Let's see how he's doing in the five most important responsibilities of a White House chief of staff:
Cleaning House: I'd give Kelly a B+ on this one, maybe an A-. The big success is that Steve Bannon is gone. So are several lower-ranked people, such as former National Security Council staffer Ezra Cohen-Watnick and Sebastian Gorka, the former Breitbart editor who mainly pushed Bannon's agenda on cable news. Bodyguard-without-portfolio Keith Schiller is next. It appears as well that Kelly has once again avoided former Milwaukee sheriff and ardent Trump ally David Clarke -- just a few months after Clarke's aborted landing at a Kelly-led Homeland Security. The downside is that Jared Kushner is still there, despite remaining as unqualified as ever for the job of senior White House staff. Perhaps it was never realistic that Trump would stop using his family as key advisers, but nevertheless as long as Kushner (and Ivanka Trump) remain in the West Wing, Kelly's house cleaning isn't finished. 
Rebuilding: Identifying and eliminating clowns is one thing; recruiting qualified grown-ups is another. Promoting Hope Hicks to communications director isn't a good sign. And as far as I'm aware, there's been no influx in high-powered policy or political people into the White House. As far as the executive branch goes, Kelly himself remains unreplaced at Homeland Security. However, the White House did announce a new group of executive branch nominations on Friday plus a few within the Executive Office of the President, and many of them appear to be relatively qualified. It's possible that there are plenty of good people in the pipeline and he's (sensibly) following a vet first, announce later policy -- but it's also possible that he's unable to overcome the president's awful professional reputation and therefore having trouble finding good people willing to work in the White House. Until he has more time, Kelly deserves an Incomplete on this one. 
Empty Threats: Since January, the president earned a damaging reputation as a paper tiger, and that hasn't changed at all since July. His "fire and fury" bluff to North Korea and his threat to shut down the government over border wall funding are just two of the biggest examples. Kelly gets a D here, and only because I don't like to fail anyone. 
Policymaking: So far, I see no sign that much has changed. There's been plenty of talk about the combination of Kelly, National Security Advisor H.R. McMaster, and Defense Secretary James Mattis combining to talk Trump out of his worst impulses, but little sign of White House policymaking, whether it's on taxes or immigration or anything else. The result? Trump has little influence in Congress, and little influence on executive branch departments and agencies once he's nominated someone. Where Trump seemingly randomly put a (usually very conservative) activist in place, such as the Environmental Protection Agency or Health and Human Services, plenty is happening; otherwise, for example at State or Housing, not much is going on. I'll give Kelly a generous C for this one. 
Basic Management: Kelly reportedly originally aimed to "manage the staff, not the president," and it's still not clear what that means. If he just wants to keep the staff out of the way and let Trump be Trump, it's not enough to make Kelly a successful chief of staff; if it means managing the president by managing the staff, however, it's more promising -- after all, we know the president is easily manipulated.
The good news here is that Kelly has taken big steps in getting the White House to run more normally, controlling the paper flow and the door to the Oval Office (although not, we are told, Trump's TV watching or late-night phone calls -- which means the president is still more likely to learn propaganda and rumor than basic policy facts). My impression (which could very well be wrong, but for what it's worth) is that the White House is producing somewhat fewer leaks about the president acting like a toddler than was the case before Kelly took over; we'll see if it continues to get better as Bannon and others who have recently departed can no longer readily supply current stories. But if anything, flat-out defiance of the president from the executive branch has become a bigger problem in the last month. I suppose Kelly deserves something in the B-range here, depending on which part of the job one considers more important. 
Of course, Trump remains Trump. It's never been realistic that anyone could stop the impulsive tweeting, the random lashing out at people whose support he'll need, the lack of interest in absorbing briefing material, and all the rest. All a good chief of staff can do is to work around those things, and minimize their damage. 
To contact the editor responsible for this story:
Mike Nizza at mnizza3@bloomberg.net
Before it's here, it's on the Bloomberg Terminal.
LEARN MORE