view
Ezekiel Elliott's Case Shows Deflategate's True Lesson
Fairness doesn't matter in NFL discipline. The contract does.
by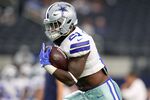 Remember Deflategate?
Sure you do. For a span of 18 months -- from January 2015, when the New England Patriots beat the Indianapolis Colts in the AFC championship game, until July 2016, when Patriots quarterback Tom Brady agreed to accept a four-game suspension imposed by National Football League Commissioner Roger Goodell -- Deflategate consumed the NFL, not to mention millions of football fans.
The central allegation, you'll recall, was that Brady had used balls in that game that were below the 12.5 pounds per square inch minimum required under the rules. 1  (In NFL games, each team supplies -- and inflates -- the footballs its offense will use. Go figure.) At halftime, after complaints from the Colts, the officials measured the Patriots' balls; sure enough, they measured, on average, 11.3 psi.
Goodell brought in the lawyer Theodore Wells to conduct an investigation. He concluded that it was "more probable than not" that two Patriots assistants had underinflated the balls and "more probable than not" that Brady knew they'd done it. After Brady failed to get his suspension reduced or eliminated during an arbitration and appeal process, he sued.
In all likelihood, Deflategate never happened. Although there was some fishy circumstantial evidence, the degree of underinflation completely aligned with the laws of physics: to oversimplify, cold weather causes the pressure to decrease. On this point, virtually every scientist who looked into Deflategate, aside from those paid by the NFL, agreed.
But in the end, the science didn't matter. Although Brady won at the district court level, the U.S. Court of Appeals for the 2nd Circuit ruled against him. At which point, Brady threw in the towel, accepted his four-game suspension -- and then returned triumphantly to lead the Patriots to a glorious Super Bowl victory. 2
Many if not most fans thought it was dumb for Brady to spend all that time and money taking on the NFL over what amounted to a tolerable penalty. But there was a lot more at stake than whether Brady had knowingly used underinflated balls. The litigation was really about whether Goodell, as NFL commissioner, had the right, under the collective bargaining agreement with the players, to assess a penalty against Brady, however arbitrary. The appeals court said that he did.
Now there's another pro football player suing to overturn a Goodell-imposed suspension: Ezekiel Elliott, the star running back for the Dallas Cowboys. Days before the beginning of the new season, Elliott has gone to court to block a six-game suspension -- which he had also appealed to an arbitrator, as required by the collective bargaining agreement.
Late Tuesday afternoon, the arbitrator upheld the suspension -- just as happened with Brady. A few hours later, a judge in Texas heard Elliott's request for a temporary restraining order that would allow him to continue playing while the case plays out in the courts. If the judge decides in Elliott's favor -- and he did not make a ruling Tuesday -- Elliott will be able to keep playing while his lawsuit unfolds. 3   Ultimately he hopes to persuade the federal courts to throw out his penalty on the grounds that it was unfairly arrived at.
On the one hand, what Elliott is accused of is a lot worse than deflating a few footballs. Tiffany Thompson, Elliot's ex-girlfriend, says he physically abused her on multiple occasions in July 2016. In years past, the NFL looked the other way when domestic abuse allegations arose, but after several horrific incidents -- most notably Ray Rice being caught on video punching his fiancee -- the NFL has tried to get tougher on players accused of abusing women. As it should.
And Elliott is hardly a choir boy. He has acknowledged that his drug use when he starred at Ohio State was such that he feared failing the NFL's mandatory drug test. He drinks to excess. He once publicly exposed a woman's breast. And his relationship with Thompson was volatile.
On the other hand, the NFL's investigation into Thompson's allegations probably was unfair. For instance, Elliott was never allowed to confront his accuser. The one investigator who interviewed Thompson reportedly recommended that Elliott not be suspended. The NFL Players Association charges that there was a "League-wide conspiracy" to hide information that would have exonerated Elliott.  (The NFL denies this.)
"I would say the procedural errors and fundamental unfairness of the proceedings are far more acute in Elliott's case than they were for Brady," sports law attorney Daniel Wallach told the Dallas Morning News. He added that he thought Elliott had a good chance of having the suspension reduced or erased because the NFL handled the investigation so poorly.
I have no particular insight into whether Elliott's request for a restraining order will be granted. Wallach wrote on Twitter that he expected the request to be granted, based largely on the tone of the judge's questions. But no matter how the judge rules on Elliott's request for a temporary restraining order, it is hard to see how this case will wind up any different from Deflategate.
Does the NFL have a legal obligation to afford Elliott due process? Not really -- due process obligations apply primarily to actions by government bodies. All the league has to do is abide by the requirements of a collective bargaining agreement that was negotiated in 2011. That agreement gives Goodell surprisingly broad latitude to punish players as he sees fit. Elliott can argue that he has been treated unfairly by the league, but unfairness has very little to do with it. As the 2nd Circuit noted in the Brady case:
Even if the arbitrator makes mistakes of fact or law, we may not disturb an award so long as he acted within the bounds of his bargained-for authority.
In a tweet the other day, Michael McCann, a sports law professor at the University of New Hampshire who also writes for Sports Illustrated, noted that the NFL's filing in opposition to Elliott's lawsuit cited the Brady case seven times. "Cases have consequences," he wrote.
The current collective bargaining agreement runs through 2020. When they renegotiate it, the players will undoubtedly look to weaken Goodell's power to punish them for real or imagined infractions. Until then, however, they'll continue to be reminded that collective bargaining agreements have consequences too.
To contact the editor responsible for this story:
Stacey Shick at sshick@bloomberg.net
Before it's here, it's on the Bloomberg Terminal.
LEARN MORE