Editorial Board
What Donald Trump Owes the Dreamers
His conspicuous silence about their future is counterproductive and cruel.
by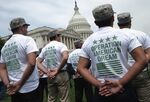 President Donald Trump is not generally the reticent type. When it comes to the fate of almost 800,000 young immigrants known as Dreamers, however, he has been unusually quiet.
Trump is under pressure from conservative state officials who are threatening to sue the federal government next week if he doesn't end a 2012 program that enables so-called Dreamers -- young undocumented immigrants who were brought to the country as children -- to live, study and work in the U.S. Meanwhile, immigration restrictionists have encouraged Trump to use the lives of Dreamers as a bargaining chip to get a border wall and more aggressive policies out of a reluctant Congress.
Trump's failure to reassure Dreamers that they won't be arbitrarily uprooted and deported is both alarming and cruel. If the president ends the protections that have enabled hundreds of thousands to invest in themselves and contribute to their communities, it will be yet another shameful episode in a presidency that already has too many.
The moral case for Dreamers is obvious. They arrived in the U.S. as kids, not lawbreakers. Many know no other country and are American in culture and allegiance -- indeed in all ways but official citizenship.
The economic case is no less compelling. America has invested in Dreamers' educations. It has paid for the infrastructure that Dreamers have used. Why would Americans now deny Dreamers the opportunity to give back to their adopted country, through military service or gainful employment and lifetimes of paying taxes?
It is the legal case against Dreamers that makes them vulnerable. Even President Barack Obama acknowledged that a presidential decree protecting them was not ideal -- Congress needed to pass a law. And that remains the surest way to secure Dreamers' American future.
Senators Lindsey Graham of South Carolina and Dick Durbin of Illinois have proposed the bipartisan Dream Act of 2017 to put Dreamers on a path toward a green card and, eventually, citizenship. To qualify, applicants would have to have arrived as children and have been continuously present for at least four years before the law's enactment. They would also have to meet education requirements and pass a criminal background check.
An analysis of a similar Dream Act in 2012, based on a projected Dreamer population of 2.1 million, suggested it would add $329 billion to the U.S. economy by 2030, producing an additional $5.6 billion in state and federal household income tax revenue and $4.6 billion in federal business tax revenue.
There is no good reason to deny Dreamers' participation in American life, and to deny Americans the benefits of Dreamers' participation in the economy. In a world of complicated trade-offs, easing the path of Dreamers into education, employment and citizenship is an easy call. Trump should keep the promise to Dreamers. And Congress should pass the Dream Act of 2017 to secure it. 
To contact the senior editor responsible for Bloomberg View's editorials: David Shipley at davidshipley@bloomberg.net .
Before it's here, it's on the Bloomberg Terminal.
LEARN MORE