War
Trump's Plan to Save the Afghanistan Bush and Obama Built
As a candidate, he opposed nation-building. As president, he proposes "nation-preserving."
by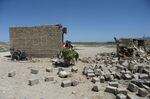 In a sense, President Donald Trump threaded a rhetorical needle Monday evening explaining why he will prolong the war in Afghanistan that he had opposed as a candidate. America will no longer fight for girls' schools and democracy. Instead, it will fight to destroy terrorists. 
"We will not dictate to the Afghan people how to live, or how to govern their own complex society," he said. "We are not nation-building again. We are killing terrorists."
On the surface, that sounds like a break from the past. Presidents George W. Bush and Barack Obama supported far-reaching development programs for Afghanistan that attempted to modernize and democratize a country largely stuck in a very distant past.
But in reality, the U.S. will still be participating in what most Americans would consider "nation-building." Call it nation-preservation. According to two U.S. officials familiar with the planning on Afghanistan, there are no plans to cut off U.S. spending on salaries for the Afghan army, the Afghan police or elements of the Afghan civil service.
That's no small matter. The U.S. spent $710 million in 2016 on such salaries and budgeted $615 million for them this year. This occurred in the final two years of the Obama administration, when the president had ended U.S. combat operations -- at least in theory. U.S. officials tell me the request for these payments will continue for 2018, though Secretary of State Rex Tillerson has been instructed to seek assistance from India and other U.S. allies to defray these costs down the road.
When asked about how the Trump plan would differ from past nation-building, one National Security Council official stressed that Trump would continue some anti-corruption campaigns, but would accept a certain level of graft in the Afghan government so long as it did not detract from the fight against al-Qaeda, the Taliban and the Islamic State. This official also said the U.S. would not insist on a strong central government in Kabul and be content allowing tribal arrangements to take hold in rural areas so long as they do not become safe havens for terrorists.
Either way, one of the drivers of corruption in Afghanistan has been the generous aid provided U.S. taxpayers over the last 16 years, and that will continue for the time being. A report from the Special Inspector General for Afghanistan Reconstruction released in January found that tens of thousands of no-show soldiers, civil service workers, police and teachers were earning salaries paid through American aid. In a speech at the Center for Strategic and International Studies, Inspector General John Sopko said that since 2002, the U.S. has spent $8 billion on counter-narcotics initiatives, yet the opium trade has grown significantly since the fall of the Taliban government in 2002.
While the U.S. should take pride in successive elections for the central government in Kabul, that government has steadily lost territory to the Taliban since the end of 2014, when Obama formally ended combat operations. Today, according to the latest Sigar report, the central government controls only 60 percent of the country's 407 districts. In November 2015, it controlled 72 percent.
All of that would make a strong argument for just leaving. Indeed, this was Trump's initial instinct. But the president said he realized over months of meetings with his generals and advisers that it would be catastrophic if the U.S. left too quickly. So he changed his mind.  
None of this is to say there is nothing new in Trump's Afghanistan strategy. One big difference is that there will be no pre-ordained timetables for withdrawal, a failing of Obama's approach to the wars in Iraq and Afghanistan.
Trump also offered a new strategy on dealing with the Taliban. Even as Obama was surging troops in Afghanistan in 2009 and 2010, he dispatched senior envoys to explore a peace deal with the Taliban. Trump on Monday night was ambivalent about whether the Taliban will eventually be part of Afghanistan's future.
"Someday, after an effective military effort, perhaps it will be possible to have a political settlement that includes elements of the Taliban in Afghanistan, but nobody knows if or when that will ever happen," Trump said.
That is different from how Tillerson expressed U.S. goals. On Monday evening he said: "We are making clear to the Taliban that they will not win on the battlefield. The Taliban has a path to peace and political legitimacy through a negotiated political settlement to end the war."   
U.S. military planners have accepted that the only way to end America's longest war is through a deal with the Taliban. In the summer of 2017, that prospect still seems remote. What is clear is that while Trump will adamantly deny it, he is committed to fighting for the survival of the nation his predecessors have been building since 2002.
To contact the editor responsible for this story:
Tobin Harshaw at tharshaw@bloomberg.net
Before it's here, it's on the Bloomberg Terminal.
LEARN MORE