Prophets
Commodities Outlook Dims as Trump Disbands Councils
Although not stellar, commodities have shown decent support ever since it became clear that Trump had a shot at the White House.
by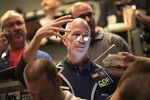 President Donald Trump's decision last week to disband the American Manufacturing Council and the Strategy and Policy Forum not only puts his agenda to revitalize the nation's infrastructure in jeopardy, it also weakens the precarious support commodities such as copper, steel and crude oil have relied upon.
Although not stellar, global commodity prices had shown decent support ever since it became clear that Trump had a shot at the White House, with infrastructure at the top of his agenda. His promise to "rebuild our country with American workers, American iron, American aluminum and American steel," while touting a Mexican border wall, became the crutch for a deeply wounded industry facing excess inventories alongside more efficient manufacturing and raw material applications. As recently as Aug. 15, he issued an executive order directing federal agencies to more quickly review the environmental effects of infrastructure projects, a bid to speed up the construction of the roads, rails, bridges and pipelines he has promised.
And now the crutch has broken. The destruction of both councils -- whose members included the heads of prominent American companies ranging from Merck to General Motors, BlackRock to JPMorgan -- delivered a major setback in the eyes of traders to a president priding himself on being a businessman and fierce negotiator from his time as a real estate developer and reality television star. These leaders, who previously agreed to join the forums to advise Trump on economic issues, collaborated to step down from their respective positions and disband the councils after his controversial remarks surrounding the white supremacist marchers in Charlottesville, Virginia.

Surely these appointed posts were more symbolic and ceremonial rather than tactical or strategic. Nevertheless, they were prestigious and provided an essential means toward to helping design Trump's agenda and much-needed education on how to build out our nation's infrastructure. But business leaders are less inclined to side with Trump's rhetoric, seeing it as too much of a lightning rod to be associated with their companies. There was already a tense relationship between the White House and corporate executives, many facing pressures from employees, customers, shareholders and counterparties, in addition to activists, to take stands on social and political issues, at times putting them in direct opposition to the president.
None of this bodes well for the commodities sector, and particularly for those commodities consumed in infrastructure and building projects. Within the commodity complex, base metals and energy are likely to bear the brunt of price pressures. With the exception of lumber, few in the grains and soft commodities should be affected.
After seven months into his presidency, with little to nothing materializing on the infrastructure front, the challenges are big. First, Trump needs leaders to help him identify sources of funding for a rebuilding program equivalent to what he says is worth $1 trillion over a decade. Those leaders, in turn, need guidance to help steady the balance between public private partnerships and government funding, and to determine to what extent that funding comes from cities and states or the federal government. Additionally, insurers and environmentalists are fighting his executive order to grossly reduce the time federal agencies spend on environmental review prior to approving projects, and there's pushback on his reversing the Obama flood-mitigation standards, leaving the nation vulnerable to climate change effects.
With pro-growth in jeopardy, commodities face more headwinds than potential upsides. The markets cannot rely solely on the weakness of the U.S. dollar. Nor can commodities depend on China, by far the largest commodity-consuming nation, which is not only becoming more self-sufficient in its own commodity production but is showing signs of slowing. For the time being the U.S. may have to live with its existing infrastructure, while commodity bulls should think twice about their long positions.
To contact the editor responsible for this story:
Robert Burgess at bburgess@bloomberg.net
Before it's here, it's on the Bloomberg Terminal.
LEARN MORE