Federal Reserve
The Fed Is Asking Questions, Not Providing Answers
It would be cause for concern if policy makers acted too confident. The economy is not following models.
by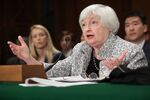 The Federal Reserve is either lucky or clever.
By signaling that it won't touch interest rates again until December, it's bought itself time to have a longer -- and much needed -- conversation about inflation. Good. There are very legitimate doubts that traditional models explain what's happening or, rather, what's not happening.
Minutes of the Federal Open Market Committee's July meeting show a growing debate about inflation and why it's retreating, instead of advancing, in the face of 4.3 percent unemployment. The central bank is puzzled that prices have been soft for several months.
In the absence of any real inflation pressure, the Fed might be reasonably expected to take a break from raising rates while it got a handle on what's happening. By acting in March and June and hinting that September will be about balance sheet reduction, the Fed gave itself some wiggle room. 
Policy makers basically have until December to either see inflation head back toward their 2 percent target or figure out how to respond if it doesn't behave. There's a meeting scheduled for late October, but the Fed's historical aversion to moving in the absence of new forecasts and a press conference effectively rules out a surprise then. 
Delaying until December gives officials at least four more months of inflation data. Most still see it returning to its target, in keeping with traditional economic models. And to be fair, as I have written, this isn't exclusively an American phenomenon. Inflation is weak in Europe and Japan despite a pronounced pickup in growth. (It's above target in the U.K.; Brexit complicates that particular picture.)
But the U.S. is still the world's largest economy, and the Fed is still the world's de facto central bank. The country's financial markets dwarf others despite frequent predictions of decline. How this inflation mystery ends will matter greatly.
What if the book doesn't have an end? The minutes show some self-doubt starting to creep in alongside the confidence of the majority:
Most participants indicated that they expected inflation to pick up over the next couple of years from its current low level and to stabilize around the Committee's 2 percent objective over the medium term. Many participants, however, saw some likelihood that inflation might remain below 2 percent for longer than they currently expected, and several indicated that the risks to the inflation outlook could be tilted to the downside.
The account of the July conclave even suggested some heretical questioning of the link between very low unemployment and wages and inflation. The majority are still wedded to the traditional models.
Until we start to see a convincing swing back to the Fed's target of 2 percent, we will probably see more of this public questioning of assumptions.
Something less contentious was skepticism about the prospects for large-scale fiscal stimulus, the domain of Congress and the White House. A few participants at the Fed meeting doubted it would happen and, if it did, they suspected the boost would be less than might have once been anticipated. That observation went unchallenged.
Stay tuned for the last day of August. That's when the Commerce Department publishes closely watched inflation figures. Enjoy the debate.  
To contact the editor responsible for this story:
Philip Gray at philipgray@bloomberg.net
Before it's here, it's on the Bloomberg Terminal.
LEARN MORE