Prophets
Fed Shouldn't View Productivity as an Exogenous Factor
The current low-inflation environment offers the perfect opportunity to test whether looser monetary policy can boost productivity growth.
by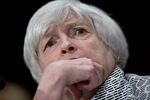 The Federal Reserve has an opportunity to test a hypothesis critical to the health of the U.S. economy: Can persistently loose monetary policy boost the pace of productivity growth? Sadly, for now, an adherence to a strict Phillips curve framework for the economy and fear of financial instability will prevent the Fed from venturing down this path.
Chair Janet Yellen gave a speech last fall detailing a potential agenda for macroeconomic researchers. Included in the speech was the proposition that the Fed should run a "high-pressure economy" as a possible avenue to boost employment and productivity growth. Initial media reports speculated that Yellen was laying the groundwork to back down from expected rate hikes. These reports were erroneous, as history has proven. Yellen wanted only to plant the seeds of a research agenda, not change the Fed's policy path.
Instead, the Fed continues to treat productivity growth as an exogenous factor. To be sure, monetary policy has a role to play in a low-productivity world. In a recent speech, Vice Chair Stanley Fischer said:
Transparent and sound monetary policy can boost confidence in the stability of the growth outlook, an outcome that can in turn alleviate precautionary demand for savings and encourage investment, pushing up the equilibrium interest rate.
In this case, the growth outlook takes the supply side of the economy for granted. Fischer is saying that monetary policy needs to be set to line up demand growth with the economy's potential growth rate and thus avoid either recessions or, in the Fed's way of thinking, above-trend growth that necessitates a recession-inducing policy response. The Fed's Summary of Economic Projections reveals this policy intention, anticipating rate hikes that eventually bring demand growth in line with expected potential growth. In the process, they will help the economy grind out an equilibrium where unemployment is at its natural rate and the inflation rate is at the Fed's 2 percent target.
The Fed is thus doing its job, according to Fischer. The rest is up to fiscal policy makers:
… Policies to boost productivity growth and the longer-run potential of the economy are more likely to be found in effective fiscal and regulatory measures than in central bank actions.
Given the state of policy in Washington, good luck with that.
Unfortunately, the Fed's approach does not appear to even be pushing up the medium-term equilibrium interest rate. The stickiness of long-term U.S. Treasury yields of around 2 percent indicates that the real medium-term equilibrium rate continues to hover near 0 percent, thereby leaving the Fed's terminal rate projections likely too high. Fed Governor Lael Brainard appears to be moving to the same view.
But maybe the Fed can switch gears and run that "high-pressure economy" Yellen discussed last year and see if looser monetary policy can boost productivity growth. The persistently weak inflationary environment offers the perfect opportunity for such an experiment.
Low inflation already vexes the Fed. Core inflation tumbled early in the year and remains well below the Fed's target. This alone gives the Fed reason to allow a slower path on rate hikes in an experimental effort to boost productivity growth. Moreover, the Fed's supposedly asymmetric inflation target provides even more reason to do so. They should be willing to tolerate persistently above-target inflation as they have below-target inflation. At this point, they have plenty of leeway for an overshoot of inflation.
In addition, if we have learned anything in the past several years, it is that inflation expectations, both survey and market, are very sticky.

This helps explain low inflation to date and stands in contrast with Fed fears that inflation expectations are very tenuous, particular to the upside, and would quickly become unanchored if inflation exceeds 2 percent. If inflation expectations are quite entrenched, as it appears, the Fed can run a hot economy without fear that the only way to pull it back is via a sharp rise in interest rates. Sticky inflation expectations mean the Fed can tamper down an unwanted inflation with a return to moderate rate hikes.
Although the time might be ripe for a change, I suspect the Fed will hesitate to let the economy run hot in an experiment to boost productivity. Yellen's most recent post-Federal Open Market Committee meeting news conference and congressional testimony indicate continued faith in the Phillips curve framework. In this view, low unemployment rates maintain upward pressure on the inflation forecast, and that forecast remains sufficient to justify continued rate hikes until reaching the equilibrium interest rate. Moreover, the Fed is already concerned that low equilibrium interest rates add to financial instability. They will not want to compound that problem by holding policy rates even lower as well to pursue a policy experiment.
If this is how events unfold, expect the Fed to keep up the pressure on rate hikes in the short term, but be wary about their longer-term forecasts. I have seen little that makes me believe they can push rates as high as they think they can. At this point, an effort to do so looks likely to be recessionary.
To contact the editor responsible for this story:
Robert Burgess at bburgess@bloomberg.net
Before it's here, it's on the Bloomberg Terminal.
LEARN MORE