Prophets
China's Markets Show Reforms Starting to Work
Supply-side reform has the potential to make many industries more structurally sound for investors, rather than just a short-term trade.
by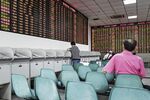 These are heady times in the markets for Chinese commodity futures and listed industrial shares. Large industry leaders such as Aluminum Corp of China Ltd., or Chalco as it's known, have risen more than 50 percent recent months. Angang Steel is up some 30 percent in the same period. 

How sustainable this rally is will rest on success of China's supply-side reform agenda. If implemented forcefully, it does have the potential to structurally improve the outlook for several cyclical industries, reduce pollution, and lower the risks of non-performing loans to the banking system. 
On the surface, it's hard to discount loose domestic liquidity as a key driver for the move in commodities. New total social financing in China grew by 14.5 percent in the first half of 2017, and a recent report by my fellow Bloomberg View columnist Christopher Balding highlighted a 772 percent increase in total capital flows into commodities from wealth management products between January 2015 and June of this year. One factor that shouldn't be ignored is Beijing's efforts to deal with cyclical overcapacity via the supply side reform program.
Last year, China cut 65 million tons of outdated steel capacity and more than 290 million tons of coal capacity. The goal in 2017 is to reduce steel capacity by an additional 50 million tons and coal capacity by a further 150 million tons. An important development in 2017 has been the expansion of the supply-side reform program into other sectors of the economy, such as agriculture, power, cement, glass, rare earth materials and aluminum. Shipbuilding and oil refining are two other areas that won't be far behind.
Efforts to reduce overcapacity will have several benefits for China. The first is geopolitically, where it's possible that U.S. President Donald Trump will order an investigation into trade with China. Steel overcapacity was one area discussed at the China-U.S. Comprehensive Economic Dialogue in Washington last month, and the Group of 20 meeting in Hamburg called for concrete policy solutions to reduce excess capacity. The second is environmentally, where illegal and excess production of steel and coal have contributed to elevated pollution levels.
Finally, the supply-side reform program push could have long-term benefits for the financial system. Although efforts to reduce overcapacity may bring short-term risks to the Chinese banks via higher short term nonperforming loans, the policy should structurally improve the demand-supply balance in several industries over the longer term, leading to higher utilization rates and improved profitability. The initial results have had a positive effect on industrial earnings. Profits at major steel makers reached 37.9 billion yuan ($5.68 billion) in the first five months of the year, higher than the 33.2 billion yuan they earned in all of last year. Combined profits of large coal enterprises with annual revenue of at least 20 million yuan came to 123.3 billion yuan in the first five months, almost 90 times that of the same period a year earlier, according to statistics released at a national coal trade fair and reported by the China Daily Paper.
The next big step in the supply-side reform program will probably be an effort to accelerate the pace of domestic mergers and acquisitions. The Chinese government has set consolidation targets for the major players controlling 60 percent of the steel and coal industry, versus 36 percent and 43 percent respectively at present. Consolidation is also on the rise in the cement, aluminum and glass sectors, allowing the government to more easily enforce production cuts.
These efforts should be views as just a start. Supply-side reform does have the potential to make these industries more structurally sound for investors, rather than just a short-term trade.
To contact the editor responsible for this story:
Robert Burgess at bburgess@bloomberg.net
Before it's here, it's on the Bloomberg Terminal.
LEARN MORE