White House
Uncle John Taught Trump About Fire and Fury
When the president reflects on nuclear weapons, he likes to remind listeners that he's the nephew of an MIT physicist.
by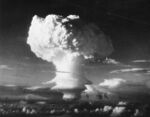 President Donald Trump returned this week to a recurring and favorite theme of his over the years: nuclear war and annihilation.
He has thought quite a bit about the topic. Really.
Amid the president's threats to unleash "fire and fury" upon North Korea if the country's nuclear ambitions continue to expand, look no further than Trump's late uncle, John Trump, for a window onto POTUS's thinking.
John Trump, who died in 1985 when he was 77, was a well-regarded engineer and nuclear physicist. He was a professor at the Massachusetts Institute of Technology for almost 40 years, beginning in 1936. His brother Fred, the president's wealthy father, paid John's way through college and graduate school, and John ultimately had a number of nifty accomplishments around food preservation, medical-device sterilization, radiation treatments for cancer and the military uses of radar.
The National Academy of Engineering recognized John after his death as "a pioneer in the scientific, engineering, and medical applications of high voltage machinery" and pointed out that his "mixture of personal technical work and quiet leadership produced many important discoveries."
John had no experience developing nuclear weapons or nuclear policy, but that has never stopped his nephew from invoking his uncle's name when he weighs in on those subjects.
So a brief tour of the president's reminiscences about Uncle John offers a window onto the philosophy, if that's what it is, of the man in possession of the U.S. nuclear codes.
Take, for example, a small portion of Trump's campaign speech on July 19, 2016, when he free-associated about the Obama administration's nuclear deal with Iran:
Look, having nuclear — my uncle was a great professor and scientist and engineer, Dr. John Trump at MIT; good genes, very good genes, OK, very smart, the Wharton School of Finance, very good, very smart — you know, if you're a conservative Republican, if I were a liberal, if, like, OK, if I ran as a liberal Democrat, they would say I'm one of the smartest people anywhere in the world — it's true! — but when you're a conservative Republican they try — oh, do they do a number — that's why I always start off: Went to Wharton, was a good student, went there, went there, did this, built a fortune — you know I have to give my life credentials all the time, because we're a little disadvantaged — but you look at the nuclear deal, the thing that really bothers me — it would have been so easy, and it's not as important as these lives are — nuclear is powerful; my uncle explained that to me many, many years ago, the power and that was 35 years ago; he would explain the power of what's going to happen and he was right, who would have thought?
Possible takeaways: 1) The president needs therapy; 2) Uncle John was smart because he had good genes and Trump is smart because he shares those genes; 3) "Nuclear is powerful"; 4) "Who would have thought?"
Let's extrapolate from these verbal gymnastics and speculate that maybe, just maybe, "Who would have thought?" registers some respect for the world-ending, destructive force of nukes.
That wouldn't be a new idea for Trump. He told the New York Times in 1984 that he worried that "some wacko over in Syria can end the world with nuclear weapons."
The Times noted then that Trump's "concern for nuclear holocaust is not one that popped into his mind during any recent made-for-television movie." No! In fact, the Times pointed out, "it has been troubling him since his uncle, a nuclear physicist, began talking to him about it 15 years ago."
Trump told the Times those 33 years ago that the threat of a nuclear holocaust bothered him so much that he hoped to have the chance to someday use his deal-making skills to negotiate nuclear arms agreements.
When I spent a lot of time with Trump over a decade ago as a reporter and then for a 2005 biography I wrote, he often spoke glowingly about his uncle, citing him as an influence.
Shortly after Trump announced his presidential bid in 2015, he told the Boston Globe that his uncle was "brilliant" and evidence that the Trump family had "very good genetics."
"My uncle used to tell me about nuclear before nuclear was nuclear," Trump told the Globe. "He would tell me, 'There are things that are happening that could be potentially so bad for the world in terms of weaponry.'"
In early 2016, Trump sat with CNN's Anderson Cooper for a televised town hall and they discussed nukes.
"So some proliferation is OK?" Cooper asked.
"No, no, not proliferation," Trump replied. "I hate nuclear more than any. My uncle was a professor, was at MIT [and] he used to tell me about the problem."
Trump added, "At some point we have to say, you know what, we're better off if Japan protects itself against this maniac in North Korea, we're better off, frankly, if South Korea is going to start to protect itself."
Trump also referred to President Barack Obama in the town hall.
"We have a president, frankly, that doesn't - nobody is afraid of our president, nobody respects our president," he said. "I don't want more nuclear weapons. I think that - you know, when I hear Obama get up and say the biggest threat to the world today is global warming, I say, is this guy kidding? The only global warming -- the only global warming I'm worried about is nuclear global warming because that's the single biggest threat."
Possible takeaways: 1) Trump is worried about nuclear confrontation; 2) He's against nuclear proliferation; 3) He's for proliferation; 4) He wants people to fear him.
Now we've come to Trump's "fire and fury" moment.
It's unlikely that you'll hear the president refer to nuclear philosophers such as George Kennan or J. Robert Oppenheimer in the coming weeks, or cite policies like "containment" and "mutual assured destruction." But you can expect to hear more about Uncle John. He's the relative who gave the president a vision of Armageddon alongside an awareness, as Trump stated in one of his books, "The America We Deserve," that you had to get "tough with people who would wipe us out in a second."
To contact the editor responsible for this story:
Jonathan Landman at jlandman4@bloomberg.net
Before it's here, it's on the Bloomberg Terminal.
LEARN MORE