Bonds
Place Your Bets: When Will the U.S. Hit the Debt Ceiling?
Prediction markets add a crowdsourced opinion to the chaos of Washington.
by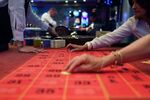 Mark your calendar for a crisis. You can see this one coming: The government will run out of cash on Sept. 29 and cannot borrow more money unless Congress raises the debt ceiling.
This is a perennial crisis, and markets have a well-rehearsed pattern of worry followed by relief. But this time could be different because of the growing role of prediction markets.
Lawmakers are on recess until Sept. 5, and they plan to take a week off in September. So that leaves 12 working days for Congress to raise the borrowing limit. It's difficult to give Congress the benefit of the doubt on getting this done. The White House is usually focused on this priority, but in the wake of the health-care defeat in the Senate, White House budget director Mick Mulvaney initially said that Congress should hold off on all other issues, including the debt ceiling, until it went back to health care. He later changed his position and said Congress should raise the debt ceiling.
Congress has been all over the place. Both Senate Majority Leader Mitch McConnell and House Speaker Paul Ryan will push for a clean debt ceiling increase, but some number of more conservative members will vote against that, meaning Democrats will need to provide votes to ensure a successful vote. But it's not clear what conditions Democrats will demand in exchange for their votes. Senate Minority Leader Chuck Schumer said earlier this summer that Democratic votes may be hard to come by if Republicans insist on passing a large tax cut for the wealthy.
There are already indications that investors are bracing for the debt-ceiling talks to fail. If Congress does not act, the U.S. could theoretically default on its debt, which has long been seen as one of the safest investments in the world.
This uncertainty is visible in the spread in yields between three-month and six-month Treasuries. In normal circumstances, a six-month bond would pay a higher yield than a three-month bond, because the investor is parting with cash for twice as long and demands compensation for that. But these are not normal circumstances. In fact, in early July, the U.S. paid more for three-month bills than for six-month bills because the shorter-term bills came due in late September, at the time when investors see the greatest risk of a default.
But for both investors and general observers, a Treasury spread is a blunt instrument. Prediction markets get more specific.
PredictIt has become the go-to prediction market for observing U.S. political events. It has taken bets on a wide variety of questions -- like the congressional special elections, the fate of the health-care bills, and whether Sean Spicer would remain as press secretary -- and its prices are quick to adjust to new information. 1
PredictIt offers weekly debt ceiling markets through the end of October, and at the time of this writing, its participants give less than a 5 percent chance of the debt ceiling being raised by Sept. 15, and less than a 15 percent chance of it being raised by Sept. 22. If the Trump administration's Sept. 29 estimate is right, then we could be looking at another tense period for markets like we had in the summer of 2011, when the debt ceiling standoff caused Standard and Poor's to lower the U.S. credit rating.
Of course it's possible the real deadline will be a week earlier or a couple weeks later, given volatility in tax receipts. Prediction markets give investors a crowdsourced alternative to the administration's prediction for the crisis date.
While political gambling is illegal in the U.S., prediction markets are an exception because of the data generated for academic research. PredictIt has received a no-action letter from the Division of Market Oversight of the Commodity Futures Trading Commission.
To contact the editor responsible for this story:
Philip Gray at philipgray@bloomberg.net
Before it's here, it's on the Bloomberg Terminal.
LEARN MORE