view
Trump's Misguided Plunder
Market forces will ensure rare-earth supply meets demand.
by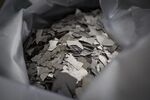 For nearly a decade, American policy makers and industrialists have warned of a looming apocalypse in the world's supply of rare-earth elements, which are crucial components in everything from electric cars to military hardware. Because China accounts for nearly all global production of the metals, the theory went, it could place a choke-hold on U.S. manufacturing.
But the apocalypse never arrived. Instead, researchers and entrepreneurs have sought out new sources of rare earths, ensuring that markets -- and not China -- will ultimately control their supply. As Donald Trump's administration mulls a risky new effort to exploit more rare-earth deposits, it should take a lesson from recent history.
Although the rare-earth elements aren't exactly household names, they're essential to the modern economy. Magnets made with neodymium are critical to efficient wind turbines; praseodymium is used for hardening metals in aircraft engines; lanthanum is a crucial element in camera lenses, as well as in night-vision goggles used by the military.
For decades, the U.S. was the world's leading producer and processor of such metals. But in the 1990s, it began losing its edge to Chinese producers, who benefited from lower costs, less regulation and a burgeoning manufacturing base. The shift was fast: The Mountain Pass mine in California, the only U.S. rare-earth mine, closed in 2002. Within a decade, China was producing about 97 percent of the world's supplies.
That market dominance didn't go unnoticed. The U.S. Congress, alarmed that China might monopolize raw materials needed in certain weapons systems, commissioned a study on rare earths in the defense supply chain and considered legislation to spur the development of domestic alternatives. Respected publications warned of a "Rare Earth Crisis."
For a brief moment, one seemed imminent. In 2010, China ordered a halt to rare-earth shipments to Japan -- a huge market for the materials -- amid political tensions. Panic ensued and prices spiked. Cerium, which had cost $6 a pound in 2008, shot up to $77 a pound. Sensing an opportunity, the mining company Molycorp Inc. spent nearly $1 billion to reopen the Mountain Pass mine. As fears intensified, its stock price soared.
But markets have their own means of responding to shortages. And the fact is, rare earths aren't really rare. Rather, they're difficult to find in economically viable concentrations and expensive to mine. Rising prices can quickly change the economics of scarcity. Even before the embargo on Japan, new sources of supply were popping up in Canada, South Africa, Kazakhstan, Australia and Malaysia. In China, meanwhile, wildcat mines quickly sprung up to take advantage of the price spike.
More important, manufacturers -- spooked by the prospect of losing access to rare earths -- invested in finding alternatives. Honda Motor Co. developed the world's first hybrid car motor that doesn't use rare-earth magnets (thereby reducing the cost and weight of the motors). Hitachi Metals America figured out how to substantially reduce the amount of rare earths needed in its magnets.
By late 2011, reduced demand and increased supply sent rare-earth prices into a tailspin, leading to an ugly bankruptcy for Molycorp. A global marketplace that many bet could be cornered by China instead adjusted to disruption by finding new supply. Thanks to improving technology and new exploration -- including in North Dakota's shale oil fields -- the next disruption should be less severe than the last.
All of which makes the Trump administration's newfound interest in dredging up Afghanistan's rare-earth supplies misguided. The hope seems to be that leaving American troops in the country would allow U.S. mining companies to exploit its deposits and thus reduce China's near-monopoly. The plan is still a bit hazy, but it's of a piece with some unfortunate alarmism among Republicans about China's dominance of rare-earth production.
In truth, there's little reason for the U.S. to fear a shortage of rare earths any time soon. Even if China wanted to squeeze the market again, the forces of competition and innovation would likely be enough to ensure that supply meets demand. Americans who champion the free market should have a lot more faith in it.
To contact the editor responsible for this story:
Timothy Lavin at tlavin1@bloomberg.net
Before it's here, it's on the Bloomberg Terminal.
LEARN MORE