view
Six Things Central Bankers Don't Get About Wages
Globalization, output potential and an ample supply of labor are making it harder for workers to get raises.
by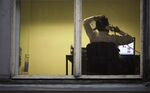 Wages have been either stagnant or declining in the U.S. and other developed economies for more than a decade once inflation is taken into account. Yet, the Federal Reserve and other major central banks remain convinced labor markets are tight, and that a surge in employee costs and inflation are just around the corner. Hence, their recent shift toward credit restraint.
But inexplicably, policy makers are failing to take into account the many significant economic changes in recent decades that are holding down wage growth. This is the first of a two-part series that will explore six of those changes.
1. Globalization continues apace. 
Manufacturing employment in the West has seen a dramatic drop as production in the last three decades shifted from developed countries in Europe and North America to developing economies in Asia, where costs are much lower. 
There's also downward pressure on jobs and compensation in the service sector due to legal, accounting, medical billing and other services being outsourced abroad. That trend will only intensify as economies expand and services become a bigger share of spending at the expense of goods. There's only room for so many cars in the driveway, but opportunities to spend on recreation and travel, health care and other services are almost limitless.
Note that with globalization, many U.S. goods prices continue to deflate. But domestic and international downward pressure is also being felt on services as diverse as education, health care, retailing and financial service fees and commissions.
2. Ample worldwide employable people and machines restrain U.S. wages and prices. 
Some policy makers fret that the output gap -- the percentage of unutilized output in the U.S. economy -- is shrinking fast. This is debatable since the economy's output potential isn't a fixed number but depends on speed of growth, which influences the economy's flexibility. Business can adapt much better to slow growth, as proven in this recovery.
Also, capacity is sensitive to wages and prices. Higher pay attracts new workers who otherwise are comfortable drawing welfare, unemployment and disability benefits. By the same token, high selling prices can make otherwise obsolete machinery profitable to utilize in times of increased demand for their output and rising prices. In any event, the current overall operating rate remains muted and definitely below the levels that in the past have initiated capital spending surges.
More important, in today's world, supplies of labor and productivity capacity need to be considered on a global basis. By all accounts, such supplies are ample and will remain so, barring all-out protectionist wars and tariff walls in advanced countries that could drastically chop imports.
3. The U.S. has labor surpluses. 
The Fed worries that the current 4.4 percent unemployment rate means that labor markets are too tight, but it also worried about a much higher rate back in December 2012. The central bank stated then that the federal funds rate, then in the zero-to-0.25-percent range, would be "appropriate at least as long as the unemployment rate remains above 6.5 percent, inflation one and two years ahead is projected to be no more than a half percentage point above the [policy] Committee's 2 percent long run goal and long-term inflation expectations continue to be well anchored."
But the Fed had to abandon that unemployment target as this very poor measure of labor market conditions fell, not so much due to increased employment but mainly because fewer people were looking for work. Youths stayed in school in hopes that more education would improve their job prospects, and many middle-aged people, discouraged over poor job prospects, discontinued their search for employment.
The many dropouts may well be drawn back to work as opportunities expand. Indeed, the labor force of those age 20 to 29 has been growing since 2012. At the same time, people over 65 who are employed or actively looking has been rising since the early 1990s. Many seniors are in good health and prefer active work to vegetating in front of the TV. Others, among them many postwar babies born in the 1946-1964 years, have been notoriously poor savers throughout their lives and need to keep working due to a lack of retirement assets.
As a result, the total labor participation rate appears to have bottomed. From September 2015 to this June, it rose from 62.4 percent to 62.8 percent. The growth in the working-age population will provide ample people to fill available jobs, even if economic growth accelerates from the recent average of 2.1 percent to my forecast of 3 percent to 3.5 percent -- assuming they have the needed skills.
Also, keep in mind that, like capacity utilization data, measures of labor market slack on a global basis aren't available. It certainly appears, however, to be ample, and the skills of workers in Asia are rising rapidly, not only in the production of goods but in services as well.
To contact the editor responsible for this story:
Robert Burgess at bburgess@bloomberg.net
Before it's here, it's on the Bloomberg Terminal.
LEARN MORE