Asia
The Sweet Smell of Post-Soviet Dictatorship
One dictator, two lines of perfume and a story of Central Asian cronyism.
by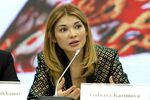 As I read Friday's release from the prosecutor general's office of Uzbekistan, which finally explained what's been happening to the older daughter of the Central Asian country's founding president since 2013, I thought about perfume with ylang ylang as a prominent note. 
Islam Karimov, who was Uzbekistan's president until he died last year, had two daughters. Gulnara, the older one, was as flamboyant as her sister was discreet. She tried to be a pop star, wore leopard skin prints and ran a media empire in Uzbekistan. A U.S. diplomatic cable described her in 2005 as a "robber baron" who had "usurped" businesses using her status. In 2012, she launched her ylang ylang-fragranced perfume -- Guli Mysterieuse for women and Guli Victorious for men.
She never got a chance to do a proper international rollout of the perfume. In 2013, the store that sold it in Tashkent was closed down just as the Uzbek central bank recalled the license of Gulnara's bank. The first daughter, once considered a potential successor to Karimov, had fallen out of favor. In 2014, she stopped appearing in public, though she still managed to hire a public relations firm to protest against her prolonged house arrest. On Friday, with Karimov dead for 11 months, the prosecutor general's office -- located across the street from Gulnara's official residence -- finally detailed the charges. 
Gulnara Karimova is accused of extorting 54.1 billion soum ($13.3 million) worth of other people's assets, embezzling 344.6 billion soum of government funds and tax evasion to the tune of 2.1 trillion soum. It turns out that in 2015, a Tashkent court found her guilty of these offenses and restricted her freedom for five years, but investigations still continue into various corruption and tax-related crimes. The prosecutor general's office also listed Karimova's foreign assets worth more than $1.4 billion, about half of it in Switzerland and the rest in Sweden, the U.K., France, Latvia, Ireland, Malta, Germany, Spain, Hong Kong, the United Arab Emirates and Russia.
Uzbekistan's gross domestic product, based mainly on natural resource exports, was just $67 billion in 2016, so the scale of Gulnara's wealth, if true, is impressive. One might be tempted to praise Karimov's successor, Shavkat Mirziyoyev, for finally shining a light on the excesses of the Karimov era. But it's common for the successors of Central Asian dictators to gradually dismantle their predecessors' cults; in Turkmenistan, golden statues of former "father of the nation" Saparmurat Niyazov have been quietly disappearing from central squares. That's no indication the new regime is any better.
On the contrary, the more post-Soviet countries change, the more they stay the same. While Ukraine and Georgia are frequently in the global spotlight because of their conflicts with Russia, Central Asia is off most people's radars. Dictators there know how to control the spread of information. The charges against Gulnara weren't public knowledge for years. Instead, rumors circulated that she'd been killed. But Central Asian dictatorships are, in a way, more open than other post-Soviet countries about what they are: no pretend democracy and nods to Western ways of running countries. Instead, they let money talk. 
And talk it still does, in every Western country. Gulnara kept her money primarily in Switzerland, where her sister Lola and her husband Timur Tillyayev have been named among that country's wealthiest people. The list of countries where Gulnara kept her money, according to the Uzbek prosecutors, is longer -- but then her luckier sister has not been the subject of a similar disclosure.
Quiet Lola Karimova, Uzbekistan's ambassador to the United Nations Educational, Scientific and Cultural Organization, made sure to distance herself from her sister when Gulnara's troubles began. They weren't talking, she said. But there are plenty of similarities between Karimov's two daughters. Gulnara, like her sister, pursued a diplomatic career, serving at one point as a representative to United Nations offices and other international organizations in Geneva. Both sisters have run high-profile charities in Uzbekistan, focused on children.
This month, Vanity Fair published a fawning article about Lola Karimova-Tillyaeva's new enterprise -- The Harmonist Maisun de Parfum, with boutiques in Los Angeles and Paris. "Through smell, I see life. Smell gives me depth of feelings," it quotes her as saying. (The magazine amended the article to include a reference to her father's human rights abuses when readers pointed out the omission.)
The scent of ylang ylang is "at the heart" of the first fragrance Lola "created" with a famous French perfumer. Lola can now claim a complete triumph over her sister, once considered far more influential and promising; it smells nice.
Post-Soviet money -- Russian, Ukrainian, Azerbaijani, Uzbek, Kazakh -- is everywhere in the West. The threads connecting Donald Trump to it are the rule rather than an exception. That money doesn't really smell of ylang ylang, and it's touched hundreds of Western businesses and politicians, though only occasionally, as in the case of Gulnara Karimova and her sister, do we get a glimpse of how.
To contact the editor responsible for this story:
Therese Raphael at traphael4@bloomberg.net
Before it's here, it's on the Bloomberg Terminal.
LEARN MORE