Prophets
Stronger Growth Can't Save Dollar as Policy Risks Rise
The IMF seems to be warning us that U.S. fiscal policy disappointment is coming.
by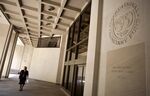 The U.S. gross domestic product report for the second quarter of 2017 confirmed that economic growth accelerated to a 2.6 percent annualized rate from the first quarter's sluggish 1.2 percent pace. That should reassure equity investors, but dollar bulls face a number of significant headwinds, including weak inflation, bearish trading technicals and now potential for U.S. fiscal policy disappointment.

It's been a tough year for the greenback, which has already fallen some 9 percent as measured by the Bloomberg Dollar Spot Index. Add to that the dour outlook issued by the International Monetary Fund, which earlier this week lowered its forecasts for U.S. GDP growth in 2017 to 2.1 percent from 2.3 percent, and cut its outlook for 2018 to 2.1 percent from 2.5 percent.
So how are we to reconcile a faster pace of U.S. economic growth in the second quarter against a backdrop of lower IMF growth expectations through the end of next year? Is the IMF just wildly wrong (as they sometimes are wont to be), or is there something more at play? In truth, the IMF likely reduced its outlook in part because fiscal stimulus seems less likely. This means that a risk of fiscal policy disappointment should be front and center.



While equity markets have been strong and 22,000 seems within reach for the Dow Jones Industrial Average, fiscal policy promises will need to be fulfilled, at least in part, to sustain the rally. The question is, when will stock valuations begin to reflect only a modest corporate tax cut or none at all? That answer is less clear, but the IMF seems to be warning us to expect something that equity markets are content to blissfully ignore: Fiscal policy disappointment is coming. And after a months-long effort by Senate Republicans to pass health legislation collapsed early Friday, measures that stimulate the economy through significant tax cuts or infrastructure spending seem increasingly likely to fail.
This policy risk and the IMF's latest outlook supports the narrative of a weaker dollar, especially because it was countered by increased euro-zone forecasts. Dollar bulls could be set up for further disappointment next week, given upside fundamental risks for euro-area data. This week, the July German Ifo rose to 116, which marked the third straight month that it set a new all-time high. This means that the euro-area manufacturing PMI -- a leading data point of overall euro-zone economic growth -- is likely to show a 49th consecutive month of expansion with a potential acceleration when it is released next week.
Meanwhile, its U.S. counterpart -- the ISM Manufacturing Index -- will probably show an expansion for July but at a slower pace than seen in June, given the deceleration in the Empire Manufacturing and Philadelphia Fed Manufacturing indexes.
PMI dynamics will help set the cadence for dollar trading against the euro in the coming month. Even with this week's solid U.S. GDP report and focus on the Federal Reserve, euro fundamentals could present some upside constraints for dollar. Moving average trading patterns, as well as the unbroken trend of lower highs and lower lows in place since the beginning of the year, seem to indicate that dollar weakness is not over.

To contact the editor responsible for this story:
Robert Burgess at bburgess@bloomberg.net
Before it's here, it's on the Bloomberg Terminal.
LEARN MORE