Labor
Some Consequences of New York City's Amazing Jobs Boom
The rest of the state -- and even the country -- hasn't come close to keeping pace.
by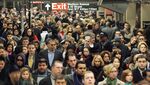 At the beginning of 1950, 63 percent of the nonfarm payroll jobs in New York state were within the five boroughs of New York City. For decades after that, the city's share of state jobs fell and fell and fell, bottoming out in 2003 and 2004 at just under 42 percent.
Since then, New York City has made a big comeback, while most of the rest of the state has struggled. If current trends continue (a big if that I'll get to at the end of this column), it looks like the city will be back to providing the majority of the state's jobs within a few years. Which is ... interesting.
In its monthly state employment release (the most recent of which, with numbers for June, came out last Friday), the Bureau of Labor Statistics includes data on a few cities -- with the most complete numbers available on New York City. I already wrote a column this week on the city's big comeback since the mid-1990s in employment and labor force participation, but I couldn't resist digging into some more data on the topic.
The long rise in employment outside New York City from the 1950s through the 1980s was partly about jobs and people migrating to the suburbs, but also about continued growth in areas well north and west of the city. Upstate New York, an epicenter of U.S. economic growth and innovation in the 19th century, arguably reached its point of greatest relative economic significance around the end of that century (it was in 1910, for example, that Buffalo made its last appearance in the list of the country's 10 largest cities). But there was still lots of activity in the post-World War II decades. Rochester in particular was a boomtown (or, more accurately, a boom metropolitan area; the city proper started shrinking in the 1950s) boasting innovative corporate giants Eastman Kodak, Xerox and Bausch & Lomb and a university that, thanks to its holdings in Kodak and Xerox stock, had the third-largest endowment in the country after Harvard and the University of Texas.
Now Eastman Kodak Co., which emerged from bankruptcy four years ago, is a shell of its former self, Xerox Corp. has moved its headquarters to Connecticut, and Bausch & Lomb is a New Jersey-based division of Valeant Pharmaceuticals International Inc. Rochester's marquee corporation is Wegmans Food Markets Inc., a supermarket chain (a great supermarket chain, but still ...), and the University of Rochester is 43rd in Bloomberg's college endowment rankings. Also, the area has fewer jobs than it did in 2000 (this chart only goes back to 1990 because that's as far back as the available data goes), and employment started declining again last year:
Other upstate regions have struggled even more. Several smaller metropolitan areas (Binghamton, Elmira, Utica-Rome) have fewer jobs now than they did in 1990, 1 and one has to think most rural areas have done worse. Metro Syracuse, which is pretty big, has seen only a 1.1 increase in payroll employment since January 1990. Metro Buffalo, which is bigger, has had just a 3.8 percent gain. Upstate New York is in a serious economic funk.
The contrast between New York City and its suburbs, many of which aren't in New York state, 2 is less stark:
While one can see in the above chart that the lines have been getting a little closer lately, it's probably more informative to look at things this way:
I initially chose August 2003 as my dividing line because it's when New York City employment bottomed out after the 2001 recession, but it also turns out to be the midway point between January 1990 and this June. Two things stand out here: One, obviously, is that the suburbs were doing better than the city before 2003, and the city has done a lot better since. The other, which surprised me a little, is that overall New York metro area job growth has been much stronger since August 2003 than in the 13-plus years before (13.4 percent versus 2.7 percent).
This, as you can see from that Rochester chart above, is not what other parts of the state experienced. It's also not what most of the rest of the country experienced. If you remember, the mid- and late 1990s were actually pretty great in the U.S., economically speaking, and the years since 2000 really haven't been. For the U.S. as a whole, payroll employment increased 19.2 percent from January 1990 through August 2003; since then it's up just 6.1 percent.
This juxtaposition of strong economic growth in New York City and weaker growth (and in some cases outright decline) elsewhere seems like it might help explain a few things. To wit:
A not-insignificant part of the return to the cities apparent in post-2007 U.S. economic data (it's been fading lately) was probably the doing of just one city. For example, Philadelphia, the second-biggest Northeastern city (and one of the other cities for which the BLS releases monthly jobs data), saw a long decline in employment come to an end in recent years, but its gains since August 2003 add up to fewer than 50,000 jobs. New York City has added 886,100 payroll jobs over that period -- 5.5 percent of total U.S. job gains. 3
The national media is headquartered in New York City, and it is becoming increasingly concentrated here. I remember being struck, after moving north in the mid-1990s from Alabama, which was doing quite well economically in those days, at how gloomy the economic coverage in the New York Times and other national outlets was. Maybe it was because things were terrible in New York! And I wonder if, over the past decade, the strong economy in New York City made it harder for New York-based journalists to understand how bad things were elsewhere. (The city of Washington, the other news-media capital, also had much better jobs performance post-2003 than before; the Washington metro area saw strong growth in both periods.)
Political relations between upstate New York and the big city have always been complicated, but the extreme economic contrasts of the past decade and a half have surely increased the tensions and the difficulty of getting things accomplished at a statewide level. This shows up in the recent dysfunction at the Metropolitan Transit Authority, which provides train, subway and bus services in the city and some suburbs but is effectively controlled by the state.
The current struggles of the transit system that brings people to their jobs in New York City are one reason to wonder whether the city's jobs boom can possibly continue. So are the high and, until recently, rising housing prices in the city. A Wednesday Wall Street Journal article describes how the finance industry, long a New York City mainstay, has been shifting jobs to cheaper locales such as Dallas, Denver and Jacksonville. But so far other sectors -- such as technology -- have more than made up for those losses. Job growth has slowed in the city since 2014, but over the past 12 months it's still been faster than in the nation as a whole. The boom hasn't ended quite yet.
Metro Binghamton, for which the data goes back a couple of decades further, actually has fewer jobs now than it did in 1977. Also, just in case you were wondering, metropolitan Ithaca (home of Cornell University) is the major upstate outlier, with 40 percent more jobs than in 1990.

The New York-Newark-Jersey City Metropolitan Statistical Area consists of the city and 20 other counties in New York, New Jersey and Pennsylvania. It does not encompass any of Connecticut or several counties in New York, New Jersey and Pennsylvania that are included in the larger New York-Newark Combined Statistical Area. The Bureau of Labor Statistics reports jobs data by MSA, not CSA, so that's what I've gone with.

Another fun fact: The Trump administration has been making much of what is as of June a 55,600-job increase in mining employment, which includes drilling for oil and gas, since last October (and at times misrepresenting it as the gain in coal mining jobs). How many jobs has New York City added since last October? A not-all-that-different 50,100.
To contact the editor responsible for this story:
Brooke Sample at bsample1@bloomberg.net
Before it's here, it's on the Bloomberg Terminal.
LEARN MORE