view
Birkenstock Can Defy Amazon But Not Beat It
Ignoring Amazon's power is a luxury the German sandal-maker can afford.
by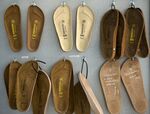 Why would a solid mid-size German company like sandal maker Birkenstock take on an American giant like Amazon? Birkenstock is doing it because it can afford to; but it's also showing the way for other companies wondering how much market power Amazon might have over them in the future. 
Birkenstock Americas -- which provides about 40 percent of the closely held company's sales, running currently in the mid-nine-figure range -- announced last year that it would stop selling on Amazon because it said there was no way to police fakes on the platform. That was rather a thin excuse: Counterfeit Birkenstocks aren't easy to find on Amazon. A search on the retailer's U.S. site still turns up a good selection of the iconic cork-soled sandals and Birkenstock's newer product lines, but they are the genuine article from authorized resellers, mostly at higher prices than in Birkenstock's own online store. The fakes are on Alibaba -- for $5 a pair compared to a minimum of about $40 for Amazon's U.S. customers. But refusing to work with Alibaba wouldn't make waves in quite the same way as taking on Amazon.
Now Birkenstock has slammed Amazon for a new program to buy products from third-party merchants, which CEO David Kahan sees as an attempt to bypass retailers who don't cooperate -- like his own company. In a long email to authorized retailers, Kahan warned them to ignore Amazon's offer to buy Birkenstocks from them at the full retail price so it would always have the sandals in stock. Dealers who would accept the "desperate" and "pathetic" offer would be "closed FOREVER. I repeat, FOREVER." 
Part of this is old-fashioned pride. Birkenstock has been in the same family since 1774. It has specialized in orthopedic footwear since the 1930s, when Karl Birkenstock taught courses about sculpting soles (he later wrote a successful book about it). But by 2013, the firm was in the doldrums, torn by squabbles between family members and lost in a maze of unprofitable sub-brands. It was then the Birkenstocks decided to hire an outside manager, former journalist and TV manager Oliver Reichert. As co-chief executive officer with Birkenstock old-timer Markus Bensberg, he has turned the family firm around, simplifying the corporate structure, getting rid of the sub-brands and roughly doubling sales between 2013 and 2017.
Birkenstock still only makes sandals in Germany, and though it has increased the number of workers to 3,800 today from some 2,000 in 2013, it still struggles to fill orders from retailers and keep enough inventory for its own online channel. The maker of sandals once worn by Steve Jobs (a scuffed pair of his sold for about $3,000 at auction last year) doesn't really need Amazon's help in moving inventory, despite a steadfast refusal -- common among German mid-sized firms -- to compete on price.
Birkenstock's latest salvo against Amazon may sound too warlike for a company whose resellers often have an Amazon presence. (Birkenstock also continues to sell through Amazon outside the U.S., including in Germany.) But the sentiment is more important here than the sales channel mix: It builds loyalty and optimism among store owners who worry about their future.
Birkenstock's stance is also about communicating to Amazon that it doesn't have market power over the German company -- that its brand is strong enough to pretend Amazon doesn't exist. Given the sandal maker's strong sales, it's not a hollow statement.
Refusing to be commoditized is a viable strategy for a firm with a customer base as loyal as Birkenstock's. Amazon-owned sites accounted for 43 percent of U.S. online sales last year, and its share of the total U.S. retail market approached 10 percent, but that still leaves most of the market to others, including strong brands that go directly to customers. Under Armour increased sales through its own online and brick-and-mortar stores by 13 percent in the first quarter of this year, compared with a total sales increase of 6.7 percent. 
Still, taking a stand against Amazon, no matter how inspirational, is unnecessary. The online retailer will still find a way to offer a product, if not directly then through resellers that use it as a logistical channel. Luxury companies such as LVMH, which do not offer their most exclusive products on Amazon in the name of brand integrity and customer experience, know that a simple search will reveal their presence on the platform, even if it's limited. 
 This is only the beginning of a tug of war that will define the relationship between Amazon and brands like Birkenstock, whose products it wants to sell, however it can source them. The American behemoth will be in Birkenstock's life whether the German company likes it or not. Many customers will keep buying sandals on Amazon and remain convinced that their purchases came from Amazon the retailer, not some third-party store. That's the nature of Amazon's hard-to-pin-down monopoly.
To contact the editor responsible for this story:
Therese Raphael at traphael4@bloomberg.net
Before it's here, it's on the Bloomberg Terminal.
LEARN MORE