Taxes
The Massachusetts Tax-Cut Miracle
Turns out, economics is really complicated.
by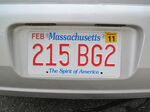 As you've probably read, maybe even in this column, cutting taxes to stimulate economic growth hasn't worked out so well for Kansas. In fact, things seem to only be getting worse for the state, with nonfarm payroll employment falling again in June, according to data released last week by the Bureau of Labor Statistics. Kansas is the only state in the nation with fewer payroll jobs than it had six months ago; over the past 12 months, only Wyoming shares that dubious distinction.
It's enough to make a person think that lowering state taxes doesn't bring faster economic growth. But focusing too much on Kansas can be misleading. It's just one state, and not all of its current economic troubles can be attributed to the decisions made in Topeka over the past five years. Also, we may not be giving things enough time to play out. So let's take a look at another state that has been cutting taxes for a while -- Massachusetts. Yes, Massachusetts.
From 1977 through 2012 (the most recent year for which the Tax Foundation, a business-friendly think tank, has calculated tax-burden data), the state and local tax burden faced by Massachusetts residents fell from 12.3 percent of income to 10.3 percent. That may not sound like much of a decline, but over that period only three states -- Alaska, North Dakota and South Dakota -- saw bigger decreases. Massachusetts, which had ranked among the top three or four states for tax burden in the late 1970s and early 1980s, has since 2000 oscillated around 12th place.
Massachusetts ranks right in the middle of the pack, meanwhile, on the Tax Foundation's Business Tax Climate Index, which attempts to measure "which states' tax systems are the most hospitable to business and economic growth." It scores much better on both tax climate and tax burden than other populous Northeastern states, such as Connecticut, New York and New Jersey (it scores marginally worse than Pennsylvania). 

So how has the state's economy performed compared with the rest of the Northeast 1 since the early 1980s? Pretty impressively, actually.
Massachusetts hasn't just created more jobs, it has apparently created better jobs, with per capita personal income rising from below that of the rest of the Northeast in 1980 to 11.6 percent higher in 2016.
None of this proves that tax cuts have been the main reason for Massachusetts' better performance, of course. But for all of us who have been pointing out that tax cuts haven't brought boom times to Kansas, it is a useful corrective.

Even more useful, one might think, would be studies that compare taxes and growth across all the states. The problem with them is that, as the Urban-Brookings Tax Policy Center's William G. Gale, Aaron Krupkin and Kim Rueben put it in a 2015 paper:
Major recent studies reach almost every conceivable finding: tax cuts raise, reduce, do not affect, or have no clear effect on growth.
In their paper Gale, Krupkin and Reuben redid a 2008 study by University of Canterbury 2 economist W. Robert Reed that had found a "robust" relationship between low tax rates and economic growth in U.S. states from 1970 to 1999. They replicated that finding, but also discovered that if one extended the data to 2006 or 2011, the results ceased to be statistically significant. Here's how they summed things up:
Using a framework that in prior work generated significant, negative, and robust effects of taxes on income growth, we nonetheless find that neither tax revenues nor top marginal income tax rates bear any stable relationship -- and, indeed, often bear a positive relationship -- to economic growth rates across states and over time. Consistent with these findings, we also find that tax revenues have unstable effects on employment over time and that marginal tax rates do not affect employment levels. While the rate of firm formation is negatively affected by top income tax rates, the effects are small in economic terms.
In short, it's a muddle.
So ... back to my unscientific look at Massachusetts. I would venture to say that the evidence from there is at least compatible with the hypothesis that well-designed, incremental, durable tax-burden decreases in high-tax states bring stronger economic growth. Whereas poorly designed, radical changes in non-high-tax states 3 that get rolled back after a few years (the Kansas model) don't.

Interestingly, though, Massachusetts lawmakers don't seem impressed by their state's apparent tax-cutting success. They voted overwhelmingly last month in favor of a constitutional amendment imposing a 4 percent income tax surcharge (on top of the regular flat rate of 5.1 percent) on those earning $1 million or more a year. It will go before voters in 2018. 
The Northeastern states, according to the Census Bureau, are Connecticut, Maine, Massachusetts, New Hampshire, New Jersey, New York, Pennsylvania, Rhode Island and Vermont. Pre-1990 state payroll employment data is not available in seasonally adjusted form, which is why the chart uses trailing-12-months data (otherwise the seasonal fluctuations would make it a little hard to read).
To contact the editor responsible for this story:
Brooke Sample at bsample1@bloomberg.net
Before it's here, it's on the Bloomberg Terminal.
LEARN MORE