view
The U.S. Has a 'Leprechaun Economy' Effect, Too
The accounting quirk that caused Ireland's GDP to jump 26 percent last year has implications for Trump's trade policy.
by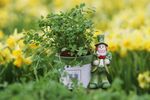 A year after statistical quirks sent Ireland's gross domestic product soaring by 26.3 percent, the country is providing an alternative indicator to show how its economy is really doing without the accounting effect of multinational companies' tax shenanigans.
But other countries, including the U.S., are still working with distorted statistics, which cause flawed political responses, such as Donald Trump's focus on the U.S. trade deficit.
The "leprechaun economy" phenomenon recorded in 2016 resulted mostly from multinationals' response to Irish tax changes, which phased out the so-called "double Irish" scheme. This involved holding intellectual property rights in an Irish company that was tax-resident in a tax haven such as the Bahamas and running global business operations through another Irish company, which then paid out most of its revenue as royalties for the use of the intellectual property.
When Ireland signaled that this maneuver had no future, tech and pharmaceutical companies started moving their patents to Ireland, taking advantage of its low tax rates on intellectual property royalties. It barely affected their business or their bottom line, but it swelled the Irish GDP.
This happened thanks to the European standard for keeping national accounts that became mandatory in 2014. The standard directed countries to record output on the basis of where companies were based: If an Irish-incorporated company produced it, for example, it was part of Ireland's GDP.
Trinity College Dublin professor John FitzGerald explained in a paper for the Central Statistics Office that this accounting method, if applied in the U.S., would have made it harder for Democrats to mock the Trump family for producing ties and shoes branded with its name in China. Since the goods are made by a U.S. company -- the Chinese producer is just a contractor -- their value would have counted toward U.S. GDP. In Ireland, the method meant that the royalties accruing to the Irish company holding the patents reflected Irish value added and had to be included in the nation's economic output. 
Ireland stands to both gain and lose from the accounting quirk. A higher GDP means higher payments into the European Union's budget, but also a lower debt-to-GDP ratio and the ability to borrow more, on more favorable terms. But if the government only reported the distorted GDP numbers, it would, in effect, be lying to investors about its economic situation.
So, powerless to change the European standard, it has adopted a parallel economic measure, modified gross national income, or "GNI*." It attempts to factor out the effects of globalization by subtracting depreciation of the intellectual property held by multinationals in Ireland and the accrued profits of companies that have ended up Irish as a result of tax-motivated inversion deals.
Last week, Ireland's Central Statistics Office released the new indicator for 2016. While the country's GDP amounted to 275.6 billion euros ($317.7 billion), GNI* only reached 189.2 billion euros. That's a more accurate picture of the economy's size, with unpleasant implications for the budget deficit and the debt ratio (which stands at 73 percent of GDP but 106 percent of GNI*).
These are not just tiny Ireland's problems, though. In a February 2017 paper, Lawrence Lau, an emeritus professor of economics at Stanford University who now lives in Hong Kong, and his two collaborators wrote: 
One stream of service payments received by the U.S. beneficially but which may not be reflected in the bilateral trade in services data are the "royalties and license fees" paid to subsidiaries of U.S. firms such as Apple and Qualcomm that are domiciled in third countries and regions such as Ireland or Netherlands Antilles and not repatriated to the U.S. They will show up in the trade data as an export of services from these third countries to China instead of from the U.S. to China.
Essentially, on paper, an Irish company exports intellectual property rights to China where an iPhone is made. The U.S. national accounts don't reflect the transaction except when an iPhone is brought into the U.S. from China -- and then the value of the intellectual property transfer worsens the U.S. trade balance and lowers the country's GDP (imports are subtracted from it).
Most of the intellectual property on the books of U.S. multinationals' Irish subsidiaries is American. It's produced by American research and development conducted in the U.S. But instead of boosting the U.S. GDP and trade position, as it should, it distorts those of other countries, making their standard economic measures so misleading as to be almost unusable.
The mess of accounting for globalization with its international supply chains and tax optimization strategies is difficult to explain to politicians. Trump would be less preoccupied with the U.S. trade deficit -- which he appears to think causes national debt to increase -- if he understood that the deficit is grossly miscalculated because of the lack of timely data on countries' shares of value added.
The Organization for Economic Cooperation and Development collects and attempts to analyze this data, but its Trade in Value Added database now only includes indicators through 2011. Lau and collaborators calculated that correcting the 2015 U.S. goods trade deficit with China for value added -- that is, accounting for all the inputs from third countries -- would have reduced it from $317.5 billion to $176.9 billion. Factoring in trade in services, including flows such as the intellectual property royalties, would reduce the deficit further, but such calculations would be even more imprecise.
A quick fix to the growing problem of national accounting in the era of global business is impossible. Policymakers, however, must check for the accounting aberrations before making important decisions. That could at least stop them from trying to fix what they don't really know is broken.
Like Ireland with its GNI* indicator, the U.S. may need parallel measures for its GDP and current account to prevent distortions and false moves based on them.
To contact the editor responsible for this story:
Katy Roberts at kroberts29@bloomberg.net
Before it's here, it's on the Bloomberg Terminal.
LEARN MORE