Europe
The Autobahn Is Just Fine, Thank You
Merkel is right to resist a push to fix a non-problem.
by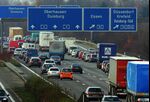 So far, Martin Schulz, the Social Democrat candidate for the German chancellorship, has failed to dent the formidable poll lead of Angela Merkel's conservatives. But his latest attempt to prove that he can be a better leader for Germany is about more than politics: It touches on the country's biggest non-problem -- its allegedly crumbling infrastructure.
Few English-language news outlets have refrained from using this epithet (here's The Economist, Financial Times, CNBC, The Guardian). The news stories usually seize on a few anecdotes -- a worn-out bridge, a school with a leaky roof, train delays, traffic jams caused by widespread road repairs. But there's research to back it up, too: The German Construction Industry Association, for example, publishes surveys that show the quality of German streets, rail system, ports and airports deteriorating relative to European neighbors. It was, according to the group, as bad as in the U.S. in 2016.
Despite a plan to boost infrastructure investment, announced by Transport Minister Alexander Dobrindt last year, spending remained more or less stuck at the 2015 level. In May, the International Monetary Fund recommended that Germany use its "available fiscal space" -- the budget surplus cherished by Finance Minister Wolfgang Schaeuble -- "for initiatives that enhance the growth potential, such as investment in physical and digital infrastructure, child care, refugee integration, and relief of the tax burden on labor."
So, in his 10-point plan for Germany's future, published on Sunday, point No. 1 includes a proposal for a mandatory minimum infrastructure investment rate to match the existing ban on budget deficits for German states. He has also proposed using budget surpluses -- which, for Germany as a whole and the states, add up to 56 billion euros ($64.5 billion) this year -- to improve roads, the railroad system and public buildings as well as to expand the fiber-optic cable network.
Few political rivals would argue with a plan to raise spending on schools and roads. In the 2016 U.S. election, both Donald Trump and Hillary Clinton promised more infrastructure investment. Merkel dares to differ, however. In an interview with the state broadcaster ARD on Sunday, she said lack of money wasn't the problem. "We're unable to spend the money we have now," she explained, adding that speeding up the planning of infrastructure projects was a more pressing problem.
Merkel has a venerable international organization on her side in this. Last year, the Organization for Economic Cooperation and Development and the Berlin-based Hertie School of Governance published a study of infrastructure governance. Germany, while handily beating developed nation averages on infrastructure funding and project outcomes, fell behind on planning efficiency. 
In fact, German infrastructure is far from crumbling, even if the country's construction industry is willing to say otherwise in the hope of drumming up orders. In the World Bank's 2016 trade logistics ranking, Germany was first in the world. It was also first in infrastructure quality, one of the ranking's six parameters, closely followed by the Netherlands -- one of the countries that, according to the German Construction Industry Association, have recently surpassed it. The autobahns are still smooth. The public elementary school in my Berlin neighborhood is a lovingly restored palace, and when Schulz complains about leaky school roofs, I wish he inspected some in this relatively poor city run by a mayor from his own party. Trains may occasionally be late, but it's not even a nuisance compared with the U.K. Internet connections, even in old neighborhoods, are lightning-fast compared with most of the U.S.
Germany, however, does have a problem with infrastructure projects. It stems from the national perfectionism and the bungling it causes -- and, as everywhere else, partly from overregulation and corruption. Berlin's two overcrowded, overstrained airports are forced to cope with ever-growing numbers of travelers while a gleaming new airport stands all but completed but unable to open five years after its original launch date. The biggest problem is with a badly designed smoke extraction system that is taking years to remake to exacting German standards. In most developing countries, and in some developed ones, the problem would have been swept under the rug and the airport would have opened. In Berlin, it's a multiyear drama of resignations, recriminations, apologies and millions per month in maintenance fees that have already pushed the project 100 percent over budget.
A different kind of planning problem faces the Kiel Canal, the waterway linking the Baltic and North Seas. Its locks were built under Kaiser Wilhelm, and their constant closures force ships to line up or take long detours. Nobody wanted to overhaul them in the 1990s, when there was relatively little traffic. After it picked up in the 2000s, a renovation became impossible without hurting the port of Hamburg, one of the country's most politically important cities and a federal state in its own right.
Mammoth projects in Germany are now habitually over budget and behind schedule. The European Central Bank's headquarters in Frankfurt (more than 150 percent cost overrun, opened four years later than planned), the sail-shaped Elbe Philharmonic Hall in Hamburg (200 percent cost overrun, finished seven years behind schedule), the conversion of Stuttgart's central railroad station to an underground one (50 percent cost overrun and two extra years of construction projected so far) are just some examples. But these problems are not caused by a lack of money. They're about a conflict between German expectations of flawless execution -- reflected, in part, in regulations -- and the real-life quality of planning, governance and management.
In an interview with N-TV, Hans-Peter Kloes, the managing director of the Cologne Institute for Economic Research and a Merkel political ally, explained the conservative opposition to Schulz's investment threshold proposal: "A rigid investment commitment would clearly favor false investments," he said. "In the state and local governments, there are obvious capacity bottlenecks in identifying and planning projects. It would take years to fix them."
One of the reasons Merkel keeps winning elections is her common-sense pragmatism and unwillingness to throw money at problems that are inherently behavioral, cultural and political. Germany has the infrastructure its public management system is capable of maintaining. That's how it works everywhere else, too, but politicians elsewhere -- including in the U.S. -- don't understand it as well as Merkel does.
To contact the editor responsible for this story:
Max Berley at mberley@bloomberg.net
Before it's here, it's on the Bloomberg Terminal.
LEARN MORE