Investing
Who's Afraid of a Big Bad Bond Bump? (Not China)
In May, Moody's saw reasons to worry about Chinese government debt. Investors had other ideas.
by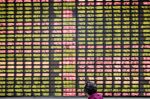 China was supposed to be the loser after Moody's Investors Service lowered its rating on Chinese government debt for the first time since 1989. The May 24 downgrade to A1 from Aa3 was widely reported as an ominous turn for the world's second-largest economy, whose credit was said to be deteriorating amid borrowing problems and slower growth.
Moody's decision will "deal a blow to confidence in regional markets," Jingyi Pan, a market strategist at IG Asia Pte Ltd, told the Associated Press, predicting that "the attention on China's worsening outlook could create jitters."
Almost two months later, China is outperforming the emerging market with its bonds, stocks and currency. A buyer of $1 million worth of Chinese government securities on the day Moody's said they were less secure now has a profit of $25,000, or a total return of 2.5 percent. An equivalent purchase of emerging market sovereign debt would have returned only $9,000, or 0.9 percent.
Stocks of Chinese companies are beating competitors, too, since Moody's delivered its bad news. The 300 companies in the Shanghai Shenzhen CSI 300 are up 9.5 percent, while indices for the emerging market and S&P 500 gained 3.7 percent and 2.2 percent respectively. The currency has rallied 1.4 percent, more than half its appreciation of 2.3 percent this year, according to data compiled by Bloomberg.
China, with its huge economy, sophisticated financial management and vast domestic resources, is the latest country to turn sovereign-debt ratings on their heads. Global investors know its strengths and have little interest in the opinions of bond-rating companies, just as they made an absurdity of downgrades on Austria, Finland, France, Greece, Japan, New Zealand and the U.S. during the past six years. Every one of these economically advanced countries saw prices on their bonds rise and interest rates fall during the 200 days following the downgrade.
An investment of 1 million euros in Greek bonds on April 29, 2015, when Moody's lowered Greece to a non-investment-grade category with greater risk of default, is worth 1,717,000 euros today; that's a total return (income plus appreciation) of 71.7 percent. Putting the same amount into Eurozone sovereign debt over the same period returned only 0.4 percent, according to data compiled by Bloomberg.
When the Treasury sold $29 billion of seven-year notes in May 2012, nine months after Standard & Poor's said the U.S. was a less-creditworthy AA+ instead of AAA, their value had never been higher, with a record-low interest rate of 1.2 percent. Today's 2.33 percent yield on 10-year government bonds still is lower than the 2.96 percent on July 14, 2011, when S&P said it would downgrade the No. 1 economy, and the 2.56 percent yield on Aug. 5, when S&P actually did so. The buyer of $1 million of those securities six years ago has earned $125,000 since then, or 12.5 percent, while an investor in the same amount of global government bonds over the same period lost $983,000, or a total return of minus 1.6 percent, according to data compiled by Bloomberg.
China is proving no different. Its bonds have appreciated 2.5 percent since the May downgrade and are No. 3 among the 19 developing countries included in the emerging market for sovereign debt, which shows a total return of 0.9 percent, according to the Bloomberg Barclays EM Local Currency Government + China Index.
With Chinese securities strong, premiums paid by investors as insurance against their loss of value grew cheaper. Credit default swaps on Chinese government debt declined 13 percent after the May downgrade, to the lowest level since 2013, according to data compiled by Bloomberg. That's partly because potential lenders grew more confident about the creditworthiness of 51 companies owned by the central government. That's based on a measure of risk showing that the average probability of default in one year has declined to 0.19 percent, the lowest level since 2007, from 1.1 percent early last year, according to data compiled by Bloomberg.
The improved credit profile is a consequence of declining debt to equity ratios and narrower price fluctuations in the stock market, where government-owned PetroChina Company Limited has the lowest such ratio since 2011. The probability of default in one year for another major government-owned company, China Petroleum & Chemical Corp., has fallen to 0.02 percent from 0.16 percent last year, its lowest debt to equity ratio since 2002 when such data became available, according to data compiled by Bloomberg.
On June 20, less than a month after Moody's downgrade of China, the people responsible for compiling the MSCI Emerging Market Index announced that China's A shares will be included in the benchmark index for the first time after three years of rejections -- all but inviting global investors to consider the Moody's downgrade a contrary indicator.
"I'd say there's a lot of confidence in China," said Lloyd C. Blankfein, chairman and chief executive officer of Goldman Sachs Group Inc., on June 28 after a recent visit. "China is almost an island of stability" he says in a video prepared by his firm
(With assistance from Shin Pei)
To contact the editor responsible for this story:
Jonathan Landman at jlandman4@bloomberg.net
Before it's here, it's on the Bloomberg Terminal.
LEARN MORE