Taxes
France Shouldn't Let Google Get Off Tax-Free
It may be impossible to claim much in back taxes from the search giant, but new rules should stop tax avoidance.
by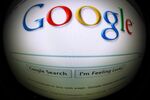 After Google settled for just 130 million pounds ($168 million) in back taxes with the U.K. last year, the French government swore it would get more money out of the search giant -- based, as then-Finance Minister Michel Sapin said, not on negotiation but on application of the law. On Wednesday, that approach failed spectacularly.
A Paris court rejected the government's demand that Google pay 1.115 billion euros ($1.28 billion) in taxes for 2005 through 2010. The failure shows that countries and blocs like the European Union need urgently to change their tax rules as they are too easily flouted by multinationals. In the meantime, old debts will have to be negotiated or forgotten.
In the U.K., then-Chancellor George Osborne touted the 2016 settlement as a "major success" but its opponents claimed Google got off too lightly. Osborne had a point, though. Google could have refused to pay anything at all, and it didn't change its tax structure for the U.K. All Google agreed to do under the settlement was pay more to its U.K. operating company for services rendered, which resulted in more taxes.
The U.K. tax scheme is the same as Google uses in France and other European countries. Throughout the European Union, Google has companies that, technically, do not sell ads. Only an Irish-registered entity does, and signs all the related contracts. It then compensates the Google operations in other countries for marketing and engineering services. Ireland has a lower income tax rate than most European nations, but Google also uses a structure there that allows it to pay almost no tax. This is the notorious "double Irish with a Dutch sandwich," in which the Irish firm that sells ads pays most of its revenue to a Dutch entity for the use of Google intellectual property, and that entity sends the money on to a Caribbean offshore that owns the international intellectual property rights. Ireland supposedly closed the loophole that allowed this scheme, but multinationals that had it in place before 2015 can keep using it until at least 2020. Even after that date, some version of it may still be possible given Ireland's double taxation treaty with the Netherlands, which will take precedence over local law.
The arrangement exploits the largely borderless nature of doing business in the EU. Both the U.K. and Italian fiscal authorities, which settled their own case against Google for 306 million euros earlier this year, mainly attacked the U.S. company for paying too little from Ireland to Google U.K. and Google Italy for their services. Google complied, essentially as a matter of goodwill -- so that the national authorities would leave it alone. 
The French case was more ambitious: The Socialist government challenged the scheme itself, claiming that Google had a "permanent establishment" in France under guidelines developed by the Organization for Economic Cooperation and Development. The argument was that Google France was essentially doing the ad sales deals, even though the paperwork went through Ireland.
Google France employs 700 people, some of them in commercial roles. That operation reported a 2015 turnover of just 247 million euros -- most of it payments from Ireland; it paid 6.7 million euros in corporate income tax on a reported 22 million euros of profit. Google doesn't disclose revenue from French ad sales, so the French government tried to extrapolate it to calculate its demand for back taxes. 
The government's estimates didn't fly with the court. It found nothing illegal about the Irish structure, just as an independent rapporteur to the court suggested  should happen, citing "shortcomings of the current legal basis." Even though the government can still appeal, and ministers have said they'd look into it, the U.K. and Italian path would likely be more profitable. Just to be friendly, Google might prove amenable to admitting it short-changed its French division. Given that deficit-cutting French President Emmanuel Macron has sworn to establish France as one of the world's tech centers, a friendly arrangement -- even if leftists would deride it as a sweetheart deal -- would also make more sense than a continued legal battle over back taxes.
That, however, doesn't change the glaring unfairness of Google's tax scheme. Google's effective foreign tax rate, which is easy to calculate from its U.S. Securities and Exchange Commission filings, is extremely low. Even though it's risen somewhat in recent years, it's still way below even Ireland's 12.5 percent statutory rate. It's also much less than the company pays in the U.S., where its effective tax rate reached 34.3 percent in 2015.
Google is not really a U.S. business anymore: 53.6 percent of its revenues came from the rest of the world last year. In Europe, with more than 90 percent market share in search in most countries, Google is more dominant than in its home market. Just as in the U.S. market, its duopoly with Facebook is shrinking the ad revenue base of local news organizations. It's also the subject of European antitrust investigations, the first of which recently ended with a record $2.7 billion fine. Google is a muscular, sometimes overly aggressive and destructive local player -- and yet, while no doubt of value to consumers, it contributes little in the way of tax revenue to the countries where it's active, far less than it does to its home country. 
This cannot be fixed with fruitless legal action over back taxes or even with more constructive negotiation. Legislative action is needed to force multinationals such as Google to disclose revenue collected and profit made in each country -- and to pay tax on that profit as they generally do in the U.S. Macron may be an unlikely candidate to pioneer such legislation -- it would make him look like an enemy of progress -- but he should try. Forced to pay taxes like a responsible local company, Google won't leave France. In 2015, its pretax foreign profit reached 28 percent of foreign revenue. It will still be wildly profitable if it's forced to pay taxes at European countries' statutory rates.
To contact the editor responsible for this story:
Therese Raphael at traphael4@bloomberg.net
Before it's here, it's on the Bloomberg Terminal.
LEARN MORE