Prophets
Central Banks' Focus on Financial Stability Has Unintended Consequences
A much shallower path of monetary policy tightening might be in the cards.
by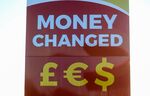 Central bankers are spending a lot of time talking about financial stability. So much so that many economists, strategists and investors are saying financial stability has become a de facto third mandate for policy makers along with price stability and full employment. This development, however, has the potential to bring about some unintended consequences such as central banks adopting a much shallower tightening path than they currently envision.
It's important to understand two things. First, in highly levered economies, like those we currently see in developed nations around the world, interest rates and financial stability are closely linked. That was evident in the recent "synchronized" global sell-off in the rates markets triggered by central banks signaling concern about relatively high asset prices brought on by artificially low borrowing costs, and their potential to foster financial instability.
Second, central banks have, perhaps paradoxically, contributed to financial instability by employing so-called forward guidance that provided investors with a sense of how long they would be keeping rates at record-low levels. So, with economies gradually recovering and employment generally robust, it's understandable that investors would behave in a manner that suggests they expect favorable financial conditions to seemingly last in perpetuity.
Financial Conditions and Financial Stress

Consider the dollar. Its weakness against both developed and emerging-market currencies this year occurred even though expectations for stronger economic growth and fiscal stimulus rose. The decline in the value of the dollar value means the cost to borrow in the currency has dropped despite the Federal Reserve's three interest-rate increases since mid-December. It also means hedging costs in currencies ranging from the euro to the South Korean won are rising at a less-than-ideal time.
That can be seen in cross-currency basis swap rates, which are essentially the cost to exchange a fixed-rate obligation for a floating-rate obligation. In the case of the won, the swap rate has turned more negative, suggesting a possible "shortage" of the currency to borrow in the interbank market as geopolitical tensions in the region reach levels not seen in years. And, the almost 8 percent appreciation in the euro in both nominal and real effective exchange rate terms has driven the cost to borrow in the shared currency higher as European Central Bank officials surprise markets by starting to talk about pulling back from unprecedented monetary easing measures.    
Dollar FX Borrowing Costs Have Fallen, Except in South Korea

Another risk is the rising correlations between the U.S. rates markets and others around the world. Unlike the 2013 "taper tantrum," when correlations between Group of Seven rates rose sharply, today's rising correlations with the U.S. are in areas such as South Korea, China and Italy where geopolitical risk is elevated. This can work against the wishes of central banks. For example, in Europe, where the ECB is looking to remove excess accommodation because of concerns about financial stability, rising bond yields can push up those in the United States. And because of rising correlations, higher U.S. yields are driving up those in China, Korea and Italy, tightening financial conditions via higher local borrowing costs.
Correlations on the Rise

Finally, there are "technicals" to consider. During most market sell-offs, trading patterns and so-called risk parity funds can take over as the main driver of momentum in stocks and bonds. According to research by JPMorgan, the regression beta to bonds and stocks with risk parity funds had risen until only recently. This elevated beta tends to cause positions to be unwound when key technical levels on stock and bond futures break. And when combined with the impact of momentum funds, or "CTAs," markets moves can become exaggerated.
Risk Parity and CTA Index Effect


What all this means for central banks is they face a bigger than normal challenge. They can opt for keeping inflation stable by tightening rates gradually, but that could add to financial stability risks. Or they can opt to tighten at a faster pace, which could cause an economic slowdown and also lead to financial instability.
The answer for central bankers is to communicate their concerns in a way that that gives market participants plenty of time to determine what the appropriate valuations should be based on current fundamentals. Given the delicate balance between financial stability and economic conditions, central banks may be forced to adopt a much shallower tightening path than what they currently envision.
To contact the editor responsible for this story:
Robert Burgess at bburgess@bloomberg.net
Before it's here, it's on the Bloomberg Terminal.
LEARN MORE