Jobs
Wage Growth Is Flat. What If Workers Expected More?
Central banks are starting to nudge workers to demand higher pay. What a bizarre turn.
by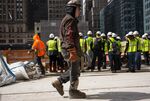 Disappointing wage growth has again tarnished an otherwise robust U.S. employment report.
The jobless rate, while it moved up a tad to 4.4 percent, is still below the level the Federal Reserve considers sustainable over the long term. And payrolls returned safely to adding more than 200,000 jobs in June. The American economy only needs to add barely half that per month to absorb new entrants into the labor market.
So how come wages aren't catching fire? By this point, the eight-year economic expansion should be doing much more for wages. And it's not just an American phenomenon. Most, if not all, of the largest economies have labor markets operating at or close to full employment. Without a wages breakout.
It brings to mind two things: The first was a sign in the Fed's minutes released Wednesday -- largely obscured by debate over the balance sheet -- that doves are getting a little more testy. Several said the relationship between an ever-tighter labor market, wages and inflation "appeared to be weaker than in previous decades."
Not that the doves have the upper hand at the moment. Only one voter has dissented consistently this year, Neel Kashkari of the Minneapolis Fed. But the retreat of inflation after reaching the 2 percent target in February is attracting increasing attention from officials.
The second thing to watch for is more central bankers encouraging workers to demand more of employers. I know the prospect of central banks urging workers to rise up sounds like "man bites dog," especially given the battle against inflation that characterized the 1970s and 1980s. But it's plausible.
As in so many things, the Bank of Japan could be instructive. Last year, BOJ officials from Governor Haruhiko Kuroda on down made it known they thought labor unions could have asked for more in annual wage talks with employers. Kuroda has said wage expectations, not just the wages themselves, are key to breaking a deflationary mindset.
In Australia, Reserve Bank Governor Philip Lowe was more direct a few weeks ago. Observing taut labor markets around the world, Lowe told an audience in Canberra: "At some point one imagines that's going to lead to workers being prepared to ask for larger wage rises. If that were to happen that would be a good thing."
In case anyone missed the point, Lowe followed his remarks to the Crawford Leadership Forum at the Australian National University with an interview published in the Australian Financial Review. Workers rise up!
The RBA and BOJ may be on to something. For those willing to jump ship to new employers, there are pay gains to be had. As my colleagues Patricia Laya and Daniel Flatley wrote this week, recruiters in America are having a bumper year. And it's not limited to the C-suite. Truckers and construction workers have become hot commodities.
So to bring us back to the latest Labor Department stats: Why are pretty strong job reports the first Friday of every month so often accompanied by mediocre pay numbers?
It's a pattern we seem to have trouble breaking. That decades-old theory may be in for some more scrutiny.
To contact the editor responsible for this story:
Philip Gray at philipgray@bloomberg.net
Before it's here, it's on the Bloomberg Terminal.
LEARN MORE