Latin America
Mauricio Macri Should Be Getting Nervous
Voters are souring on his market-minded reforms, and midterms are just a few months away.
by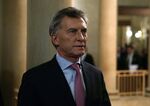 You'd think that steering a country away from the brink of economic catastrophe might buy a young administration some slack, but not in Argentina, where tolerance for anything short of miracle-making runs thin. So maybe it's no surprise that less than two years after taking office and announcing a 21st-century Marshall Plan, President Mauricio Macri is struggling not just to fix South America's second-largest market, but to salvage his career as well.
In October, voters head to the polls for midterm elections, where a third of the Senate and around half the seats in the lower house of congress are in play. Macri isn't on the ballot, but the contest has been billed as a referendum on his government and a prelude to the 2019 presidential race, and there's little wonder why: Inflation is running above 20 percent, economic growth is underwhelming, and three in 10 urban households are living in poverty. If early polls are any guide, trouble lies ahead for Macri. Argentines appear to be souring on the wave of market-minded reforms that he has sponsored and which have yet to deliver prosperity.
At least, that's what Cristina Fernandez de Kirchner is banking on. The former president (and Macri's direct predecessor) recently announced her candidacy for the Senate. Although her political reinvention is her campaign pitch, Fernandez in fact is multitasking. A return to elected office, after all, would shield her from prosecution for multiple criminal charges she now faces, from money laundering to currency manipulation. "As in many Latin American countries, politicians know that elected office is the best way to beat prosecution," Argentine historian Federico Finchelstein, of the New School for Social Research, told me.
Another motive is settling scores by retaking leadership of the Peronist movement, Argentina's best-known political force, which Fernandez's divisive rule left badly fractured -- so clearing the way for Marci and his upstart Cambiemos (Let's Change) coalition.
Pollster Management & Fit recently showed Fernandez's coalition virtually tied (at just under 28 percent) with Macri's candidates in Buenos Aires province, a worrisome finding for a government on the defensive. The same survey reported Macri's job ratings had dropped to 41 percent, while nearly 46 percent of Argentines disapproved of his government. If Fernandez wins the Aug. 13 primaries, in which parties select their official candidates, she'll be well-placed to rally the Peronists and stage another run at the Casa Rosada.
Macri is counting on a reprise of the 2015 election, in which he triumphed as the anti-Kirchner candidate -- a reference to the turbulent 12-year rule of President Nestor Kirchner and his wife and successor, Fernandez. Their confrontational style and spendthrift populism hobbled the economy, polarized Argentines, and repelled global creditors who'd been stiffed by the country's massive debt defaults in 2001 and 2014. "Macri's best hope is that he's not Cristina," said Finchelstein
Macri moved quickly to dismantle the Kirchner legacy by devaluing the overpriced peso, slashing wasteful subsidies, and ending the make-believe accounting meant to pretty up statistics on inflation, growth and poverty relief. He also made peace with the country's bondholders, returning Argentina to the international debt market. Argentina is better-off for those initiatives and other reforms, such as inflation targeting to tame prices and a tax amnesty to reverse capital flight. However, bringing the country back to earth has exacted a heavy toll that adversaries are keen to exploit.
For example, allowing the tightly managed peso to float stoked inflation, now running to nearly 22 percent, while eliminating lavish subsidies (electricity and fuel, for example), has hurt low-income families. The jobless rate reached 9.2 percent in early 2017, up from 7.5 percent two years ago, and nearly half the country's children now live in poverty.
Macri also may be guilty of overplaying his reformist cachet, dismantling social subsidies without creating adequate safeguards for the poor and borrowing aggressively abroad on a bet that lenders would embrace Argentina's new day of fiscal sensibility. And yet for all his efforts to pry open one of South America's most cloistered economies, investors remain cautious. In June, MSCI Inc. tellingly declined to raise Argentina to the status of emerging market, on fears the business-friendly policies were perishable.
"Argentina's problems stem largely from the imbalances and unsustainable policies from before, but Macri is paying the price," said Alberto Ramos of Goldman Sachs. "This is the populist model: You create the illusion of progress with policies that aren't sustainable, so then you need an adjustment and have to give back social progress."
Macri's government deserves a chance to show that the reforms should be fixed, not scrapped. We'll know soon enough whether Argentine voters agree or go for the illusion instead.
Before it's here, it's on the Bloomberg Terminal.
LEARN MORE