Editorial Board
Africa's Demography Is Not Its Destiny
The United Nations' latest population projections are a call to action.
by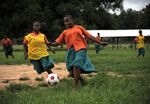 By 2050, more than one-quarter of the world's population will live in Africa -- up from about one-sixth today. Even if these projections are slightly off, that fact should serve as a call to action for a continent whose long-term promise is equaled by wide-ranging perils.
The numbers come from the latest United Nations report on population trends, which projects an overall increase in world population to 9.8 billion in 33 years, from 7.6 billion today. Such projections are not an exact science. Data can be patchy and unreliable -- Afghanistan and Congo, for instance, had their last censuses in 1979 and 1984, respectively. Estimating future fertility rates is especially hard; earlier demographers did not anticipate the success of China, India and Bangladesh in reducing birth rates, skewing global projections for 2000.
That said, it's unlikely that the margin of error in UN projections would materially change the facts on the ground in many African countries. Consider Burundi. Even if its population doesn't quintuple by 2100, as the UN predicts, it already has a fertility rate of 6.1 births per woman and one of the continent's highest population densities. A festering political conflict there has sent more than 300,000 refugees fleeing into neighboring countries.
Although fertility rates have been dropping across Africa, the populations of 26 of its countries are expected to at least double by 2050. Sub-Saharan Africa's cohort of youths aged 15 to 24 -- seekers of education and jobs -- is growing far faster than the same cohorts in Latin America and Asia.
Meeting the needs of their swelling populations is not just a challenge for Africa's leaders. It also implicates the rest of the world, not least because smart management of government and the economy will help grow a market already worth $4 trillion.
Militarizing aid to African nations to fight terrorism, and bribing them to block migrants, won't help to stabilize their populations or economies. Neither will turning a blind eye to corruption and human rights abuses in order to exploit their mineral resources.
Instead, the U.S., the European Union, China and Japan need to focus on development. Investing in girls' education, for instance, can reduce both fertility rates and infant mortality. Sustaining HIV/AIDS prevention and treatment programs has extended life expectancy and eased a drag on economic growth. And the most recent UN projections for African population growth would be even higher if funding for reproductive health efforts were cut.
The UN's statisticians would be the first to admit that their projections are just that. Ultimately, Africa's destiny is less a question of demography than of leadership.
--Editors: James Gibney, Michael Newman
To contact the senior editor responsible for Bloomberg View's editorials: David Shipley at davidshipley@bloomberg.net .
Before it's here, it's on the Bloomberg Terminal.
LEARN MORE