view
Where Stuff Gets Made in the U.S. of A.
From Texas (chemicals) to Illinois (steel), Michigan (cars) to Napa (your barbecue rose), America's manufacturing centers reach far and wide.
by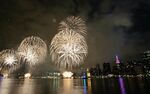 What are the U.S. counties with the most people working in transportation-equipment manufacturing? I wondered this while working on a column about Detroit. 1 Thanks to the magic of the Bureau of Labor Statistics' Quarterly Census of Employment and Wages data viewer, I soon had an answer:
I've sorted here by employment in transportation equipment instead of a narrower category such as motor vehicle manufacturing because of a quirk of how the BLS releases county employment data: If there are so few employers in an industry in a county that one could figure out how many people work at one of them and how much money they make, the agency suppresses the data. There are lots of one-auto-plant counties. By going with the broader category, I'm less likely to miss out on them.
So Wayne County, Michigan, home of Detroit, is No. 1, and two neighboring counties (Macomb and Oakland) rank highly. That makes sense for the headquarters of the U.S. auto industry. King County, Washington, is Seattle, and Snohomish County is just to the north -- Boeing Co. country, in other words. Elkhart County, Indiana, is "the RV Capital of the World." Tarrant County (Fort Worth) is home to big General Motors Co. and Lockheed Martin Corp. plants, as well as the headquarters of Bell Helicopter Textron Inc. And yes, headquarters staff counts, too -- this payroll data is sorted by industry, not job description, which means the data doesn't necessarily tell you where things are made. But in most cases it's a pretty good proxy. Sedgwick County (Wichita) is an aircraft manufacturing hub. In San Diego County, there's ship building and aerospace. And so on. As for Los Angeles County -- No. 2 on the list -- well, they make everything in Los Angeles County.
Isn't this fascinating? Now, Los Angeles is the country's most populous county, by far -- with Cook County (Chicago) No. 2 and Harris County (Houston) No. 3. It shouldn't be all that surprising that the counties with the most people also have the most people working in manufacturing.
Santa Clara County is much more of an outlier. The home of (most of) Silicon Valley is only the 17th-largest U.S. county by population, but with tech giants such as Apple Inc., Cisco Systems Inc. and Intel Corp. -- and contract manufacturers Flex Ltd. and Sanmina Corp. -- headquartered there, its manufacturing employment total is way up there. So is the pay. The average weekly wage at manufacturing companies in Santa Clara County in the fourth quarter of 2016 was $4,121. In Los Angeles County, it was $1,385.
That's probably because in Santa Clara County, the employees of manufacturing companies are mostly designing products and figuring out how to make and sell them, not assembling them. In Los Angeles County, people really are putting things together -- all different kinds of things. Just because it seemed like a fun thing to do for the holiday weekend, I started looking at other broad manufacturing categories, to see where else things get made. I realize manufacturing now accounts for only 8.5 percent of all nonfarm payroll employment, but somehow it seems more interesting to know where the most people are employed making cars and airplanes than where the most are working in finance and insurance (New York County, New York, 287,651).
It really is remarkable how often Los Angeles County shows up at or near the top of the lists. Take food manufacturing, for example (this does not include food services and drinking places, which employ 374,750 people -- nine times as many as food manufacturers -- in L.A. County):
It's a mix of huge urban counties and less-huge-but-still-populous counties in or near major agricultural regions.
In apparel manufacturing, which used to be big in the rural South -- and has been decimated by overseas competition, with nationwide employment in the sector falling from 938,600 in January 1990 to 123,100 in May 2017 -- the bulk of the remaining work is done in big urban counties, with Los Angeles County dominating.
And then there's my favorite, beverage manufacturing. Except that several top beverage-manufacturing counties have their data suppressed for that, so I'm going with the broader category of beverage and tobacco product manufacturing (in which beverage manufacturing accounts for 95 percent of the jobs). Want to hazard a guess as to which counties lead the way?
Neighboring Napa and Sonoma counties, headquarters of the nation's wine industry, are 1 and 2. Stanislaus County, home of E&J Gallo Winery, is No. 4. San Diego County, a significant wine region that also has a ton of craft breweries, is No. 5. St. Louis, home of Budweiser, is No. 6. Budweiser parent Anheuser-Busch InBev SA/NV has breweries around the country, so this doesn't really mean wine has displaced beer in the U.S. But it is interesting.
Oh, and of course Los Angeles County is in the top three. It seems to be in the top three for everything. Even primary metal manufacturing.
The area around Chicago and Gary, Indiana, which first surpassed the Pittsburgh area in steel production in the 1930s, remains No. 1. But the primary metals industry in the U.S. is no longer the economic and employment engine it once was. U.S. iron and steel production, for example, peaked in the 1970s, while primary metals' contribution to U.S. gross domestic product has declined from 2.7 percent in 1951 to 0.3 percent in 2016.
The chemicals industry, which includes pharmaceuticals, has not been shrinking as a share of GDP -- and currently is in the middle of an investment boom fueled by cheap oil and gas feedstocks. Not surprisingly, the nation's oil and gas headquarters, Harris County, is where the most chemical manufacturing workers are.
I could go on like this forever. And, really, I'm tempted to. But I just realized there's another key industry that falls under chemicals: explosives manufacturing. 2  Time to go celebrate the Fourth of July.
What I wondered was whether suburban Oakland County had more auto industry jobs than Detroit's Wayne County. It doesn't, although it does have higher employment overall.
To contact the editor responsible for this story:
Brooke Sample at bsample1@bloomberg.net
Before it's here, it's on the Bloomberg Terminal.
LEARN MORE