Prophets
Why Investors Shy Away From Saudi Arabia
Falling oil prices and a region mired in conflict have made a new economic model more urgent than ever.
by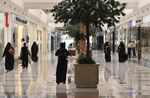 As oil prices have slumped into the low $40s per barrel, a new economic model that would offset the losses for the Organization of Petroleum Exporting Countries is more urgent than ever, yet multiple Middle Eastern conflicts are making that tougher to achieve. It's clear that oil, gas, refining and petrochemicals alone cannot provide the jobs and diversification that the Middle East needs. 
Put simply, a continual stream of bad news and threatened disruptions to business deters new investors, especially those from far away who lack the know-how to pick their way through local complexities. The scale of the challenge is stark, even for Saudi Arabia. 

There is only room for one Dubai -- the financial, logistics and tourism hub -- in the Gulf. Even if Saudi Arabia were to develop a Dubai of its own, it would represent only 15 percent of gross domestic product. Qatar can live comfortably off its liquefied natural gas exports, but if its siege is prolonged, its aspirations in aviation, tourism and the 2022 World Cup will lie in ruins.
In the region's more stable countries, which have low production costs, energy investments remain attractive, despite tough fiscal terms.
For the more troubled nations, large-scale international investment is scarce outside secure enclaves. At least keeping them operational is essential to maintaining a functioning state, which can gradually reassert control. Governments and foreign players together need to realize that security and business-friendliness are not alternatives but inseparable.
In four countries in the Middle East and North Africa, the growth and even survival of the energy industry is threatened by violent conflict. In Syria and Yemen, oil and gas production has almost dried up, and there is no end in sight to multi-sided civil wars.
Libya's oil has rebounded in recent months with a series of political deals to reopen terminals, approaching 900,000 barrels per day, its highest level since July 2013. That will be difficult to sustain given the continuing division between weak competing governments in the west and east of the country, and a looming fiscal crisis.
Iraq, with Mosul almost recaptured from the Islamic State, and investment picking up again in its southern fields, has prospects for strong gains in production this year, perhaps to above 5 million barrels a day from the current 4.4 million. But an increasingly complex situation along the Syrian border, with U.S., Kurdish, Turkish, Russian and Iranian interests clashing, is one worry; the Kurdistan region's September referendum on secession is another.
The six wealthy states of the Gulf Cooperation Council, long an oasis in the region's conflicts, are increasingly involved, too, backing various sides in the Syrian and Libyan civil wars.
The war of words with Iran has heated up since President Donald Trump's recent visit to Saudi Arabia, which claims the Iranians made an incursion to the offshore Marjan oilfield. Saudi Arabia and the United Arab Emirates began their costly intervention in Yemen in March 2015, and over the last two weeks, the two countries along with Egypt and other allies have been blockading their neighbor Qatar.
The young new crown prince of Saudi Arabia, Mohammed bin Salman, is not known for indecision. He is dealing with Trump on regional politics and President Vladimir Putin of Russia on OPEC, and is closely involved with the move into Yemen and the embargo on Qatar, overruling his more cautious predecessor Prince Mohammed bin Nayef. With prices falling back to where they were when it started, the OPEC deal cutting production now looks shaky. But even if it does succeed, it is no more than tinkering around the edges of what the region's oil exporters need.
So at the same time, the prince is spearheading the transformation of the Saudi economy -- the initial public offering of Saudi Aramco, the privatization of other companies, and ambitious future-oriented investments in Uber, a $93 billion joint fund with Japan's Softbank, and an e-commerce venture with Dubai businessman Mohammed Alabbar. Costly energy subsidies are being scaled back, and progress is finally being made on exploiting the kingdom's rich renewable energy resources.
The emergent Saudi economic aspirations owe much to the example of the United Arab Emirates, both Abu Dhabi and Dubai, but with more stress on industry, including mining. That makes sense, given the country's mineral endowment and existing industrial base, particularly its world-scale petrochemical giant SABIC. Yet expanding energy-intensive businesses while raising energy prices and taxes is a tough balance. Eighty-five percent of exports are oil; 12 percent are chemicals. Saudi Arabia needs big bets in new areas, while investment funds are scarce.
With Prince Mohammed's promotion, the government restored salaries and bonuses, previously cut to shore up the budget deficit. This lack of fiscal discipline is a concern, and undermines the attractiveness of the private sector, which employs just 30 percent of Saudis, a number targeted to rise to 50 percent as soon as 2020. Across the region, subsidy cuts, austerity and unemployment are reminders of the grievances that fueled the revolts of 2011.
According to the World Bank, Saudi Arabia in 2015 spent 13.5 percent of its gross domestic product--$87 billion - on defense. It was second in the world only to neighboring Oman, peaceful but even more fiscally vulnerable, which spent 14.2 percent. Defense costs accounted for essentially all of the kingdom's budget deficit that year. Expenditures by its greatest rival, Iran, were only 3 percent.
Even in the peaceful parts of the region, these conflicts deter investors, and distract policy makers from the urgent and existential task of building 21st century economies. For the war-wracked states, even holding together inherited 1970s-style economies is near-impossible. Economic stagnation in turn fuels a Hobbesian conflict over a shrinking pie. Low oil prices starve countries of funds for transformation or reconstruction, but they should at least concentrate minds on the urgency of reform.
To contact the editor responsible for this story:
Max Berley at mberley@bloomberg.net
Before it's here, it's on the Bloomberg Terminal.
LEARN MORE