China
The Real Source of China's Trafficking Problem
Population policies have created perverse incentives for traffickers.
by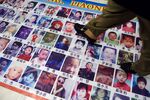 The U.S. State Department's decision to name China one of the world's worst offenders in human trafficking was greeted with predictable resentment in Beijing. With some justification, Chinese officials argue that they're at least trying to tackle a difficult problem, and in any case, that they hardly belong in the same category as egregious regimes such as North Korea and Sudan. But the fact is that China's trafficking issues are at least in part a legacy of government policies -- and they won't be resolved until that link is acknowledged and addressed.
The shadowy nature of human trafficking makes it difficult to develop a complete statistical portrait of the problem, whether in China or anywhere else. China's Ministry of Public Security can point to some successes: In 2015, authorities arrested 1,932 suspected traffickers, and convicted 1,362 individuals for the trafficking of women and children. But those numbers -- though significant -- don't tell the whole story in a country where there are more than 200 million migrant workers, as well as porous borders that allow for the easy movement of people between China and its neighbors.
Two factors account for much of China's trafficking problems. Most importantly, the country's notorious and now-defunct "one-child policy" long combined with a cultural preference for sons to slow China's population growth and skew its gender ratio. In the countryside, where the bias in favor of males is strongest, there are reports of towns that feature 150 boys for every 100 girls (the normal gender ratio is 106 boys to 103 girls). Over time, this trend has produced China's notorious "bachelor villages" -- rural hamlets that are home to lots of marriageable men but few women. Meanwhile, employers in China's manufacturing centers face shortages of workers and rising wages as China's working-age population shrinks.
Second, rising affluence has exacerbated a range of social problems linked to China's gender imbalances. Dowries have skyrocketed in recent years -- especially in the countryside -- as women have become scarcer. One 2011 study found that the bride price in one rural village had increased seventy-fold between the 1960s and 1990s. That's far from unusual, either: Throughout China, the families of young men spend years saving enough money to pay a proper bride price so their sons can marry and carry on the family line.
Predictably, unsavory entrepreneurs long ago recognized the opportunities in China's expensive markets for brides and labor. Even before China's factory wages began to rise, forced labor -- often in government detention -- was common. In recent years, as some of those camps have been dismantled, China has seen a surge in imported factory labor, most notably from North Korea, which garnishes the majority of its overseas workers' wages.
China has also seen an influx of women trafficked as brides for prices well below those paid for Chinese women. In one northern Chinese village where the price of a Chinese bride reached as high as $64,000 in recent years, a broker was offering Vietnamese brides for around $18,500. According to Vietnamese law enforcement, nearly 4,500 Vietnamese women fell prey to traffickers between 2011 and 2015 -- 70 percent of them bound for China.
Cambodian and Laotian women have experienced similar waves of human trafficking, while North Koreans -- attracted to a better life -- are easily exploited on the Chinese side of their border. And things are little better for some local citizens: Cases of child trafficking, often for future marriage, may number in the tens of thousands per year.
There are no easy ways to reduce the financial incentives to traffic women, children and workers in contemporary China. As a legacy of past policy mistakes, the problem will take as many years to remedy as it did to create. Nonetheless, recognizing those errors is an important first step, and current efforts to reverse China's population control policies should bear fruit over time.
More immediately, the government could devote more resources to aiding and training local law enforcement to combat traffickers, as well as hasten efforts to reform China's outdated residence permit laws, which leave migrants vulnerable to coercion by local authorities and criminals. As with the reversal of the one-child policy, such reforms would make China a more humane place for all its citizens.
To contact the editor responsible for this story:
Nisid Hajari at nhajari@bloomberg.net
Before it's here, it's on the Bloomberg Terminal.
LEARN MORE