view
Macron Can Follow Germany's Lead on Labor Reform
Germany's Hartz reforms made working more attractive; Macron's plans appear to miss that target.
by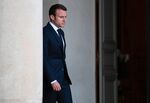 The German economy is in a remarkably rosy phase. According to data published on Monday by the Ifo Institute, business confidence is at a record high since 1991. The Bundesbank has raised its growth forecasts through 2019. One of the reasons for this surge of optimism is that the German labor market is performing well. At 3.9 percent, the unemployment rate is lower than it has been since the country's reunification.
It's often said that to achieve the same kind of economic buoyancy, France needs to relax its fearsome labor laws in the same way as Germany did in the early 2000s, under Chancellor Gerhard Schroeder. French President Emmanuel Macron's plans for labor reform, however, bear little resemblance to the 2003 Hartz reforms in Germany, named after Peter Hartz, the former personnel director of Volkswagen, who headed the commission that worked on the legislation. 
Exactly what Macron intends to do on labor reform isn't quite clear yet, but French media have provided glimpses of the draft legislation. So far, Macron's innovations appear to include:
greater flexibility in hiring people on a project basis, for example for the duration of a construction project;
a cap on severance pay and a streamlined judicial procedure in termination cases;
priority for firm-wide labor agreements over industry-wide ones;
easier justification for layoffs "for economic reasons," which now requires proving that a company is facing problems globally, not just in France;
making unemployment assistance available to freelancers, self-employed people and those who resign;
increasing to 59 years the age at which workers are eligible for three rather than two years of unemployment benefits;
cutting off benefits to employees who refuse at least two "decent" job offers.
These plans appear to set up a tougher confrontation with the unions than Hartz meant for Schroeder. They also do less to make working a better proposition than claiming benefits, something France needs as much as Germany did during Schroeder's tenure as chancellor. Before Hartz, childless unemployment recipients were entitled to 60 percent of their previous salary for up to 32 months. After that, the benefit dropped to 53 percent of previous pay. Unemployed people could turn down jobs offered by the government, and they did so, in droves: The benefits were generous enough to survive on, and, though unemployment reached 13.4 percent in 2002, there was a thriving black market for labor so that those in need of supplementing their government incomes could always make some extra money. Hartz IV, the most hated part of the reform which likely lost Schroeder the 2005 election, unified unemployment benefits at 50 percent of previous salary and made it difficult to turn down job offers.
Hartz also introduced part-time opportunities that made hiring and firing easier -- but substantial enough sweeteners were attached to them that Germans were motivated to take them rather than claim benefits. Taxes and social contributions were lowered for these situations. The economics of working part-time suddenly looked attractive. 
France's unemployment benefit system is more generous than the pre-Hartz German ones, at least for the first two or three years of job-seeking, depending on the worker's age. An unmarried French worker receives an average of 68 percent of previous income, compared with a European average of 59 percent. It's also much easier than in other rich European countries to get access to these high benefits: A French resident must only work for a total of four months during a 28-month period. In Germany, only those who have worked for at least a year get unemployment insurance.
The Hartz reforms-- implemented, after all, by a Social Democratic government -- didn't infringe too much on Germany's powerful collective bargaining traditions. In Germany, industry-wide pay agreements still take precedence and a majority of workers are covered by them. The German labor movement is still going relatively strong: The country's union density -- the proportion of wage earners who are union members -- is about 18 percent, compared with less than 8 percent in France. That hasn't prevented Germany from overtaking France in terms of economic growth and unemployment reduction.
The battle is just beginning for Macron. There is still time for him to figure out what works and what doesn't. He would be considered extremely successful if he could bring France's unemployment rate, currently 9.5 percent, to the German level. Given France's slightly higher labor productivity, it could bring impressive results. But if he gets there, it will be by a different path than Germany took.
To contact the author of this story:
Leonid Bershidsky at lbershidsky@bloomberg.net
To contact the editor responsible for this story:
Therese Raphael at traphael4@bloomberg.net
Before it's here, it's on the Bloomberg Terminal.
LEARN MORE