view
Not All Fossil Fuels Are Going Extinct
Coal power's future grows dimmer, but natural gas is looking brighter than ever.
by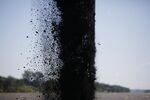 Bloomberg New Energy Finance's latest New Energy Outlook points the way to a sunny, windy future for the global electric power industry. That doesn't mean that fossil fuels (or nuclear power) will vanish. It also doesn't mean that all fossil fuels are the same. The future of natural gas and coal is a tale of two resources -- one a story of rising fortunes, the other of slow decline.
The latest outlook on natural gas is brighter than ever: BNEF's forecast for gas shows a higher estimate for consumption in 2040 than in previous years, with a short decline at the end of this decade.
Coal is a different matter. Coal demand is expected to peak late next decade, then decline almost every year to reach a low of 3.1 billion metric tons in 2040, about 25 percent lower than at its peak.
This long-term outlook is nuanced, as it should be. The aggregated demand for each fuel from 2020 to 2040 has not changed much in three successive New Energy Outlook reports. Total gas consumption has only increased 6 percent since the 2015 report, while coal consumption from 2020 to 2040 -- despite the plunge that is now expected, as noted above -- has only changed 3.5 percent, and was exactly the same in 2016.
However, the shape of that coal curve is still important, even if the volume hasn't changed much. A coal mine that opens today could have a 60-year life, but it is likely to be one fraught with oversupply and competition from other coal producers, as well as other technologies.  
So how does the 2017 New Energy Outlook for gas and coal compare to how major oil companies and the International Energy Agency see it? 1
For gas, everyone agrees: Consumption grows. Royal Dutch Shell Plc expects gas consumption to more than double and, perhaps not surprisingly, Exxon Mobil Corp. and BP Plc also expect consumption to increase at least 50 percent. BNEF's expectations are a bit more muted.
The outlook for coal isn't so uniform. Shell and Exxon Mobil's outlooks are both peak coal scenarios, at least for power generation. BP and the IEA expect slow increases in coal consumption.
Then there is BNEF.
Of these five coal outlooks, one is negative, two show eventual declines after future peaks, and the others are up and up. The differences are more than academic. Energy and resources companies make large, long-term bets on future demand for coal, gas and oil. The gap between forecasts and reality can be costly, in an era when a liquefied natural gas project can cost $54 billion. Companies (and energy markets) going long on gas for power generation are at least playing into a consensus view on overall increasing consumption. Companies and energy markets might be doing the same on coal -- but the long-term outlook doesn't bear them out. 
Weekend reading
Get Sparklines delivered to your inbox every week. Sign up here.
Shell and the IEA each run several outlooks for energy, each based on different technology, policy and market expectations. Shell has its "Mountains" and "Oceans" scenarios, with Mountains featuring more natural gas and "Oceans" featuring more coal. The IEA has three scenarios: New Policies, Current Policies and 450 Scenario (which limits carbon dioxide emissions to 450 parts per million). Somewhat confusingly, "New Policies," not "Current Policies," is the IEA's central scenario.
To contact the author of this story:
Nathaniel Bullard at nbullard@bloomberg.net
To contact the editor responsible for this story:
Brooke Sample at bsample1@bloomberg.net
Before it's here, it's on the Bloomberg Terminal.
LEARN MORE