view
Hey, Mueller, You Should Check Out Iceland
That's where a shady Trump associate got some of his money. And where some investigators heard Russian footsteps.
by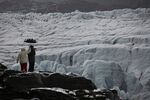 Earlier this week I wrote about the Bayrock Group, a property developer that did business deals for a decade with President Donald Trump.
Felix Sater -- a Bayrock principal who was a career criminal with American and Russian mob ties and who has remained in the Trump orbit -- helped reel in funds of murky origin that Bayrock and Trump used for projects such as the Trump Soho hotel in Manhattan. And one of Bayrock's biggest financial backers was an Icelandic investment bank, the FL Group.
Iceland would seem like an unlikely place for U.S. Justice Department investigators to look as they probe Trump connections with Russia and related matters. Yet there are trails to pursue there.
When Sater convinced FL to invest in Bayrock in 2007, Iceland was a font of easy money caught up in a financial binge so frenzied that it would cause the country's economy to implode in 2008.
Prior to that collapse, a handful of hard-driving financiers -- Icelanders dubbed them "The Vikings" -- took control of Iceland's three main banks following a series of controversial privatizations.
The Vikings pulled in piles of money from overseas and then went about making global acquisitions. Some of them loaned recklessly, had interlocking business relationships, produced glossy and misleading financial statements, made end runs around unsophisticated regulators and at the peak of their powers controlled assets worth 10 times more than Iceland's gross domestic product.
FL -- an investment firm that owned the largest stake in one of Iceland's three big banks -- was controlled by Jon Asgeir Johannesson, who once described himself as "more rock star than businessman."
FL drew funds from all three of Iceland's major banks and then invested in a wide range of businesses: insurers, airlines, real estate, gambling, a brewery, retailers, commercial shipping, a fruit juice maker -- and Trump's partner, Bayrock.
When Iceland's bubble burst in 2008 and an island of just 320,000 people was left reeling, FL was the first major firm to collapse. The big banks soon followed. Amid the political and economic upheaval that followed, Iceland let its banks fail and sent some of the bankers responsible to prison. (Johanneson was eventually convicted of tax and accounting fraud and fined, but received suspended prison terms; he didn't respond to interview requests.)
To pursue the bankers, Iceland appointed a local prosecutor and a well-known Norwegian fraud investigator to oversee what evolved into a team of more than 100 people.
The special prosecutor, Olafur Hauksson, was a former police chief of a small town near Reykjavik who had no prior experience probing financial fraud. A friendly, dedicated and bear-sized man who took on a job that few in Iceland wanted because of the powerful players involved, Hauksson still secured more than two dozen fraud convictions against Icelandic financiers.
Hauksson, whom I interviewed at his Reykjavik office, said he didn't see evidence of Russian funds moving through the banks he has investigated for the last nine years. He qualified that observation by pointing out that he was tasked with narrowly examining financial and managerial malfeasance, and that his work didn't include a deep, global probe into financial dealings outside the country.
Hauksson was joined early in his investigation by Eva Joly, whom Iceland brought on for advice and to elevate the sophistication and breadth of the probe. She has a decidedly darker view than Hauksson of outside influence on Iceland's banking system.
Born in Norway, Joly later moved to France and eventually became a French judge specializing in financial crimes and public corruption. After that, she served as a prominent prosecutor and spearheaded a number of major European fraud investigations. She's now a member of the European Parliament.
When I asked her during an interview in her Brussels office about ways in which the FL Group, Bayrock and Russian money might have intersected, she brightened: "I have been waiting almost 10 years for a journalist to walk into my office and ask me these questions."
Joly said that she had to prod the Icelandic government to commit resources to an investigation that implicated many of the country's most powerful political and business leaders. (She also likes to point out how many Icelanders -- along with a former prime minister -- surfaced as owners of off-shore accounts in the Panama Papers document trove: "600.")
Like Haukkson, Joly said that she never uncovered evidence that Russian money was moving through Iceland's banks. Unlike Haukkson, she was interested in the global funds washing in and out of Iceland's lightly regulated banks and wanted to explore that vigorously. But she says she needed greater cooperation from authorities in other countries to uncover the source of the funds, and that didn't happen.
"There was a huge amount of money that came into these banks that wasn't entirely explained by central bank lending," she said. "Only Mafia-like groups fill a gap like that."
Another Icelander involved in the country's fraud investigations said that substantial Russian funds are likely to have moved through the banks there, but that it's a subject Icelanders prefer to avoid -- even though the first country that offered financial aid to Iceland when the 2008 meltdown occurred was Russia, and even though legions of Russian oligarchs frequently jetted in and out of Reykjavik.
The late Boris Berezovksy, once one of the wealthiest and wiliest of Russia's oligarchs, thought the Russia-Iceland connection was obvious. He told a SkyTV interviewer in 2009 that if you wanted to look for where "Putin and his cronies" might be laundering money, well, "the best example, definitely, is Iceland."
Berezovsky and Russian President Vladimir Putin were well acquainted. Putin helped Berezovsky get an automobile dealership launched in St. Petersburg, Russia and Berezovsky later played a pivotal role in Putin's political ascent.
When Berezovsky broke into the car market in St. Petersburg in the early 1990s, the city was a notoriously difficult place to do business. The Russian Mafia held sway and the city's struggling economy was still dominated by the Russian state. The city's mayor had placed his young deputy –- Putin -- in charge of economic and business development there.
"Putin took a long view and operated a kind of favor bank –- doing something for someone today, calling upon them for something tomorrow," says Stephen Kotkin, director of the Princeton Institute of International and Regional Studies and a leading authority on Russia. "Given what was at stake, how Putin did his job, and how Russia works, it is unimaginable that anything of significance could have happened in St. Petersburg without Putin's direct involvement or subsequent blessing."
Berezovsky and Putin's relationship later fell apart. When the Russian president began nationalizing the oligarch's holdings, Berezovsky grew vigilant about where his funds went after the Kremlin got its hands on them.
"Russian top-level bureaucrats like Putin, like others, and oligarchs, together they create a system," for buying assets outside of Russia, Berezovsky told the SkyTV interviewer. Iceland, he noted, was part of that "system."

A prominent European financier who met with Felix Sater when Sater was doing deals with Bayrock and the Trump Organization told me that Sater bragged about his own relationship with Berezovsky. (Sater did not respond to repeated interview requests.)
Berezovsky wasn't the only Russia connection Sater bragged about. A former Bayrock insider, Jody Kriss, said in a series of interviews and in a lawsuit that Sater claimed that funds the FL Group invested in Trump-Bayrock projects were tied to Putin. The Kremlin told me that no such connection existed, and no documentation has surfaced indicating otherwise.
Russian roots were also represented in Iceland's banks through Thor Bjorgolfsson, a prominent Reykjavik banker and businessman. He and his father made hundreds of millions of dollars in the bottling and brewery businesses in St. Petersburg during the Putin years there from 1990 to 1996, and after selling those assets they later got control of one of Iceland's most prestigious banks. (Bjorgolfsson declined to be interviewed. In his autobiography, he mentions two personal meetings with Putin -- one in St. Petersburg when Putin was a deputy mayor and another, a decade later, in the Kremlin after Putin became president.)
At the height of Iceland's banking boom, Bjorgolfsson tried to outflank the FL Group to make his own investment in Bayrock. Kriss, the former Bayrock insider, said he met with Bjorgolfsson to discuss the bid at the Mercer Hotel in Manhattan – but that Sater brushed off that offer, saying that FL was preferable because of its proximity to Putin.
Even if Putin had nothing to do with FL, FL had a lot to do with Bayrock – it agreed to invest $50 million in the developer. And Bayrock was the future president's business partner. Where Bayrock's and FL's money came from, exactly, may be a useful question for the Justice Department's investigators to answer.
To contact the author of this story:
Timothy L. O'Brien at tobrien46@bloomberg.net
To contact the editor responsible for this story:
Jonathan Landman at jlandman4@bloomberg.net
Before it's here, it's on the Bloomberg Terminal.
LEARN MORE