view
Downtowns Reinvented Themselves. So Can Malls.
Big stores will leave. Imagine what will replace them, to meet the community's needs: doctors, day care, offices, hotels, etc.
by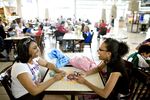 Once upon a time, the center of most American cities was devoted to manufacturing. Decades ago this industry moved to the fringes, and then offshore. And the downtown identity crisis began. What is at a city's heart if not manufacturing? What are we going to do with all these huge empty buildings downtown? Well. Cue the lofts and bistros and redevelopment.
Now suburban malls are approaching a similar identity crisis. They should not be abandoned. Like downtowns that found new purposes without factories, suburban malls will show their value is not simply as a place to shop for apparel and home goods.
Take a beat to appreciate this moment's irony: Malls were built to replicate the experience of being in a vibrant downtown, as downtowns were beginning to decline. Now malls are in decline, and downtowns are thriving in a new way.
It doesn't take a huge leap of imagination to see how malls could be reborn as well. Victor Gruen, a pioneer of shopping malls in the U.S., envisioned them as part of a larger pedestrian-oriented community that would include shopping, workspaces, homes and recreational areas. America decided to keep the shopping and forget the rest.
For those of us who came of age in the late 20th century, the thought of malls might bring up the smell of an Abercrombie & Fitch store or hot pretzels in a food court. National apparel chains and department stores. Cell phone covers and keychain kiosks. If you've seen one mall, you've seen 'em all.
But there's no reason they have to continue to serve this kind of single-use purpose, a realization I had in Dothan, Alabama, driving back from a family beach trip. A Google Maps search for a chicken sandwich led us unexpectedly to Wiregrass Commons Mall, the only mall in southeast Alabama. Recently sold to Farallon Capital, a San Francisco-based investment firm, Wiregrass Commons is a lower-tier mall built in 1986. Anchored by Dillard's, JCPenney and Belk, it lacked some of the glitzy stores you'd find in a higher-end mall, but looked mostly leased up. Jungle Jump, a bounce house, had replaced one retailer, and Purple Penguin Putt & Glow, a glow-in-the-dark air hockey and mini golf location, had replaced another. The Dothan Eagle reports that the mall is pursuing other "non-traditional tenants."
"Non-traditional tenants" is a start, but still too limited a way to think about what purpose a mall serves. Strip away our preconceived notions of what a mall is or should be, and a mall is just a large physical structure with a significant amount of parking, typically strategically located along major roads or highways. It's the intersection of commerce and transportation infrastructure, and it's a communal hub. It's a kind of "downtown" with a different physical shape.
This might be blasphemous to urban snobs who think of downtowns as being walkable utopias full of historic buildings, bars and coffee shops. But a mall has the potential to fill the same roles.
Malls should look like what a city looks like. That means some apparel and home goods stores, sure, but also a wider variety of food options. It might mean doctor's offices and office buildings, day-care centers and a hotel or two. As national chains and department stores leave and rents fall, there's an opportunity for other businesses in the surrounding community to relocate for more foot traffic or cheaper rents.
Malls may seem to be in crisis today, but they'll make a transition and thrive. In the longer run, it's not the malls you should worry about, but the standalone big box stores and small time strip malls.
The exciting part about this kind of reuse is that malls, currently seen as tired and homogenous, could become diverse, unique communal hubs. In historic downtowns, gentrifiers managed to turn old brick factory buildings into hip brunch spots serving avocado toast and cold brew coffee. Perhaps the analogous architectural repurposing of the future will be artistic interpretations of old Sears stores. Any mall in a stable community should have a thriving future ahead.
To contact the author of this story:
Conor Sen at csen9@bloomberg.net
To contact the editor responsible for this story:
Philip Gray at philipgray@bloomberg.net
Before it's here, it's on the Bloomberg Terminal.
LEARN MORE