view
Fed's Labor Market Forecasts Don't Make Sense
There's a feeling that the unemployment rate projection is essentially being reverse-engineered.
by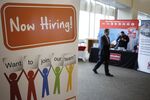 The Federal Reserve's unemployment forecast doesn't add up. It is neither consistent with the median of policy makers' growth forecasts nor consistent with Chair Janet Yellen's description of labor market strength. Hence, central bankers will likely find unemployment undershooting their forecast in the second half of 2017. That will keep the central bank in a hawkish mood even if lackluster inflation continues.
The latest Summary of Economic of Economic Projections places the median forecast for year-end unemployment at its current level of 4.3 percent. In other words, unemployment has fallen as far as it will go this year, according to the Fed, despite both a 0.4 percentage point decline since December and a history of overly pessimistic forecasts of unemployment. Just on face value, it seems like the forecast will again prove pessimistic.
The outlook also isn't consistent with policy makers' forecast for output growth. The median estimate anticipates 2.2 percent growth in 2017, compared with a longer-run growth rate of 1.8 percent. In other words, actual growth is seen exceeding potential growth. This should place downward pressure on the unemployment rate, but that pressure doesn't exist in the forecast.
One might argue that the forecast is internally consistent if it assumes an increase in labor force participation that results from faster growth. But Yellen, in the opening statement of her post-Federal Open Market Committee press conference said that just a flat participation rate is the cyclical response:
Participation in the labor force has been little changed, on net, for about three years. Given the underlying downward trend in participation stemming largely from the aging of the U.S. population, a relatively steady participation rate is a further sign of improving conditions in the labor market.
She later added:
And, you know, I continue to believe though that with job growth running well in excess even with the moderation of the level that's needed to provide for new entrance in the labor market, we do have a strengthening economy with policy accommodative, all that we're doing in raising rates is moving -- removing a bit of accommodation heading toward a neutral pace.
If you don't think that labor force participation is likely to rise and you think that job growth will exceed the gains in new supply to the labor market, you must think that unemployment is set to fall further. But the forecast sees flat unemployment this year and almost the same next year. Something doesn't add up.
What I don't like is the feeling that the Fed's unemployment rate forecast is essentially being reverse-engineered. They have a rate forecast that delivers policy normalization in a time frame they think appropriate. And they have a reaction function. If policy makers forecast lower unemployment then they need to either adjust the reaction function or lower their estimate of the natural rate of unemployment more aggressively. They don't want to do either. So to keep their rate forecast intact, they need to set a matching unemployment rate forecast. And that produces a flat unemployment rate for this year.
Yellen must feel there is a substantial risk of undershooting the natural rate of unemployment. It's implied by the Fed's growth forecast and Yellen's view of the labor markets. This explains the Fed's hawkishness in the face of low inflation. Indeed, despite years of below target inflation, officials continue to attribute the weak numbers to transitory factors. Yellen's "idiosyncratic factors" has become a defense mechanism in response to fears that if unemployment drifts too low they can stave off inflation only by triggering a recession.
Ultimately, the Fed sees the risks associated with undershooting the natural rate of unemployment as greater than those of low inflation. 
What this means is that the Fed will not turn dovish easily. Officials will not take their rate hike plans and go quietly into the night, even in the face of low inflation. Expect their baseline case to remain another rate hike and balance sheet reduction this year, plus another three 25 basis point hikes next year. For low inflation to play a larger role in the policy outlook, unemployment must flatten out as their forecast anticipates. But if unemployment falls further, as I think likely and, more importantly, Yellen appears to think likely, they will continue to dismiss near term inflation and focus on medium-term forecasts. And those always revert back to target.
Finally, while currently low inflation leaves market participants looking forward to dovish shift among central bankers, beware the possibility that conditions change such as firming inflation or faster wage growth that heightens the already hawkish tendencies at the Fed.
To contact the author of this story:
Tim Duy at duy@uoregon.edu
To contact the editor responsible for this story:
Robert Burgess at bburgess@bloomberg.net
Before it's here, it's on the Bloomberg Terminal.
LEARN MORE