Politics
Why Macron's Rising and May's Falling
Both Theresa May and Emmanuel Macron were defined by their approach to taking risks.
by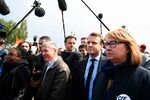 Once a dominant force in her country's politics, British Prime Minister Theresa May looks increasingly like a lame duck leader, while French President Emmanuel Macron just swept the legislative elections in his country. Comparing the two leaders' styles goes a long way to showing why one is up and the other down, especially their response to two dramatic events that threatened to upend their political career: the Whirlpool factory strike for Emmanuel Macron, and the tragic Grenfell Tower fire for Theresa May.
Often, a simple moment or news cycle can cement for the electorate a sense of a leader's character and values. The way that a leader chooses to respond to an unplanned, unfolding situation can be very revealing.
Although the fire that consumed a housing block happened after the British general election, the Prime Minister's response provided a good clue to how she managed to turn a seemingly insurmountable poll lead into a minority in the House of Commons. Grenfell Tower was a public housing block, and though not much is known at this point and an inquiry is underway, the ease with which the fire consumed the place seems to many on the left to symbolize a Conservative government's disregard for the underprivileged.
After the disaster, Theresa May refused to visit the site, her office citing security concerns, an excuse that looked even less credible when the Queen did her own visit the day after. This only solidified the vision of her as both out of touch and easily scared. Her decision to eventually visit only made it worse by making her look a weathervane.
As this unfolded, I couldn't help but think of a moment days before the runoff stage of the French presidential election. For months, workers had been staging industrial action at a factory owned by Whirlpool in the north of France that was slated for closure and offshoring. While Macron was busy at a planned meeting with union and business representatives behind closed doors in a secure location, his runoff opponent Marine Le Pen, who had been railing against outsourcing for years, showed up at the factory with cameras and took selfies with enthusiastic workers, stealing the news cycle. Macron looked out of touch and scared to meet with workers about to lose their job.
As the PR disaster unfolded in real time, Macron decided to make a visit that day. He showed up outside the factory and had a long, sometimes heated, discussion, with worker representatives. News cycle rescued.
More interestingly, after the election, a fascinating fly-on-the-wall campaign documentary of Macron gave us the inside story on how Macron decided to go into the fray. As he and his spin doctors follow the unfolding PR disaster on their phones, he decides he has to go to the factory. His security detail protests as his minders fear he might get pelted or assaulted in some way, making the disaster even worse. Macron shuts them down with lines that have become memorable: "You have to take the risk. You have to get into the heat of things, every time. If you listen to the security guys, you end up like Hollande. Maybe you're safe, but you're dead," he said, referring to the now former French president and Macron's mentor.
Theresa May has advanced cautiously every step of her political career. She ran a cautious campaign, always playing it safe. She tried to play it safe again after Grenfell. Macron's advice should ring in her ears as in the ears of many politicians around the world: Politicians who are afraid to enter the fray, end up punished.
To contact the author of this story:
Pascal-Emmanuel Gobry at peg@peg.im
To contact the editor responsible for this story:
Therese Raphael at traphael4@bloomberg.net
Before it's here, it's on the Bloomberg Terminal.
LEARN MORE