Finance
Financial Reform Both Parties Can Agree On
Small business would be better off if small banks got some relief.
by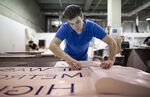 Congressional Republicans' latest financial reform plan may have little chance of becoming law in its entirety, but there's one piece on which both parties should agree: providing relief for small banks and credit unions.
The sweeping legislation, known as the Financial Choice Act, is political for sure. Sponsored by Republicans eager to cut regulatory costs, it would roll back much of the Dodd-Frank Act that was adopted in response to the 2008-09 credit and economic crisis. It passed the House earlier this month without a single vote from Democrats, who are concerned that it would weaken the financial system and undermine protections for investors and consumers. Critics point to provisions that would eliminate requirements such as stress tests for large banks, defang the Consumer Financial Protection Bureau and allow financial advisers to avoid being "fiduciaries" -- a label that requires them to work in their clients' best interests.
Both parties recognize, however, that small businesses need better access to capital. As it happens, that's precisely what one section of the legislation -- entitled Taking Account of Institutions with Low Operational Risk -- could provide. It would empower regulators to craft rules in a way that avoids imposing an undue burden on institutions with simple and understandable business models. As a result, small banks and credit unions -- which do not, for example, trade in derivatives or foreign exchange markets -- would be able to avoid some of the compliance costs associated with regulations meant for large banks.
These small banks -- typically with less than $25 billion in assets -- have traditionally played an important role in lending to small business. Yet one of the unintended consequences of Dodd-Frank was to burden them with complex capital, reporting and record-keeping requirements designed for banks with much greater resources. This has been at least partially responsible for a high rate of attrition: The Census Bureau estimates that the number of banks with fewer than 500 employees declined by 18.7 percent from 2007 to 2014, compared with just 1.7 percent for larger banks.
Granted, small-business lending has recovered somewhat from the darkest days of the crisis. Total commercial and industrial loans to small businesses stood at $331.1 billion at the end of 2016, up from $283.9 billion in September 2013, according to the Federal Deposit Insurance Corp. But that still falls short of the pre-crisis level of about $336.4 billion.
Banks that cater to their communities need a helping hand. By giving federal regulators, including the CFPB and the National Credit Union Administration, the ability to tailor their rules to the risk profiles of small banks and credit unions, legislators could free up capital without weakening the financial system. Although there may be plenty to argue about in the Financial Choice Act, this part shouldn't be a partisan issue.
To contact the author of this story:
Mark Rambler at mrambler@credibilitycapital.com
To contact the editor responsible for this story:
Mark Whitehouse at mwhitehouse1@bloomberg.net
Before it's here, it's on the Bloomberg Terminal.
LEARN MORE