view
Chemicals Boom While Cars Go Bust
Trump promised the return of manufacturing jobs. It's unlikely he can deliver bigly.
by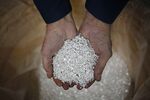 For a few years now, optimists have been proclaiming that the time for a U.S. manufacturing resurgence is upon us. Labor costs have risen so much in China that they no longer confer a big advantage. Multinational corporations have decided that the physical and political risks inherent in manufacturing far from consumers often aren't worth the cost savings. The boom in U.S. oil and natural gas production enabled by fracking and other new drilling techniques has lowered manufacturers' energy costs and provided abundant feedstock for the petrochemicals industry. And now there's a guy in the White House who has pledged to make manufacturing a top priority.
So boom times are upon us, right? Well, sort of. After a stall-out that lasted for most of 2016, the post-recession recovery in manufacturing employment seems to be back on track, with 73,000 jobs added since November.
Also, the Reshoring Initiative, a manufacturing advocacy group, has estimated that in 2016 the U.S. added about 27,000 more manufacturing jobs through reshoring by U.S. companies and new investments by foreign manufacturers than it lost through offshoring -- probably the first such net gain since the 1970s.
The chemicals industry in particular is in the midst of a big investment wave, with more than 275 new chemical production projects announced since 2010 with a total value of more than $170 billion, according to the American Chemistry Council, an industry trade group, which also estimates that in 2015 capital spending by the industry accounted for more than half of total construction spending by the manufacturing sector.
So that's great. Really. I've written skeptical things about the reshoring narrative in the past, but I am perfectly willing to applaud signs that it's actually happening. Still, there are two things to keep in mind about manufacturing jobs in the U.S. that should temper expectations about what might happen next.
First, manufacturing is just no longer all that big an employer in the U.S. It directly accounted for 8.5 percent of all nonfarm payroll jobs in May, down from 32 percent in the early 1950s (and almost 39 percent at the height of World War II). And even as manufacturing employment has bounced back since the recession, it has bounced back at a slower pace than the rest of the economy, accounting for just 5.8 percent of total nonfarm payroll job gains since employment bottomed out in February 2010. Manufacturing jobs do have bigger multiplier effects than jobs in many other sectors (that is, they create more ancillary jobs), and there are reasons to want manufacturers to locate in the U.S. beyond the direct impact on job creation. But with new manufacturing facilities likely to be more automated and less labor-intensive than those built decades ago, manufacturing's share of overall employment is probably going to continue to decline.
That said, manufacturing is still quite important in some states. Its share of nonfarm employment is highest in Indiana, at 16.9 percent in May, and is in double digits in 15 other states, mostly in the Midwest and South. 1 Which brings me to my second caveat: A bunch of those states, including Indiana, are heavily dependent on a manufacturing industry that, far from being on the cusp of a big reshoring-driven revival, may now be headed for a cyclical downturn after several boom years. Writes the Brookings Institution's Mark Muro:
Here's the problem: after seven years of strong growth following the 2008 economic crisis and federal bailouts of both General Motors (GM) and Chrysler, auto sector output and employment growth have slowed markedly from record levels. Years of catch-up purchases by car buyers have finally plateaued. Likewise, automakers must economize to invest billions in developing the electric and self-driving cars of tomorrow.

And so the layoffs have begun. Last fall, Ford jolted the industry by revealing that its sales had peaked, while projecting a tough 2017. Then came the company's April disclosure that it will need to slash $3 billion in costs to free up capital to invest in new technology. Soon after that came Ford's announcement of as many as 20,000 layoffs worldwide, as well as word that GM had cut production at four U.S. assembly lines and would be laying off about 4,400 factory workers. Fiat Chrysler also laid off 1,300 workers at a Detroit assembly line.
Motor vehicle and parts manufacturing has accounted for 30 percent of all U.S. manufacturing job gains since February 2010, and more than 90 percent of the gains since the beginning of last year. If the sector goes into reverse -- and the Bureau of Labor Statistics' payroll numbers indicate that it may have begun doing so in May, with an estimated employment loss of 1,500 for the month -- it could cancel out coming gains in other sectors.
To get a sense of how that might work, I compared the history of employment in motor vehicles and parts manufacturing employment with that in the aforementioned chemicals industry, which turns out to have a workforce of similar size:
There are fewer Americans making cars and chemicals than there were in the early 1990s, but both sectors have actually seen smaller job losses than other manufacturing industries (since January 1990, employment in motor vehicle and parts manufacturing is down 3 percent; in chemicals, it's down 21 percent and in the rest of the manufacturing sector it's down almost 33 percent). Auto manufacturing is also much more cyclical than chemicals, so if it suffers a serious downturn, it seems likely to swamp the gains in its steadier counterpart.
On the other hand, working at a chemical plant now pays better than making motor vehicles and parts, a significant recent switch from the earlier order of things:
And while both the auto industry and the chemical industry have increased their real output even while shedding jobs in recent decades, the chemical industry's value added -- its contribution to gross domestic product -- is much higher:
If there is in fact a U.S. chemicals manufacturing boom in the offing, it will be a big boost to GDP and a creator of some really good jobs. It just may not be all that many jobs, though.
To contact the author of this story:
Justin Fox at justinfox@bloomberg.net
To contact the editor responsible for this story:
Brooke Sample at bsample1@bloomberg.net
Before it's here, it's on the Bloomberg Terminal.
LEARN MORE