Europe
Europe's Cherry-Pickers Run Into Trouble
The European Union may not longer be so tolerant of blatant rule-breaking from the east.
by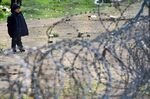 In any union of entities with diverging interests, cherry-picking -- or, to use a beautiful German word, Rosinenpickerei -- is an issue. The European Union is no exception, and right now, the bloc's post-Communist members stand accused of cherry-picking from EU rules. It may cost them.
On Tuesday, the European Commission voted to start infringement proceedings against Poland, Hungary and the Czech Republic for not taking in refugees as the EU agreed in 2015. That is, in part, just a pretext: European countries without a Communist past suspect these nations of reneging on European liberal, democratic values, but the refugee issue provides a more convenient avenue of attack than trying to censure them for infringements on the rule of law.
The EU wants to force the three post-Communist countries to comply with a legally binding decision to relocate 160,000 refugees. In accordance with the 2015 deal, quotas are set for individual countries and they must pledge to take a certain number of people every three months. Only the U.K., Denmark and Ireland have opt-outs.
Hungary has not taken in a single refugee under the scheme. Poland last made a pledge in December 2015, under its previous liberal government, and it hasn't taken anyone, either. The Czech Republic has resettled 12 refugees and hasn't made any pledges for a year.
The three countries say the scheme shouldn't be mandatory, though the quotas it sets for them are relatively low. Poland is supposed to relocate 6,182 people from Italy and Greece, the Czech Republic 2,691 people and Hungary 1,294 people. Both Hungarian Prime Minister Viktor Orban and the Polish government, run by the nationalist Law & Justice Party, have openly militated against Eastern Europe's participation in any effort to help refugees, claiming security and economic concerns. Hungary and Slovakia (which makes regular pledges but takes in few refugees) have gone to the European Court of Justice to try to abolish the quotas. A preliminary ruling is expected in July, but the European Commission is so confident it will prevail that it decided not to wait and start the infringement procedure.
Formally, it can end in moderate financial penalties. But effectively, it's a warning that the renegade nations could lose much more than that.
In Germany, Martin Schulz, the leader of the Social Democratic Party, was blunt about warning the Eastern Europeans they can't have it both ways:
When it comes to agricultural policy, it's all 'Yes, please." When it comes to subsidies, it's all 'Yes, please.' And when it comes to solidarity in refugee policy, it's 'No, thank you' -- that's not acceptable.
And it was poignant that the EU's Greek commissioner for migration and home affairs announced the decision with a reminder that Europe isn't just a piggy bank for poorer countries. "Europe is also about sharing difficult moments and challenges as well as common dreams," said Dimitris Avramoupolous. The southern Europeans are right with the Germans on this, creating a united block against the eastern members.
As an opposition politician, Schulz can be bolder than Chancellor Angela Merkel when it comes to threatening the post-Communist countries. In late March, asked whether they should be penalized for moving towards illiberal government, she explicitly refused to do so "for now" while saying they should comply with EU rules. But there is strong sentiment not just among the Social Democrats -- who are partners in Merkel's ruling coalition -- but also within the chancellor's own party that it might be time to apply financial pressure to the maverick countries.
Poland, the Czech Republic and Hungary are among the top five net recipients of EU funding, with a combined subsidy of 19.8 billion euros ($22.2 billion) in 2015. Germany wants to see some of those funds linked to adherence to the rule of law, but getting a formal consensus on that, much less sanctions approved, would be difficult. The refugee matter is different. If the three countries continue to defy the EU, the European Commission will have a solid reason to propose sanctions. The European Council, which consists of national leaders, has some power over the budget, but its objections can be overruled by a qualified majority of the European Parliament, where the East Europeans are outnumbered and solidarity is a battle cry.
So far the threats don't seem to be having much impact. Polish Prime Minister Beata Szydlo recently said her country can't take any refugees at all. Poland and Hungary are as committed as ever to rolling back broader liberties that the EU was founded to defend: Hungary has just passed a new law against foreign-funded non-governmental organizations that's similar to the one Russia has. Their position seemed unassailable just six months ago, with populist parties surging in Western Europe and the EU leadership fearful of alienating any member countries. Now, however, the members of the Visegrad Group are overplaying their hand.
The victories of Emmanuel Macron in France and Merkel's growing poll lead mean a two-speed EU is now a reality: The euro area is likely to move toward further integration, leaving the rest of Europe behind. European Parliament Antonio Tajani, an Italian, has proposed shifting the focus of the EU budget from agricultural subsidies, of which the East Europeans are major recipients, toward issues such as immigration and climate change, which are more important to the union's core members.
Eastern European Rosinenpickerei is looking increasingly like a bluff that's being called. The nationalist governments in the east can hardly retreat without losing face; but if they start losing EU funding, and if it appears the rest of Europe is leaving their countries behind, they may face major electoral problems.
To contact the author of this story:
Leonid Bershidsky at lbershidsky@bloomberg.net
To contact the editor responsible for this story:
Therese Raphael at traphael4@bloomberg.net
Before it's here, it's on the Bloomberg Terminal.
LEARN MORE