Europe
Italy's Got a Crush on Berlusconi (Again)
The phoenix of Italian politics rose again in Sunday's local elections.
by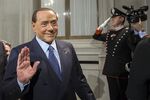 The most eye-catching result of Sunday's round of local elections in Italy was the poor showing of the Five Star Movement. The anti-establishment party that has shaken Italy's political system made it to the second round in only one of the main cities holding elections -- including Genoa, the home town of its founder, the comedian Beppe Grillo.
But the most interesting story coming out of Sunday's vote is not the alleged demise of Grillo but the comeback of the phoenix of Italy's politics, Silvio Berlusconi. His center-right coalition looks set to score a series of important wins in the second round, just months before Italy's forthcoming general election.
There is no doubt that Sunday's result has been a disappointment for the Five Star Movement. Indeed, there are plenty of good reasons why Italians may have become tired of them: After four years in parliament, voters may no longer be willing to give the party a blank check. Their experience in running Rome and Turin has been disappointing. From the Netherlands to France, the economic recovery across the euro zone is taking some wind out of the sails of populist parties, including Five Star.
It would be a mistake, however to read too much into this result. The Five Star Movement has rarely done well in local elections, with the exception of the big wins scored in Rome and Turin last year. In the 2013 general elections, Five Star came within a whisker of being Italy's largest party. Yet, in a round of municipal votes held only a few months later, Grillo's party only took control of two out of 92 large towns, according to data collected by the think tank Demos & Pi. Even in 2016, when Five Star made world-wide headlines with a symbolic triumph in Italy's capital city of Rome and in Turin, the party only won in other 17 out of 141 large towns.
Partly this is because Five Star has always benefited from the protest vote, which can be weaker in local elections in Italy. They have also struggled to field good candidates, of particular importance when a city is picking its mayor. Finally, the party has been much better at maintaining its internal cohesion at national than at local level: In Genoa, for example, there was a split over who the right mayoral candidate should be.
The real lesson from Sunday's local vote comes from another side of the political spectrum. The center-right coalition between Forza Italia and the Northern League has bounced back and now looks as a serious contender to former Prime Minister Matteo Renzi's Democratic Party. Having been kicked out of government at the height of Italy's sovereign debt crisis, and out of parliament following a sentence for tax fraud, Berlusconi, now 80, may well be back.
Berlusconi's enduring appeal says much about his ability as a campaigner. Recently, he appeared in a video cuddling a lamb and feeding it with a baby bottle - a shameless attempt to win over the vegetarian vote. However, it also shows how moderate voters have become disillusioned with Renzi's promises to turn Italy around and are now flocking back to the center-right.
The alliance between the Northern League and Forza Italia will be harder to replicate at the national level, given the League's commitment to take Italy out of the euro, which Forza Italia does not fully share. Berlusconi cannot run in the 2018 general election because of a ban from public office, and it's not clear the two parties can agree on a suitable candidate.
However, Sunday's elections point to a strengthening of Italy's three-way split between the center-left, the center-right and the Five Star Movement. For all its history of instability, Italy's political spectrum has rarely looked more confused.
To contact the author of this story:
Ferdinando Giugliano at fgiugliano@bloomberg.net
To contact the editor responsible for this story:
Therese Raphael at traphael4@bloomberg.net
Before it's here, it's on the Bloomberg Terminal.
LEARN MORE