Prophets
Fed Should Hold Fast in Face of Looser Financial Conditions
Policy makers will resist pulling back on rate projections if they can justify holding their inflation forecast and unemployment remains poised to decline.
by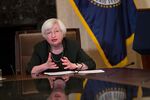 The recent inflation data doesn't exactly support the Federal Reserve's monetary tightening plans. Chair Janet Yellen and her colleagues will surely take note of the weakness at this week's Federal Open Market Committee meeting, but they will downplay any such concerns as transitory. At the moment, low unemployment remains the focus. Add to that loosening financial conditions and you get a central bank that is more likely than not to stay the course on its plan to hike interest rates.
FOMC participants will follow the logic of San Francisco Federal Reserve Bank President John Williams and attribute recent inflation trends to "special factors," notably the decline in cellular service prices as measured by the Bureau of Labor Statistics. With this explanation in hand, they will hold firm to their medium term projections that anticipate inflation will soon return to target. The stability of those forecasts is more important for the anticipated course of policy than recent inflation deviations.
With weak inflation explained away, central bankers will turn their attention to the second part of their dual mandate, maximum sustainable employment. With the unemployment rate dropping to 4.3 percent in May, below their year-end forecast of 4.5 percent and well below their 4.7 percent longer-run median projection and implied estimate of full employment, the Fed faces a challenge: How much should they lower their estimate of the natural rate of unemployment?
On first glance, the Fed has reason to believe that their estimate of full employment remains too high. If the economy is indeed at full employment, we would expect accelerating wage growth. Instead, wage growth remains anemic by a variety of measures. 
While this seems to provide fairly obvious evidence that the Fed should sharply lower their estimate of the natural rate of unemployment, policy makers will find it difficult to shake the worry that they are approaching an inflection point in the relationship between unemployment and wages. Using the wage measure generated above, first quarter wage growth was clearly subdued relative to recent history.
The Fed will see in this relationship a fairly significant risk that wage growth could accelerate quite rapidly in the near future. Such an acceleration would confirm their expectations that the economy is near full employment and deepen policy makers'  confidence in their inflation forecast.
Given that Fed officials such as Yellen have made clear they want to minimize the risk of excessively undershooting unemployment, they will be wary of making a large downward revision to their estimate of the natural rate of unemployment given the risk of accelerating wages. A small revision is likely, but not one large enough to derail rate hike projections.
The bottom line is that the Fed will resist pulling back on rate projections if they can justify holding their inflation forecast and unemployment remains poised to decline further in the months ahead. Given the decline in unemployment, the inflation data is only giving them reason to remain patient and hold the line on their gradual rate hike plans, not abandon those plans just yet.
Moreover, the Fed will take financial market considerations into account as well. U.S. equities continue to make record highs, the dollar is weaker, and long-term bond yields are down. Central bankers will be more inclined than not to lean against these looser financial conditions. They will not want to lean in by cutting rate projections.
If weak inflation remains persistent through the second half of this year, the Fed would then be forced to rethink their 2018 plans. I anticipate that Yellen will retain this option in her press conference. But it is premature to think the Fed will make a dovish shift just yet. Remember that they still live under the specter of the last two cycles. In those instances they learned the lesson that low rates eventually lead to financial instabilities and/or greater inflationary pressures. Rather than risk a delayed and ultimately recession-inducing response, the Fed hopes to stay ahead of building pressures in the economy. That means looking for a third rate hike later this year plus action to reduce the balance sheet. They won't abandon that strategy this week.
To contact the author of this story:
Tim Duy at duy@uoregon.edu
To contact the editor responsible for this story:
Robert Burgess at bburgess@bloomberg.net
Before it's here, it's on the Bloomberg Terminal.
LEARN MORE