Editorial Board
Congress Offers Banks an Ill-Conceived Bargain
More capital and simpler financial rules make sense, but the Financial Choice Act isn't the way.
by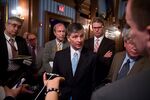 Congressional Republicans' latest effort to simplify financial regulation is a helpful reminder: Never underestimate politicians' ability to turn a good idea into bad legislation.
This week, the House of Representatives passed the Financial Choice Act, a bill founded on the laudable notion that regulation could be a lot less burdensome if banks were stronger. It offers a bargain: If institutions maintain a leverage ratio of at least 10 percent -- that is, $1 in loss-absorbing equity for each $10 in assets -- they will be exempted from much of the 2010 Dodd-Frank Act.
Unfortunately, both sides of this deal have some serious flaws. Consider the equity requirement. Although 10 percent is a bit more than what the largest U.S. banks currently have, it's still far from adequate to make exercises such as living wills or annual stress tests unnecessary. Research from the Federal Reserve Bank of Minneapolis, for example, suggests that the largest banks would need more than twice as much to reduce the probability of distress to an acceptable level.
The bill also offers the wrong kind of relief. During the last crisis, all kinds of financial activity -- including insurance, money-market funds and speculative trading at banks -- depended on government support. That's why Dodd-Frank placed limits on banks' trading operations and provided added oversight for all systemically important institutions, and why regulators require them to have enough cash on hand to survive a panic.
Those provisions aren't perfect -- simpler and more effective options exist -- but the Choice Act just scraps them. What's more, it would eliminate the Office of Financial Research, created to give regulators the data they need to see what's going on in markets and institutions. The law would leave regulators in the dark, and taxpayers implicitly or explicitly backing much of the financial sector.
To be clear, proper capital requirements, together with well-crafted constraints on short-term debt, really could obviate the need for much of Dodd-Frank while making the financial system stronger and more competitive. But that isn't what's on offer.
The Senate looks inclined to reject the bill, perhaps focusing instead on lightening the regulatory burden on well-capitalized community banks. One hopes so. That would be a lot less radical than the Financial Choice Act -- but, unlike that measure, a step in the right direction.
--Editors: Mark Whitehouse, Clive Crook.
To contact the senior editor responsible for Bloomberg View's editorials: David Shipley at davidshipley@bloomberg.net .
Before it's here, it's on the Bloomberg Terminal.
LEARN MORE