Early Returns
There's a Way to Make Trump an Adequate President
Jonathan Bernstein's morning links.
by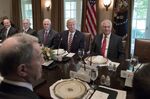 For quite a few smart observers -- see Dan Drezner and Maggie Haberman -- it's increasingly obvious that Donald Trump simply cannot be helped. Drezner, assessing Trump's decision to omit the line affirming NATO's Article V from his European speech even after the speech was locked in (and despite the strong urging of Secretary of State Rex Tillerson, Secretary of Defense James Mattis and national security adviser H.R. McMaster), concludes none of the "adults" in the administration have any influence on the president. Brian Beutler says that anyone who entered the administration as a patriotic act to keep Trump from harming the nation should now realize it can't be done. 
Perhaps. And yet: I keep thinking back to Ronald Reagan. The Reagan administration after the Iran-Contra scandal broke was in such disarray, and the president so ineffective, that insiders worried that he might be losing his capacity to govern, and that a 25th Amendment removal from office might actually be necessary. 
And yet it turned out that Reagan suffered mainly not from early-stage dementia, but from a dysfunctional White House and a terrible chief of staff, Donald Regan. Once Regan was deposed and Howard Baker was brought in to run things, it turned out that Reagan was more or less the same he had ever been; it's just that he was always a politician who needed an above-average level of staff support. 
I certainly agree that Trump is unlikely to bring in a strong chief of staff and empower him or her to clean house and run things properly, although I've also argued from the start that congressional Republicans have an unusual amount of leverage over the president if they choose to use it for that. But if they did and he gave in?
A strong chief of staff would have control of the paper flow and the doors to the Oval Office, and would know how to orchestrate things so that Trump was presented with reasonable options and the information to support them. Sure, Trump would still have the options of picking up the phone late at night and of watching Fox News. But currently the highly factionalized White House staff is likely to produce at least one senior staffer willing to feed Trump nonsense. That doesn't have to happen. 
I'm not saying Trump could be a first-rate president. That's never going to happen. And, yes, it's possible that so much has happened already in this lawless administration that it's just too late. But I still think it's fairly likely he could be brought up to adequate, or at least close to it. He's a president even more in need of a tightly structured, well-run staff operation than Reagan was, and far more likely to actively resist it (Reagan's problem was passive acceptance). On the other hand, he's almost certainly one of the the easiest presidents to manipulate. It's long past time serious Republicans get to doing that.  
1. Julia Azari at Mischiefs of Faction on purity, resentment, and the problems Republicans have in coordinating. Really good. The one addition I'd make: the perverse incentives created by Republican-aligned media and the conservative marketplace. But several good points here about what's gone wrong with the party. 
2. Andreas Murr, Mary Stegmaier and Michael S. Lewis-Beck at the Monkey Cage with a voter expectation model of what will happen in the U.K. election.
3. More from Adam Serwer on why the fight over Robert E. Lee is worth fighting today. 
4. David Leonhardt on Trump, the rule of law and a lawless presidency.
5. Heather Hurlburt on the "post-American stage of global relations."
6. Some important news from the states, in this case Kansas: The Republican legislature there repealed the big tax cuts originally pushed by Governor Sam Brownback, with big supermajorities in both chambers of the legislature easily overriding Brownback's veto. Hunter Woodall reports. 
7. And: Really? He diverted charitable money intended for children with cancer into his own pocket? Dan Alexander at Forbes reports.
Get Early Returns every morning in your inbox. Click here to subscribe.
To contact the author of this story:
Jonathan Bernstein at jbernstein62@bloomberg.net
To contact the editor responsible for this story:
Brooke Sample at bsample1@bloomberg.net
Before it's here, it's on the Bloomberg Terminal.
LEARN MORE