Retail
J. Crew's Biggest Problem Isn't Clothing. It's Greed.
Private equity owners took their cut. Now there's a debt squeeze and the legendary CEO, Mickey Drexler, is out.
by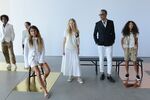 If there's fashion equivalent to tone deafness, that describes me. So I'm not going to claim that I have deep insight into why J. Crew, the fashion darling for most of Mickey Drexler's storied tenure as chief executive, lost its magic touch.
Maybe it was because its women's clothing became "curiously blank and directionless, neither sophisticated nor appealingly accessible," as Jon Caramanica wrote in the New York Times a few weeks ago. Or maybe it was that J. Crew failed "to anticipate or define recent sales trends for athleisure 1 or minimalism." (Lisa Schmeiser, the Observer.) Or that its clothes got too expensive for the young urban women who were its core customers, something Drexler himself acknowledged recently to the Wall Street Journal.
Whatever the cause, after 10 straight quarters of declining sales and two years of losses, it was apparent that the company's owners -- the private equity firms TPG Capital and Leonard Green & Partners plus Drexler himself, who owns around 10 percent of the company — needed to do something radical.
And on Monday they did, with Drexler stepping aside as CEO, replaced by James Brett, who had been running the millennial-oriented furniture outfit West Elm. So now it will be up to Brett to figure out how to recapture the hearts and minds of the women whom Drexler held in thrall for a decade, from 2003, when he was first brought in by TPG, to 2013, when Michelle Obama was regularly seen dressed in J. Crew clothes. (Drexler will remain as chairman.) 
In Monday's announcement, Drexler was quoted as saying, "As chairman and as an owner of the company it is my responsibility to focus on the future of J. Crew." Obviously, getting the fashion right is critical.
But there is a second issue J. Crew must face as it moves into the future: a $2 billion debt overhang, some $567 million of which will come due in 2019. Unless it can be restructured — and there is a lot of wrangling over that right now — Brett is unlikely to have enough time to turn the business around. As to the question of why J. Crew is carrying such a heavy debt burden, the answer is obvious, isn't it? Having taken J. Crew private in a leveraged buyout, TPG and Leonard Green wanted a payout. Don't they all?
TPG first took J. Crew private in 1997, paying $560 million, of which the private equity firm 2  put up $189 million in cash. In 2003, with the company struggling, it brought in Drexler, who had revived Gap Inc. but had been fired when sales slumped in the spring of 2002. In joining J. Crew, Drexler put in $10 million for his ownership stake. 
Drexler's turnaround was so successful that J. Crew was able to complete a successful IPO just three years later, with the stock rising 28 percent on the first day of trading. Drexler's stock was suddenly worth $174 million, according to Bloomberg. As for TPG, its original $189 million stake was sold off for $1.2 billion. Talk about a magic touch!
In 2011, in a rather unusual move, Drexler and TPG decided to do it all over again, with Leonard Green tagging along as a 25 percent partner. But this time, the leveraged buyout of J. Crew cost the private equity firms $3 billion, of which $1.2 billion was equity. Two years later, with J. Crew flying high, TPG and Leonard Green paid themselves dividends and management fees of around $750 million using, of course, borrowed money, according to Noel Hebert, a senior credit analyst with Bloomberg Intelligence who closely follows J. Crew's bonds.
And here is where the private equity firms and the company made a mistake every bit as costly as any fashion misstep. With the market for retailers hot, they considered either selling the company or doing another IPO. They reportedly were seeking $5 billion, a price that would have given them a monster payout, but which Hebert described to me as "pretty egregious." With the market unwilling to pay $5 billion, they pulled the offering. It was right around then that J. Crew's business fell off a cliff.
I'm not saying that J. Crew wouldn't have had problems if it hadn't been taken private. If J. Crew were still a public company, the stock would no doubt be in the tank, and shareholders would be demanding Drexler's head.
But it would have the luxury of time to turn things around — the way, for instance, Starbucks had time in 2008 when Howard Schultz returned as CEO, or for that matter, the way Apple did when Steve Jobs came back in 1997. As Bloomberg Gadfly columnists Lisa Abramowitz and Shelly Banjo pointed out a few months ago, the retailers who are the most troubled are the ones that were taken private in leveraged buyouts. They all have mountains of debt that put them much closer to the brink than their publicly traded peers. 
Indeed, one of their prime examples is Neiman Marcus, which is owned by two private equity firms and has nearly $5 billion of debt. Its woes are such that it is considering putting itself up for sale. Yet Hebert told me that without that debt, Neiman Marcus would easily have the wherewithal to handle the current retail slump.
J. Crew still has a revolving line of credit and a fair amount of cash; its debt doesn't have a big effect on its day-to-day operations. But there's no way the new CEO can put a turnaround in place by 2019, when that $567 million is due. So it's frantically trying to restructure its debt.
Last year J. Crew moved some of its intellectual property into a subsidiary, hoping to use it as collateral for a new loan that would give it some more breathing room. Of course current bondholders aren't happy because they thought that was their collateral. (The issue is in court.) Reuters reported last month that Blackstone is buying up J. Crew's debt in what appears to be a friendly move — if it winds up with a controlling position, it could trump the bondholders who are fighting to retain the collateral.
A number of observers have tossed around the word "bankruptcy" in analyzing J. Crew's debt problems. As Reuters put it, without a new debt deal, "the company cannot afford to pay the bonds at face value when they come due in 2019, and credit rating agencies have warned it could face a liquidity crunch before then." That's how dire things could get.
Having revived two iconic fashion companies, Mickey Drexler remains one of the greatest retailers of the modern age — "the merchant prince," he was often called. If his legacy is tarnished because J. Crew goes bankrupt, it won't be because of his recent fashion stumbles. It will because the company's private equity owners got greedy.
(
Corrects spelling of analyst's name in 10th paragraph.
)
Athleisure is a term that describes clothing that's a cross between athletic wear and business casual. Or so I'm told. It's quite the rage, apparently.
To contact the author of this story:
Joe Nocera at jnocera3@bloomberg.net
To contact the editor responsible for this story:
Jonathan Landman at jlandman4@bloomberg.net
Before it's here, it's on the Bloomberg Terminal.
LEARN MORE