National
Conservatives Love Californians Who Leave for Texas
What if they can't leave their liberal bastion behind?
by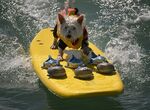 Paul Chabot, a former Republican congressional candidate in California, has started a company called Conservative Move to help conservatives oppressed by the Golden State's liberalism to pick up and move to the promised land of Texas.
Chabot, the Sacramento Bee reported, proposes a not terribly rigorous five-step process:
-- Explore the idea of moving to a conservative region.
-- Set up a free consultation.
-- Conservative Move helps identify a realtor to sell your home.
-- Conservative Move has a realtor to help find a home in Collin County.
The fifth step, in case you're wondering, is, "Enjoy the life you deserve among friends."
Perhaps there really are some adults who would benefit from such guidance, although the step where you pay Chabot's fee appears to be missing.
In any case, there's nothing wrong with moving to Collin County, Texas. The county's 886 square miles north of Dallas have room to roam. Its conservative credentials are not all you might expect, however. Hillary Clinton won 39 percent of the vote in Collin, making the risk of running into someone with liberal cooties perilously high.
Meanwhile, despite the best efforts of Chabot, demographics are changing Texas in ways conservatives don't much like. The Republican headlock on the state may not last forever. Imagine moving to Texas, putting your kid into a nice elementary school with conservative textbooks, and then, a few years down the road, discovering that she's seated next to an intersectional feminist or a gender nonconformist in high school biology class. You might as well have stayed in Rancho Cucamonga.
In a speech this week, Texas Governor Greg Abbott made clear that he understands the existential stakes. "As your governor, I will not allow Austin, Texas, to Californiaize the Lone Star State," the governor said, imposing a rhetorical quarantine on the state capital, which is known for deviant levels of education, cultural vibrancy and high property values.
Abbott's promise, of course, is not all that reassuring. If Austin has already gone California, what's to prevent the establishment of the next Pacific beachhead in Dallas? What if Texas is just one big conservative Alamo waiting for Santa Anna, or Santa Monica, to signal the onslaught?
California wasn't supposed to be such a vexing problem. After all, as the contemporary capital of American liberalism, the state is, by conservative definition, doomed. You can read about its agonizing demise in articles with titles such as the "Great California Exodus" and "California economy so bad even earthquakes leave."
This view is not universally held. As Bloomberg View's Matthew Winkler wrote in May, "The capitalist juggernaut that is California helps explain why the state's per capita income increased 9.5 percent since 2015, the most of any state and the most since 2012, according to data compiled by Bloomberg."
The state's 39 million people seem to have no end of ways to disappoint conservative politicians and writers.
Still, some Californians are taking Chabot's advice. They are leaving. According to a Sacramento Bee review of Census data, "Every year from 2000 through 2015, more people left California than moved in from other states."
The departures are, in some broad sense, linked to a failure of liberalism. "The people leaving tend to be relatively poor, and many lack college degrees," the Bee reported. "Move higher up the income spectrum, and slightly more people are coming than going."
In other words, while California is a very nice place to be rich, and is attracting more affluent people as a result, it's hard to get by there if you're poor or working class, especially in California's marquee cities.
This is contrary to conservative doctrine, which suggests that the rich should be fleeing California's high taxes. Instead, the poor are fleeing its high housing costs. Many, in fact, are moving to Texas. In effect, California's poor are looking for the life they deserve, among friends. Some of whom, presumably, might even be conservative. 
To contact the author of this story:
Francis Wilkinson at fwilkinson1@bloomberg.net
To contact the editor responsible for this story:
Katy Roberts at kroberts29@bloomberg.net
Before it's here, it's on the Bloomberg Terminal.
LEARN MORE